Pianist
Dr Sasha Valeri Millwood MA (Cantab.) MMus (GSMD) PhD (Glas.)
Support available Mon-Sun
Watch & Listen
1-3 of 6 videos
Splintering - Robert Coleridge
'Dead Still' and 'Another Life' -- Michiko Shimanuki
About Sasha Valeri
pianist with wide repertoire including works by living composers, and who can improvise in diverse styles for over an hour without stopping!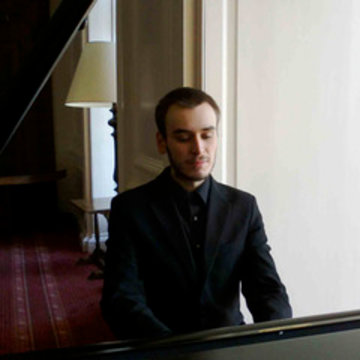 Public liability insurance of £10 million
Encore badges
Encore expert
Demonstrated expertise by completing the Encore Academy
Member of the Encore community forum
8th Anniversary
This act has been working with Encore for over 8 years
Musicianship
Genres:
Classical
, Baroque
, Contemporary classical
, Musical theatre
, Opera
, Avant garde
, Experimental
Event types:
Concert
, Wedding
, Funeral / Memorial service
, Private event
, Corporate event
, Theatre / Show
, Birthday party
, Christmas party
, Virtual event
, Charity event
, Recording session
Other skills:
Composer
, Orchestrator
, Arranger
, Transcription
, Fluent improviser
, Fluent sight-reader
, Repetiteur
, Perfect pitch
, Instrumental teaching
, Theory teaching
, Composition teaching
, Musicologist
, Accompanist
Sasha Valeri's Song list
**NB: if you are hiring me as a solo pianist, please enquire for details of my solo repertoire and experience** (I am always keen to expand my wide-ranging repertoire, so **please feel free to make requests**) -- below are some of the **ensemble** pieces I have performed as a pianist in the past (this is only a selection):
DOROTHEE EBERHARDT-LUTZ: Campion
JUDITH BAILEY: Scherzo for John
RUTH GIPPS: Reverie, WoO2
MICHIKO SHIMANUKI: Remembering Robert Coleridge
ELIZABETH MACONCHY: Three Bagatelles
JULIA USHER: The Old Man of the Sea
RUTH GIPPS: Sonata for alto trombone and piano, op.80
PAUL PATTERSON: last movement of Phoenix Sonata, op.102a
JOHN PALMER: Of Shadows Unveiled
OLIVER IREDALE SEARLE: Moose Antler Fly
SIMON DESORGHER: The Mature Person's Guide to the Flute
ZACH GULABOFF DAVIS: Crash
IAN STEPHENS: Bassoon Sonata (complete)
DOUGLAS HEDWIG: Trombone Sonata "Antarā"
JEFFREY HOLMES: Niflheim
STEPHEN GIBSON: Concertino for Horn and Strings (version with piano accompaniment)
JOSEPH JONES: Sonatina for Horn and Piano, op.41
MARCÍLIO ONOFRE: Nocturne I.a
FAURÉ: Elégie, op.24
SAINT-SAËNS: Allegro appassionato, op.43
BACH: 4th movement ('Allegro') of Sonata BWV1017
HAYDN: Violin Concerto in C major, 3rd movement ('Presto')
CHAMINADE: Romanza op.31/2
BEETHOVEN: Romanze in F major, op.50
MOZART: 1st movement ('Allegro moderato') of Violin Sonata in B-flat major K.378
TCHAIKOVSKY: 2nd movement ('Canzonetta') of the Violin Concerto, op.35
PROKOFIEV: 1st movement of Pianoforte Concerto no.3, in C major, op.26 (as accompanist playing orchestral reduction)
LENNOX BERKELEY: Sonatina for oboe and pianoforte, op.61
ANTHONY PAYNE: The Enchantress Plays
NICOLAS BACRI: Sonatina Lirica op.108/1 for clarinet and pianoforte
FRANK BAYFORD: Thaxted Evening, op.63
COLIN BAYLISS: Conversation Piece, B154
CECILIA MCDOWALL: Eleven
STEPHEN GIBSON: 17th ('Perpetual Mobile'), 19th ('Night Music'), 20th ('Galop'), 21st ('Gothic Horseman'), 22nd ('Folk Song'), 23rd ('Rumba'), & 24th ('Fanfare 2') of the Bagatelles for horn and pianoforte
DOROTHEE EBERHARDT-LUTZ: Chiaroscuro
ANTHONY GREEN: Loch Mallachie
SIMON DESORGHER: 'Kandinskoscope', 'Waves', & 'Sparks Fly' (from Five Miniature Sound Paintings)
VILLOLDO arr. BIRTEL: El Choclo
GENZMER: 'Allegro' (4th movement) from Sonatine No.1, GeWV225
CLARA SCHUMANN: Romanze in G minor for pianoforte and violin op.22 no.2
HANDEL: 'Allegro' (2nd movement) from Sonata in D major HWV371
PAGANINI: Variations on One String on a Theme by Rossini
TCHAIKOVSKY: Pezzo Capriccioso, op. 62
SHOSTAKOVICH: 'cello concerto No.1 in E-flat major, op.107 (complete) (as pianist in orchestral reduction)
MEL-BONIS: 'Scherzo' (2nd movement) from Sonata for flute and pianoforte
attrib. C.P.E. BACH: 'Allegro' (1st movement) from Sonata in G minor, BWV1020
EUGÈNE GOOSSENS: Scherzo Fantasque
EDMUND RUBBRA: Sonata in C for oboe and pianoforte, op.100 (complete)
EUGÈNE GOOSSENS: Vieille Chanson à Boire
RUTH GIPPS: Honey‐Coloured Cow, op.3d
RUTH GIPPS: Triton, op.60
RUTH GIPPS: The Riders of Rohan, op.69
JOHN GARDNER: Romanza, op.8
WILFRID MELLERS: Galliard for trombone and pianoforte
PRIAULX RAINIER: Suite for clarinet and pianoforte
LUTYENS: Footfalls, op.128
LUTYENS: Fantasie Trio, op.55
EDMUND RUBBRA: Meditazioni Sopra 'Coeurs Désolés', op.67 (in version for flute and pianoforte)
RUTH GIPPS: Sonata in G Minor op.5a (for oboe and pianoforte)
RUTH GIPPS: Sonatina op.56 (for horn and pianoforte)
RUTH GIPPS: The Pony Cart, op.75
EUGÈNE GOOSSENS: Pastorale et Arlequinade, op.41
EUGÈNE GOOSSENS: Islamite Dance
LENNOX BERKELEY: Trio for flute, oboe and pianoforte
HUGH SHRAPNEL: Sonata for clarinet and piano
PETER LAWSON: Song of the Green-Winged Orchid
ERNST KRENEK: Five Pieces for trombone and piano, op.198
PATRICK BURGAN: Thème et Variations pour clarinette en si-bémol et piano ['Theme and Variations for clarinet in B-flat and pianoforte']
COLIN BAYLISS: I Have Forsaken the World
STEFAN HEUCKE: Zur Zeit der letzten Posaune ('At the last Trump')
MICHIKO KAWAGOE: Vicissitudes
JAMES MACMILLAN: Sabre Dance (6th piece in 'Northern Skies', for 'cello and pianoforte)
ROBERT COLERIDGE: Even Song for flute and pianoforte
DAMASE: Rhapsodie pour cor et orchestra (as arranged for horn and pianoforte)
MUSGRAVE: Music for Horn and Piano
BRAHMS: Violin Sonata No.2 in A major, op.100, last movement ['Allegretto grazioso (quasi andante)'] [performed as pianist]
BRAHMS: Violin Sonata No.3 in D minor, op.108, last movement ['Presto agitato'] [performed as pianist]
GOLDRICH AND HEISLER: 'Alto Lament'
ELGAR: 'In Haven'
ELGAR: 'Where corals lie'
ELGAR: 'Like to a damask Rose'
ELGAR: 'Rondel'
OFFENBACH: Barcarolle [the famous one, for two voices, which I transposed down a minor 3rd]
JEROME KERN: 'Can't help lovin' dat man'
COLE PORTER: 'Night and Day'
RODGERS AND HAMMERSTEIN: 'Grand Night for Singing'
C.P.E. BACH: Sonata in G major for flute and continuo, Wq133 (complete) [performed on pianoforte, realising the figured bass in performance]
CHOPIN: Variations on a theme by Rossini (for flute & pianoforte)
CHAMINADE: Concertino, op.107
RUTTER: Suite Antique for flute & pianoforte (complete)
FRANÇAIX: 2nd, 3rd, & 5th of the Five Exotic Dances
MASSENET: Meditation from Thaïs (as arranged for violin and pianoforte) [peformed as pianist]
BRUCH: Kol Nidrei
HAYDN: Violin Concerto in G major, 1st movement
GORB: Serenad... [harpsichord part]
FORBES: People and Statuary [harpsichord part]
BUTLER: Correspondence [harpsichord part]
LUTOSLAWSKI: Dance Preludes, 1st & 2nd movements
SIBELIUS: Violin Concerto, 1st movement [performed as pianist]
RACHMANINOFF: 'cello sonata in G minor, op.19, first 3 movements ('Lento — Allegro moderato', 'Allegro scherzando', and 'Andante')
IAN CLARKE: The Mad Hatter
IAN CLARKE: Hypnosis
GRIEG: Violin sonata, op. 8, 2nd movement [performed as pianist]
WILLIAMS: 'Remembrances' (from Schindler's List)
BACH: E-major violin concerto (BWV1042), 3rd movement [performed as pianist]
BACH: A-minor violin concerto (BWV1041), 1st movement
BERNSTEIN: Glitter and be Gay (from Candide)
PUCCINI: Un Bel Di Vedremo (from Madame Butterfly)
CHARPENTIER: Louise
BERLIOZ: Le Spectre de la Rose
HANDEL: So Shall the Lute and Harp Awake
BRAHMS: Regenlied
FAURÉ: La Rose
BRITTEN: Let the florid music praise!
STRAUSS: Das Rosenband
MESSIAEN: Bail avec Mi (from Chants de Terre et de ciel)
LEHMANN: Magdalen at Michael's Gate
SCHOENBERG: Phantasy, op. 47 [performed as pianist]
MESSIAEN: last movement of Quatuor pour la fin de temps [performed as pianist]
ELGAR: Salut d'amour [performed as pianist]
HINDEMITH: Flute Sonata (complete)
FAURÉ: Fantaisie ['Fantasy'], op.79 (complete)
BRITTEN: A Midsummer Night's Dream [as répétitur]
BRITTEN: Lucretia [as répétitur];
BRITTEN: first 2 songs from Winter Words
MUSICAL THEATRE [as pit-band pianist]: Beauty & the Beast
MUSICAL THEATRE [as pit-band pianist]: Half A Sixpence
MUSICAL THEATRE [as pit-band pianist]: Joseph!
SCHUBERT: Abschied
SCHUBERT: Der Doppelgänger
SCHUBERT: Die Stadt
SCHUMANN: 'Im wunderschönen Monat Mai', 'Aus meinen Tränen sprießen', 'Die Rose, die Lilie, die Taube, die Sonne', and 'Wenn ich in deine Augen seh' (first four songs from Dichterliebe)
DE FALLA: 'El Paño Moruno' and 'Nana' (from the Siete Canciones Populares)
MENDELSSOHN: first two movements of pianoforte trio in D minor [performed as pianist]
STRAUSS: Allerseelen (have transposed in the past)
BRAHMS: Dämmrung Senkte Sich Von Oben
POULENC: Clarinet Sonata (complete)
Customer questions
What do your clients love most about your performances?
Among the most common themes in the praise I have received from clients are the creativity, excitement, and versatility of my performances, which often include music they have never heard before, as well as improvised interludes. As an accompanist, I have often been praised for the confidence and reliability I project, even when sight-reading.
Which venues have you performed at in the past?
As a pianist, I have performed at the Wigmore Hall, the Royal College of Music, Blüthner showrooms (London), West Road Concert Hall (Cambridge), Craxton Studios (London), Regent Hall (London), Burgh House (Hampstead, London), Chelmsford Cathedral, and many other venues in London and farther afield.
Which artists have you been most influenced by?
As an intellectual and artist of independent and open-minded spirit, I have been influenced (and continue to be influenced) by many artists (whether contemporary or from the past), but endeavour to be original in my own artistic praxis. You can get an idea of some of these influences from my biography (too many to list individually here).
What is the most high profile gig you've performed?
I have performed twice at the Wigmore Hall (and had a composition premièred there on a separate occasion).
What if my timings change after I've booked you?
Please tell me as soon as possible, even if not 100% sure about the need to change timings. I will endeavour to accommodate changes, provided they are amenable to my diary. There may be a surcharge, especially if accommodating your changes would incur financial loss or further expense on my part (e.g.: amending an advance train ticket or hotel booking).
Can you provide an iPod/DJ service before and between your sets?
I can improvise interludes at the pianoforte between each work on the programme/set. As a pianist, I can play continuously for over an hour. Since my offering is based on live performance, I do not provide a DJ service, since that is no longer live! However, I am happy to liaise with any other performer(s) and/or DJs you engage (if applicable).
How much time do you need to set up?
For solo-pianoforte engagements: if you have a pianoforte (with a stool) at the venue, and the instrument is not locked/covered, I could, in theory, just turn up and start playing immediately. Ideally, I would have a few minutes alone with the pianoforte to warm-up and test the acoustic of the venue.
If I have a piano at my venue, are you happy to perform on that?
Yes (in fact, this is my preferred option). To obtain the most musically satisfying results, please ensure that it is in working order. Ideally, you should arrange to have it tuned shortly before the event (at a top concert venue, the pianoforte is tuned before every performance using it, but I appreciate that this would be beyond the budget of most places).
Can I pick the songs you play from the set list?
Yes, of course you can (but please be aware that, for civil wedding/partnership ceremonies, you may be subject to legal restrictions precluding religious music). I am also happy to learn and play new music not already in my wide-ranging repertoire, as long as you can provide sheet music (preferably in advance, but I am always up for sight-reading).
Are you able to bring your own piano or keyboard?
Ideally, I prefer to play on a working acoustic pianoforte provided by the venue. However, if that is not available, I can bring an electronic substitute, although this will be less musically satisfying and will incur a (potentially substantial) surcharge to reflect the (potentially significant) additional time and cost of transport and setup.
Can you learn song requests before the event?
Yes, if you can provide sheet music (then again, I can sometimes make a plausible reconstruction from recordings!). You can send it in advance (hard copy or PDF) or even bring it on the day (must be hard copy) -- I am always up for the challenge of playing unfamiliar music with no notice (I do this a lot when accompanying auditions). Try me!
Sasha Valeri's Prices
Note: prices may vary based on travel distance. For an exact quote, click "Check availability".
| | | |
| --- | --- | --- |
| Performance duration | Price | |
| Short performance (up to 15 min) | £312.50 | |
| Up to 1 hour | £312.50 | |
| Up to 2 hours | £312.50 | |
| Up to 3 hours | £312.50 | |
Accompaniment for amateur events (<1 hour)
For accompanying at examinations, competitions, auditions, amateur performances, and amateur recordings, provided that the duration (including warm-ups, sound checks, &c.) does not exceed one hour
genuinely live virtual performance
I can provide a genuinely live performance on the pianoforte, online from my home, via Zoom or Skype. I can perform from my existing wide-ranging repertoire, or you can ask me to learn a new piece (given sufficient notice). And of course, I can improvise! When I say "genuinely live", I mean it (i.e.: I am not talking about a so-called "live stream", which is actually a prerecorded performance that masquerades as live). That means that interaction is possible! Price may be higher if you have particularly challenging/demanding repertoire requests.
Sasha Valeri