String quartet
Park String Quartet
Support available Mon-Sun
Like Park String Quartet?
Watch & Listen
1-3 of 6 videos
Signed, Sealed, Delivered
About Park String Quartet
The Park String Quartet are based in South Wales and enjoy playing a wide variety of music for any occasion.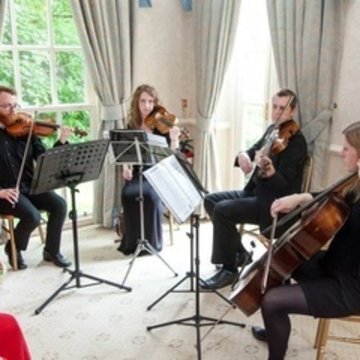 Public liability insurance of £10 million
Encore badges
Saved the day!
Booked for an Encore gig with less than 24 hours' notice
7th Anniversary
This act has been working with Encore for over 7 years
10 gigs
Experienced: 10 bookings through Encore
Musicianship
Genres:
Christmas
, Contemporary Christian
, Military
, Traditional church music
, Classical
, Baroque
, Classical crossover
, Contemporary classical
, Early music
, Fanfare
, Film / TV music
, Medieval music
, Musical theatre
, Opera
, Renaissance
, Electronic
, Ambient
, Breakbeat
, Deep house
, Drum 'n' Bass
, Dubstep
, EDM
, Electro-Swing
, Electronica
, Garage
, House
, IDM
, Industrial
, Jungle
, Techno
, Triphop
, 1920s era music
, 1930s era music
, 1940s era music
, 1950s era music
, 1960s era music
, 1970s era music
, 1980s era music
, 1990s era music
, Folk
, Bluegrass
, Ceilidh
, Country
, Folk rock
, Irish rock
, Rockabilly
, Traditional English folk
, Traditional Irish folk
, Traditional Scottish folk
, Jazz
, Blues
, Cabaret
, Dixieland
, Gypsy jazz
, Jazz fusion
, Latin jazz
, Modern jazz
, Postmodern jukebox jazz
, Ragtime
, Swing
, Barbershop
, Gospel
, Avant garde
, Easy listening
, Experimental
, Light music
, Marching
, Noise music
, Originals
, Pop
, Acoustic
, Ambient pop
, Americana
, Covers
, Disco
, Funk
, Funk rock
, Hip Hop
, Karaoke
, Motown
, R&B
, Soul
, Top 40
, Tribute
, Vintage
, Rock
, Alternative rock
, Britpop
, Classic rock
, Glam rock
, Hard rock
, Hardcore
, Heavy metal
, Indie
, Pop rock
, Post rock
, Power rock
, Progressive rock
, Punk rock
, Rock 'n' Roll
, Synth rock
, World music
, African music
, Afrobeat
, Arabic
, Argentinian
, Armenian
, Asian music
, Australian music
, Balkan
, Bavarian oompah
, Bollywood
, Bossa nova
, Brazilian music
, Calypso
, Caribbean music
, Choro
, Cuban music
, Cumbia
, Flamenco
, French music
, German music
, Greek music
, Hawaiian music
, Indian music
, Italian music
, Jewish music
, Klezmer
, Latin
, Mariachi
, Merengue
, Polish music
, Polka
, Polynesian music
, Reggae
, Russian music
, Salsa
, Samba
, Scottish music
, Ska
, Skiffle
, Spanish music
, Tango
Event types:
Wedding
, Wedding proposal
, Funeral / Memorial service
, Church service
, Hotel / Restaurant event
, Bar / Club / Venue event
, Private event
, Corporate event
, Charity event
, Concert
, Recording session
, Theatre / Show
, Cruise
, Burns night
, Birthday party
, Christmas party
, New Year's Eve
Song list
CLASSICAL
Sinfonia and Final Duet (from L'incoronazione di Poppea) – Monteverdi
Jesu, Joy of Man's Desiring – J.S. Bach
Air on the G String – J.S. Bach
Sarabande from the First French Suite – J.S. Bach
Loure from the Third Suite for Cello – J.S. Bach
Rondeau – Mouret
The Four Seasons – Vivaldi
Entrance of the Queen of Sheba – Handel
Aria (from Xerxes) – Handel
Water Music – Handel
Allegro and Minuet from the Fire Music – Handel
Canon in D – Pachelbel
Trumpet Tune – Purcell
Trumpet Voluntary – Clarke
Adagio from the Quartet in G major – Haydn
Minuet from the Quartet in D minor – Haydn
Serenade – Haydn
Eine Kleine Nachtmusik – Mozart
Divertimenti in D (KV 136), Bb (KV 137) and F (KV 138) – Mozart
Andante from the 8th Quartet – Mozart
Ave Verum Corpus – Mozart
Adagio in C – Mozart
Minuet from The Quartet in Eb major – Dittersdorf
Minuet – Boccherini
Ave Maria – Schubert
Moment Musical – Schubert
Wedding March - Mendelssohn
Song Without Words No. 35 – Mendelssohn
Intermezzo from the Quartet op. 13 – Mendelssohn
Selection from the Album for the Young op.68 – Schumann
Song 'To Sunshine' op. 36 – Schumann
Liebestraum – Liszt
Wedding Day at Troldhaugen – Grieg
Pavane – Fauré
Salut d'Amour – Elgar
Chanson De Matin – Elgar
Chanson De Nuit – Elgar
Adagietto from Symphony No. 5 – Mahler
Bridal Chorus (Wedding March) – Wagner (Here Comes the Bride!)
Romance – Shostakovich
Gymnopedies - Satie
Toccata – Dubois
OPERA
O mio babbino caro – Puccini
Meditation (from Thaïs) – J. Massenet
'Habanera' and 'Toreador's Song' (from Carmen) – Bizet
'Bei Männern' and 'Der Vogelfänger' (from The Magic Flute) - Mozart
Barcarolle (from Tales of Hoffman) – Offenbach
The Flower Song (from Lakme) – Delibes
Funiculi Funicula - Denza
POPULAR
Don't Stop Believing – Journey
Your Song – Elton John
Greatest Day – Take That
All You Need is Love - The Beatles
In My Life - The Beatles
World Without Love - The Beatles
Good Day Sunshine - The Beatles
Hey Jude - The Beatles
Yesterday - The Beatles
Get Back - The Beatles
I Wanna Hold Your Hand – The Beatles
Chasing Cars – Snow Patrol
Girls Just Wanna Have fun - Cindi Lauper
Time to Say Goodbye – Andrea Bocelli
Sitting on Top of the World - The Carpenters
All I Want is You – U2
Everlong – Foo Fighters
Candle in the Wind – Elton John
Bridge Over Troubled Water – Simon and Garfunkel
Everything I Do I Do it for You – Bryan Adams
Killing Me Softly – Fox / Gimbel
Without You – Badfinger
Take On Me – A-ha
Wherever You Will Go – The Calling
Sway – Michael Bublé
Heaven – DJ Sammy
Moon River – H. Mancini
Take the 'A' Train – Billy Strayhorn
La Paloma – Sebastian Iradier
Country Club – Scott Joplin
The Entertainer – Scott Joplin
Makin' Whoopee – Walter Donaldson
Moonlight in Vermont – Suessdorf
Anything Goes – Cole Porter
Pennies from Heaven – Arthur Johnson
Somewhere Over the Rainbow - Arlen
Fiddle Dance – Fletcher
Jerusalem – Parry
English Country Gardens – Trad.
Miller Rag – Schmitz
Calon Lan - Trad.
Can't take my eyes off you - Frankie Valli
God only knows - The Beach Boys
Hallelujah - Leonard Cohen
Hey there Delilah - Plain White T's
I don't want to miss a thing - Aerosmith
I run to you - Lady Antebellum
Just the way you are - Bruno Mars
Moondance - Van Morrison
My life would suck without you - Kelly Clarkson
Run - Snow Patrol
Sittin' on the dock of a bay - Otis Redding
Sway - Michael Buble
Wonderful tonight - Eric Clapton
You're still the one - Shania Twain
Here comes the sun - The Beatles
Anything for love - Meatloaf
Bat out of hell - Meatloaf
Here, there and everywhere - The Beatles
A thousand years - Christina Perri
A moment like this - Leona Lewis
Amazing grace - traditional
At last - Harry Warren
Moon River - Mancini
Brown-eyed girl - Van Morrison
You to me are everything - The Real Thing
Make you feel my love - Bob Dylan
When a man loves a woman - Percy Sledge
Viva la vida - Coldplay
SHOWS/MOVIES
Empty Chairs at Empty Tables (Les Miserables)
I Don't Know How to Love Him (Jesus Christ Superstar)
If I were a Rich Man (Fiddler on the Roof)
Somewhere (West Side Story)
Tonight (West Side Story)
All I Ask of You (Phantom of the Opera)
Theme from E.T.
Speak Softly Love (The Godfather)
Schindler's List Theme
A Whole New World (Aladdin)
Glasgow Love Theme (Love Actually – Craig Armstrong)
Theme from Fawlty Towers
The Harry Lime Theme (from The Third Man – Anton Karas)
Theme from Pride and Prejudice – Carl Davis
Theme from Poirot – Christopher Gunning
Can You Feel the Love Tonight (The Lion King)
Theme from Jurassic Park
Theme from Star Wars
New York, New York - Bernstein
Be our Guest (Beauty and the Beast)
Beauty and the Beast main theme
Gonna fly now (Theme from Rocky)
Kiss from a rose (Theme from Batman)
Kissing you (Theme from Romeo & Juliet)
Nobody does it better (Theme from The Spy who loved me)
Theme from Family Guy
You only live twice (Theme from You only live twice)
Harry in winter (Harry Potter)
Circle of life (The Lion King)
Game of Thrones Main Theme
Star Wars Main Theme
Jurassic Park Main Theme
This is only a selection of our repertoire. If you have any particular songs which do not appear on this list, please contact us and we shall be happy to arrange them for you.
Customer questions
Do you have different line-up options?
Our usual, and preferred line up, is 2x violins, 1x viola and 1x cello. We can offer a string trio if needed.
What if my timings change after I've booked you?
We can usually be flexible enough to accommodate any changes in times, within reason.
How much time do you need to set up?
We tend to arrive and set up around 1 hour - 1.5 hours before our booking time.
Can I pick the pieces you play from the set list?
We recommend that you pick the songs/pieces for the ceremony, but when it comes to the background music it's best to just give us a direction and we'll select the music. An idea of the type of music is helpful, and any "no-nos" are good to know too!
Do you bring all the equipment you need to perform?
Yes, we provide all equipment. All we need are 4 chairs. Unless we're being asked to perform outside. If outside then we need to be undercover and out of direct sunlight.
Can you learn specific pieces before the event?
If a certain piece/song is not in our repertoire list then we can usually learn it. We write our own arrangements of songs so usually we can sort something out, but this will incur an additional charge.
Park String Quartet
Reviews
From Encore customers:
Reply from Park String Quartet
7 months ago