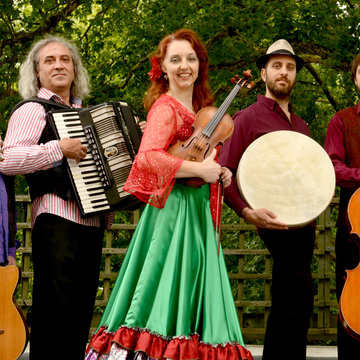 Check availability and get a free quote now - no commitment to book
Watch & Listen
About
Reviews
About Tatcho Drom
Public liability insurance of £100 million
Reviews
From customers:
Concert A, 7 years ago
Dear Gundula -- A short note to say how much I enjoyed the concert today in St George's, Bristol. From where I and my partner were sitting it was quite spectacular as well as musically exhilarating. I appreciate that you & your colleagues will go on to other events and venues but be assured that your memory burns brightly here in this part of Bristol.
Outdoor G, 8 years ago
"We particularly enjoyed the parade through the audience and it was a delight to watch people of all ages and backgrounds joining in."
Festival R, 6 years ago
'the Balkan Band were simply wonderful and Gundula delightful'
Private, 7 years ago
… most of all I loved her playing and singing: unaffected and full of life… with her musicality and lifelines she is giving out something so precious and important in this muddled world!
Vesti N, 8 years ago
"Bavarian-born violinist Gundula could well have been raised in the Balkans, for her playing imparts the true soul of Gypsy music, full of colour and passion, an explosion of energy…"
Songlines M, 6 years ago
'...huge musical talent and impressive energy...'
Birthday H, 4 years ago
'Dear Gundula, thank you VERY much for making my birthday party such a success, everyone enjoyed your performance and you certainly put the guest into a very happy mood.'
Private M, 5 years ago
I was at last night's concert and I just wanted to say that you guys are amazing. My mother is a violist and my stepfather is a professional violinist and I have been to hundreds of concerts in my lifetime, and I tell you with all honesty, that was the most enjoyable, entertaining evening of music that I have ever experienced.
© Encore Technologies, Ltd.
Crafted with bagels and in London