String quartet
Quartz String Quartet
Like Quartz String Quartet?
About Quartz String Quartet
An elegant and professional string quartet available for weddings and events. Our repertoire ranges from baroque to contemporary pop music.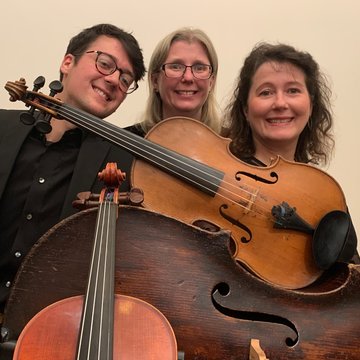 Public liability insurance of £10 million
Performance details
We have vehicles we can use to travel to gigs
Musicianship
Genres:
Christmas
, Contemporary Christian
, Military
, Traditional church music
, Classical
, Baroque
, Classical crossover
, Contemporary classical
, Early music
, Fanfare
, Film / TV music
, Medieval music
, Musical theatre
, Opera
, Renaissance
, Covers
, Acoustic
Event types:
Wedding
, Wedding proposal
, Funeral / Memorial service
, Church service
, Hotel / Restaurant event
, Bar / Club / Venue event
, Private event
, Corporate event
, Charity event
, Concert
, Recording session
, Theatre / Show
, Cruise
, Burns night
, Birthday party
, Christmas party
, New Year's Eve
Song list
We have a huge range of repertoire and can often source any special requests that you might have - Please ask and we will see what we can do.
Below is a list of repertoire - it is always being updated, so if a tune is not listed please enquire.
Pop
Abba - Medley of Songs by Abba
Abba - Mamma Mia
Aerosmith - I Don't Want to Miss a thing
Aznavour, Charles - She
Beach Boys - Beach Boys Medley
Bee Gees - How Deep is Your Love
Clapton, Eric - Wonderful tonight
Clapton,Eric - Stairway to Heaven
Cohen, Leonard - Hallelujah
Collins, Phil - Two Hearts
Des'ree - Kissing you
Dexy's Midnight Runners - Come on Eileen
ELO - MR Blue Sky
ENYA -Only Time
Gaynor, Gloria - I Will Survive
Guns and Roses - Sweet Child of Mine
Ivers and Keane - Bygone Days
Jackson, Michael - Thriller
John, Elton - Your song
Jones, Tom - Delilah
Journey - Don't Stop Believin'
King, Ben E - Stand By Me
Led Zeppelin - Stairway to Heaven
Lennon - Love
Love Affair - Everlasting Love
Madness - It Must Be Love
Markowitz -I've Had the Time of My Life
Marley - Is this love
Martin, Dean - Sway
Meatloaf - I would do anything for love
Metallica - Nothing Else Matters
Michael, George - Last Christmas
Moody Blues - Nights in White Satin
Oasis - Wonderwall
Orbison, Roy - Oh Pretty Woman
Poco Harem - Whiter Shade of Pale
Presley, Elvis - Blue Suede Shoes
Presley, Elvis - Can't Help Falling In Love
Queen - Crazy Little Thing Called Love
Queen - Bohemian Rhapsody
Queen - Somebody to Love
Queen - Love is my Life
Queen - I was Born to Love You
Queen - The Best of Queen
Reed, Lou - Perfect Day
Seal - Kiss from a Rose
Sedaka, Neil - Is This The Way to Amarillo
Simon and Garfunkel - Scarborough Fair
Simone, Nina - Feeling Good
Status Quo - Rockin' All Over The World
Sting - Roxanne
Sting - Fields of Gold
The Beatles - Lady Madonna
The Beatles- Yesterday
The Beatles - If I Fell
The Beatles - Got to Get You Into My Life
The Beatles - Hello Goodbye
The Beatles - Best of the Beatles
The Beatles - Hey Jude
The Beatles - When I'm Sixty Four
The Beatles - Grow Old With Me
The Beatles - Here Comes The Sun
The Beatles - All You Need Is Love
The Beatles - She Loves You
The Beatles - Eleanor Rigby
The Beatles - With a Little Help From My Friends
The Beatles - Eight Days a Week
The Beatles - Michelle
The Doors - Light My Fire
The Eagles - Hotel California
The Fugees -Killing Me Softly With His Song
The Hollies - The Air That I Breathe
The Verve - Bittersweet Symphony
Train - Hey Soul Sister
West life - Flying without Wings
White, Barry - You're the First, the Last, My Everything
Williams, Robbie - Angels
Young, Victor - When I Fall In Love
Twenty First Century Pop
Adele - Hello
Blunt, James - You're Beautiful
Buble, Michael - Everything
Coldplay - Paradise
Coldplay - Viva La Vida
Coldplay - Every Tear Drop is a Waterfall
Coldplay - Yellow
Elbow - One Day Like This
Evanescence - My Immortal
Florence and the Machines -You've Got the Love
Guetta, David - Without You
Haddaway - What is Love
Lady Gaga - Lady Gaga Hit Mix
Legend, John - All of Me
Mars, Bruno - Just the Way You Are
Mars, Bruno - Marry you
Mars, Bruno - Talking to the Moon
Perri, Christina - A Thousand Years
Mraz, Jason - I'm Yours
Sheeran, Ed - Thinking Out Loud
Ronson, Mark - Uptown Funk
We are continually updating our pop repertoire, and will add on new songs when we have them.
Jazz, Musicals, Film and TV
Armstrong, Louis - What A Wonderful World
Berlin - Let's Face The Music and Dance
Coward, Noel - Mad Dogs and Englishmen
Donaldson - Makin Whoopee
Ellington, Duke - In a Sentimental Mood
Gade - Jalousie
Gay - Leaning on a Lamppost
Gershwin, George - They can't take that away from me
Gershwin, George - Someone to Watch Over Me
Gershwin, George - Summertime
Gershwin, George - Slap That Bass
Gershwin, George - Nice Work If You Can Get It
Gershwin, George - I've Got Rhythm
Howard, Bart - Fly me to the Moon
Hupfeld, Herman - As Time Goes By
Jobim, Antonia Carlos - Girl from Ipanema
Johnson -Pennies From Heaven
Jones, Isham - It Had To Be You
Joplin, Scott - The Entertainer and lots of other Rags
Kern, Jerome - The Folks Who Live on the Hill
Martin and Coulter - Congratulations
Porter - Everytime we Say Goodbye
Porter - Let's Do It
Porter - Anything Goes
Prado, Perez - Cherry Pink and Apple Blossom White
Rodgers, Richard - My Funny Valentine
Shearing, George - Lullaby of Birdland
Sherwin - Nightingale Sang in Berkeley Square
Shields, Harry - Tiger Rag
Strayhorn, Billy - Take the A Train
Strayhorn, Billy - Satin Doll
Strayhorn, Billy - Chelsea Bridge
Suessdorf - Moonlight in Vermont
Warren, Harry - That's Amore
Young, Victor - When I Fall In Love
Waller, Fats - Ain't misbehavin'
Film, TV and Musicals
Arlen, Harold - Somewhere Over The Rainbow
Bardelt, Klaus - Pirates of the Caribbean
Bernstein, Elmer - The Magnificent Seven
Brown, Herb - Singin' in the Rain
Collins, Phil - Tarzan Theme
Giacchino,M - Stuff We Did from Up
Goldsmith, Jerry - The Gremlin Rag
Hamlish, Marvin - Nobody does it better
Horner, James - Titanic Medley
Horner, James - Braveheart Wedding
Jarre, Maurice - Lara's Theme Somewhere my Love
John, Elton - Can You Feel the Love Tonight
Lopez - Love is an Open Door
Mancini, Henry - Moon River
Mancini, Henry - The Pink Panther
Menken, A - Hercules I can Go The Distance
Menken, A - A Whole New World
Menken, Alan - Now I See the Light
Newman, Randy - Dexter's tune
Norman, Monty - James Bond Theme
Parton, Dolly - I will always love you
Rodgers, Richard - Blue Moon
Rota, Nina - Godfather Love Theme
Sager & Foster - The Prayer
Shostakovich - Romance from the Gadfly
Sherman & Sherman - I Wanna Be Like You
Sherman & Sherman - The Bare Necessities
Sherman & Sherman - Chitty Chitty Bang Bang
Sherman & Sherman - Hushabye mountain
Silvestri, Alan - Theme from Forest Gump
Simon, Carly - Nobody Does It Better
Trenet, Charles - Beyond the Sea
Ungar,J - Ashokan Farewell
Weill, Kurt - Mack the Knife
Williams John - Hedwig's theme
Williams John - The Throne Room
Williams John - Cavatina from Deer Hunter
Williams, John - Raiders March
Williams, John - Concerning Hobbits
Anderson and Rice - I Know Him so Well
Bernstein, L - Maria
Bernstein, L - America
Bernstein, L - New York, New York
Bernstein, L - I Feel Pretty from West Side Story
Bock - Sunrise, Sunset
Coleman, Cy - Big Spender
John, Elton - Can You Feel the Love Tonight
Lloyd Webber, A - Don't Cry For Me Argentina
Lloyd Webber, A - All I Ask Of You
Loewe - My Fair Lady
Rodgers and Hammerstein - Suite from South Pacific
Rodgers, Richard - You'll Never Walk Alone
Schonburg, CM - I Dreamed a Dream
Romantic and Opera
Barber - Adagio for Strings
Berlioz - Symphonie Fantastique, Un Bal
Borodin - Theme from String Quartet 2
Brahms - Hungarian Dances
Davies - RAF March Past
Debussy - Gollywog's Cake Walk
Delibes - Flower Duet
Dvorak - Serenade opus 44
Dvorak - Finale from Sonatina in G Minor
Dvorak - Slavonic Dances
Dvorak - Humoresque
Elgar - Chanson de Matin
Elgar - Chanson de Nuit
Elgar - Salut D'Amour
Faure - Pavane
Franck - Panis angelicas
Grieg - Waltz
Grieg - Peer Gynt Suite
Grieg - Norwegian Dance no. 3
Grieg - Wedding Day at Troldhaugen
Jenkins, Karl - Palladio
Massenet - Meditation
Mendelssohn - Wedding March
Monti - Czardas
Offenbach - Barcarolle
Puccini - Nessun Dorma
Rachmaninoff - Vocalise
Rachmaninoff - Variation 18 from Rhapsody on a Theme by Paganini
Ravel - Bolero
Rimskikorskov - Flight of the Bumblebee
Satie, Eric - Gymnopedie No 1
Schumann - Scenes from Childhood
Schumann - Träumer
Schumann - Thou Ring on my Finger
Strauss - Pizzicato Polka
Strauss - Blue Danube Waltz
Strauss - Radetzky March
Strauss - Tritsh-Tratsch Polka
Tchaikovsky - Sleeping Beaty waltz
Tchaikovsky - Suite from the Nutcracker
Tchaikovsky - Serenade for strings
Opera
Bizet -Carmen Suite
Capua - O Sole Mio
Delibes - Flower Duet
Denza - Funiculi Funicular
Gilbert and Sullivan - Selections from the Operetta's
Gounod - Chanson Du Roi from Faust
Gounod - Vin O biere from Faust
Mascagni - Intermezzo Sinfonico from Calvalleri Rusticana
Mozart - Ah, Fuggi il Traditor! from Don Giovanni
Mozart - De Vieni, Non Tardar from The Marrige of Figaro
Mozart - Overture from The Marriage of Figaro
Mozart - Overture from the Magic Flute
Puccini - Quando m'en Vo Soletta per la via from La Bohème
Puccini - O mio babbino caro
Puccini - Nessun Dorma
Rossini - Barber of Seville Overture
Strauss - Overture from Die Fledermaus
Verdi - Libiamo from La Traviata
Verdi - Quartet from Rigoletto
Verdi - Grand March from Aida
Verdi - Brindisi - Drinking Song
Wagner - Prelude to Act III from Lohengrin
Wagner - Grand March from Tannhäuser
Wagner - Bridal March
Baroque/Classical
Bach, J.S - Wachet Auf
Bach, J.S - Sheep May Safely Graze
Bach, J.S - Jesu Joy of Man's Desiring
Bach, J.S - Toccata and Fugue
Bach, J.S - Brandenburg Concerto no.5
Bach, J.S - Brandenburg Concerto no.3
Bach, J.S- Double Concerto for Two Violins
Bach, J.S - Concerto for violin and oboe
Bach, J.S - Arioso
Bach, J.S - Air on G
Bach, J.S - Bouree from the 3rd cello Suite
Corelli - Christmas Concerto
Handel - Largo
Handel - Zadok the Priest
Handel - Where're You Walk
Handel - Suite from the Firework Music
Handel - Suite from the Water Music
Handel - Arrival of the Queen of Sheba
Handel - Minuet from Berenice
Handel - All We Like Sheep and Hallelujah Chorus , Messiah
Pachelbel - Canon
Purcell - Two Rondeau
Purcell - Trumpet Tune
Vivaldi, Antonio - The Four Seasons, Spring, Autumn, Summer and Winter
Classical
Beethoven - Ode to Joy
Beethoven - Adagio Cantabile from Pathetique Sonata
Beethoven - Symphony No 5 in C Minor
Beethoven - Fur Elise
Boccherini - Minuet
Bor Teddy - McMozart's Eine Kleine
Gluck - Dance of the Blessed Spirits
Gounod - Ave Maria
Haydn - Andante, Oboe Concerto
Haydn - Symphony No 77, Mvt 4
Mendelssohn - Adagio from Organ Concerto
Mozart - Andante from Piano Concerto no 21
Mozart - Rondo alla Turca
Mozart - Adagio in C K356
Mozart - Magic Flute Overture
Mozart - Ave Verum Corpus
Mozart - Alleluja from Exultate Jubilate
Mozart - Rondo alla Turca
Mozart - Alleluja from Exultate Jubilate
Mozart - Divertimento in D, B flat and F
Mozart - Eine Kleine Nacht Musik
Mozart - Rondo alla Turca
Mozart - Lacrimosa from the Requiem
Pleyel - Two Sonatinas opus 48 no 1 and 2
Rossini - Ballet Music from William Tell
Schubert - Ständchen
Schubert - Ecossaise
Strauss, Johann - Pizzicato Polka
Reviews
4 verified reviews
Satisfaction
Professionalism
Communication
Punctuality
From Encore customers:
Aida C, 1 year ago
Paul L, 2 years ago
Simon W, 3 years ago
Gerald C, 3 years ago