About Cheviot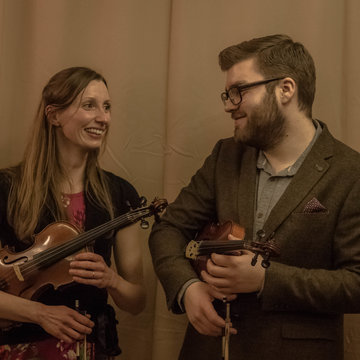 An exciting all round versatile duo! A classically trained Violin Duo or add our Piano, Guitar&Fiddle skills for an experienced ceilidh duo.
Performance details
We have vehicles we can use to travel to gigs
We require car parking close to venues
Our equipment is PAT tested
Musicianship
Genres:
Classical, Baroque, Contemporary classical, Classical crossover, Film / TV music, 1960s era music, 1970s era music, 1980s era music, 1990s era music, 1950s era music, Ceilidh, Pop, Covers, Rock
Event types:
Wedding, Wedding proposal, Funeral / Memorial service, Hotel / Restaurant event, Bar / Club / Venue event, Private event, Corporate event, Charity event, Recording session, Theatre / Show, Cruise, Burns night, Birthday party, Christmas party, New Year's Eve
Song list
Ceilidh Dances- we can call instructions for all dances for your guests
Canadian Barn Dance
Circassian Circle
Circle Waltz
Dashing White Sergeant
Eightsome Reel
Flying Scotsman
Gay Gordons
Grand March
Military 2 Step
Orcadian Strip The Willow
Original Strip The Willow
Riverside Jig
St Bernards Waltz
Virginia Reel
Waltzes
Here is our extensive repertoire for 2 violins, please find listed both classical pieces and popular chart music
Pop hits numbers:
• All Of Me
• Brave
• Heathens
• Hello
• Home
• I Will Wait
• I'm Not The Only One
• Just The Way You Are
• Let It Go
• Let It Go
• Little Talks
• Lost Boy
• Love Runs Out
• Love Yourself
• One Call Away
• Ophelia
• Paradise
• Radioactive
• Riptide
• Roar
• Say Something
• 7 Years
• Shake It Off
• Skyfall
• Story Of My Life
• Take Me To Church
• Thinking Out Loud
• Wake Me Up!
• We Are Young
• We Found Love
• Billie Jean
• Bohemian Rhapsody
• Bridge Over Troubled Water
• California Dreamin'
• Can You Feel The Love Tonight
• Can't Help Falling In Love
• Every Breath You Take
• Good Vibrations
• Hallelujah
• I Heard It Through The Grapevine
• I Will Always Love You
• Imagine
• In My Life
• Lean On Me
• Moon River
• My Heart Will Go On (Love Theme From 'Titanic')
• Over The Rainbow
• Piano Man
• (Sittin' On) The Dock Of The Bay
• Smells Like Teen Spirit
• Stand By Me
• Tears In Heaven
• Unchained Melody
• What A Wonderful World
• What The World Needs Now Is Love
• A Whiter Shade Of Pale
• With Or Without You
• You Raise Me Up
• You've Lost That Lovin' Feelin'
• Your Song
Various Beatles numbers
• All My Loving
• All You Need Is Love
• And I Love Her
• Blackbird
• Can't Buy Me Love
• Day Tripper
• Eleanor Rigby
• The Fool On The Hill
• A Hard Day's Night
• Here Comes The Sun
• Here, There And Everywhere
• Hey Jude
• I Saw Her Standing There
• I Want To Hold Your Hand
• I Will
• Let It Be
• The Long And Winding Road
• Love Me Do
• Lucy In The Sky With Diamonds
• Michelle
• Norwegian Wood (This Bird Has Flown)
• Ob-La-Di, Ob-La-Da
• Penny Lane
• She Loves You
• Something
• Ticket To Ride
• When I'm Sixty-Four
• With A Little Help From My Friends
• Yellow Submarine
• Yesterday
Classical music offered
• Air in "D"and Jesu, Joy of Man's Desiring (Bach)
• Allegro (Fiocco)
• Amazing Grace (trad.)
• Bridal Chorus (Wagner)
• Chaccone (Vitali)
• Kanon (Pachelbel)
• Menuetto (Boccherini)
• Ode to Joy (Beethoven)
• Rondeau (Mouret)
• Serenade (Haydn)
• Trumpet Voluntary (Purcell)
• Wedding March (Mendelssohn)
• Water Music (Handel)
• "Winter" from The Four Seasons (Vivaldi)
• Adagio Elegiaque (Ries)
• Allegro (Telemann)
• Allegro (Sonata In A) Corelli
• Allegro De Concert (Gebauer)
• Andante (Duo Sonata In G)tartini
• Aubade (De Beriot)
• Canzoneta (Bohm)
• Concerto Grosso-D Min. (Vivaldi)
• Concertstuck (Kalliwoda)
• Divertimento In D (Sitt)
• Dudziarz (Wieniawski)
• Duettino In F (Dancla)
• Duo Brillante (Rode)
• Duo Celebre (Pleyel)
• Duo Concertante (Viotti)
• Duo De Salon (Alard)
• Duo Dramatique (Jansa)
• Duo Perpetuo (Fiorillo)
• Duo Populaire (Mazas)
• Duo Symphonique (Campagnoli)
• Fantaisie Brillante (Leonard)
• Finale (6th Can.Son.) Telemann
• Folies D' Espagne (Corelli)
• La Chasse (Hoffmeister)
• La Melancolie (Prume)
• Meditation(Mil.Con.) Bazzini
• Menuet (Concert-Sonate)veracini
• Minuetto (Vieuxtemps)
• Morceau Lyrique (Dancla)
• Musette (Leclair)
• Notturno-Pastorale (Leclair)
• Piece De Concert (Dancla)
• Rondo Elegante (Kreutzer)
• Rondo-Allegro (Spohr)
• Salon-Duett (Hohmann)
• Scherzo-Caprice (Gebauer)
• Souvenir Poetique (Dancla)
• Theme & Var.(Barucaba) Paganini
• Theme & Variations (De Beriot)
• Abendlied (Tours)
• Allegro (Sym.Duo) Kalliwoda
• Bal Masque (Dancla)
• Beau Soir (Dancla)
• Caprice-Elegante (Henning)
• Dialogue No. 1 (Eichberg)
• Dialogue No. 2 (Eichberg)
• Dramatic Episode
• Duo Chromatic (Eichberg)
• Duo De Concours (Wohlfahrt)
• Duo Processional (Wohlfahrt)
• Etude De Concert (Spohr)
• Eudoxa (Mazas)
• Finale (Concert.E Flat) Spohr
• Grand Duo De Salon (Kalliwoda)
• Guitare (Dancla)
• Intro & Scherzo-Capricc. (Weiss)
• La Capricieuse (Mazas)
• La Fileuse (Alard)
• Le Papillon (Mazas)
• Marche Melisande (Dancla)
• Menuet(2nd Duettino) Pleyel
• A Mirage (Mazas)
• Poeme D'amour (De Beriot)
• Polka De Concert (Dancla)
• Promenade (Eichberg)
• Reveuse (De Beriot)
• Rondo (Duo In D) Mazas
• Scene De Danse (Kalliwoda)
• Theme & Var. (4th Duo) Pleyel
• Wellenspiel (L.Schubert)
Others
1) Andante And Rondo [Pleyel, Ignaz]
2) Barcarolle From Nine Pins [Lutyens, Elisabeth]
3) Carnival From Nine Pins [Lutyens, Elisabeth]
4) Chim Chim Cher-ee (Mary Poppins)
5) Evening Prayer (Hansel And Gretel) [Humperdinck, Englebert]
6) Ev'rybody Wants To Be A Cat (The Aristocats)
7) Greensleeves
8) Happy Birthday
9) Hornpipe (Water Music) [Handel, George Frideric]
10) I Have A Dream [Abba]
11) Largo (Symphony No.9 In E Minor 'From The New World' Op.95) [Dvorak, Antonin]
12) Lento And Allegro [Stravinsky, Igor]
13) Little Duet, Op.38 Book 1, No.1 (Matas)
14) Mamma Mia [Abba]
15) Minuet, Op.37 No.2 [Hook, James]
16) My Favourite Things (The Sound Of Music)
17) Scarborough Fair
18) Simple Gifts
19) Somewhere Out There (An American Tale) [Horner, James] [Mann, Barry] [Weill, Cynthia]
20) Spring [Buckley, John]
21) Stella Splendens
22) Stop [Spice Girls, The]
23) Supercalifragilisticexpialidocious
24) The Last Rose Of Summer
25) The Lonely Goatherd (The Sound Of Music)
26) Twinkle, Twinkle, Little Star
27) Virelai [Machaut, Guillaume De]
28) Zum Gali Gali
Reviews
1 verified review
Satisfaction
Professionalism
Communication
Punctuality
From Encore customers:
Linda B, 8 months ago