String quartet
Andante String Quartet
Support available Mon-Sun
Like Andante String Quartet?
Watch & Listen
1-3 of 18 videos
Coldplay Yellow - Book Now on Encore Musicians
String Quartet Pehla Nasha Bollywood - Book Now on Encore Musicians
String Quartet Jeene Laga Hoon Bollywood Book Now on Encore Musicians
About Andante String Quartet
AWARD WINNING PROFESSIONAL STRING QUARTET WITH REPERTOIRE RANGING FROM BACH TO BEYONCÉ AND TCHAIKOVSKY TO THE KILLERS.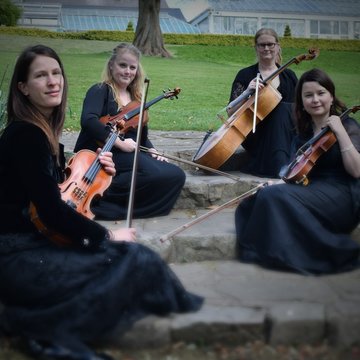 Public liability insurance of £5 million
Encore badges
Saved the day!
Booked for an Encore gig with less than 24 hours' notice
Top 10 booked musician of 2022
5th Anniversary
This act has been working with Encore for over 5 years
25 gigs
Pro: 25 bookings through Encore
Musicianship
Genres:
Christmas
, Classical
, Baroque
, Classical crossover
, Contemporary classical
, Early music
, Fanfare
, Film / TV music
, Medieval music
, Musical theatre
, Opera
, Renaissance
, 1920s era music
, 1930s era music
, 1940s era music
, 1950s era music
, 1960s era music
, 1970s era music
, 1980s era music
, 1990s era music
, Pop
, Covers
, Rock
, Pop rock
, Alternative rock
, Britpop
, Heavy metal
, Classic rock
, Indie
, Power rock
Event types:
Wedding
, Wedding proposal
, Funeral / Memorial service
, Church service
, Hotel / Restaurant event
, Bar / Club / Venue event
, Private event
, Corporate event
, Charity event
, Concert
, Recording session
, Theatre / Show
, Cruise
, Burns night
, Birthday party
, Christmas party
, New Year's Eve
Song list
String Quartet Repertoire
Classical
Albeniz Tango
Albinoni Adagio
Bach Air on the G String
Bach Arioso
Bach Brandenburg Concerto No. 1
Bach Brandenburg Concerto No. 2
Bach Brandenburg Concerto No. 3
Bach Brandenburg Concerto No. 6
Bach Violin Concerto in E-Major, Allegro
Bach Fugue in D
Bach Fugue in g
Bach Jesu, Joy of Man's Desiring
Bach Double Violin Concerto
Bach Sheep May Safely Graze
Bach-Gounod Ave Maria
Barber Adagio for Strings
Beethoven Fur Elise
Beethoven Minuet in G Major
Beethoven Ode to Joy
Beethoven Piano Concerto no 5, 2nd Mvt
Beethoven Symph 7 Mov 2
Bizet Au Fond du Temple Saint, from "The Pearl
Fishers"
Binge Elizabethan Serenade
Bizet Habanera to Carmen
Bizet Prelude to Carmen
Boccherini Minuetto
Borodin Notturno
Borodin Polovtsian Dances, Prince Igor
Brahms from Symphony no. 3
Brahms Hungarian Dance no. 2
Brahms Hungarian Dance no. 5
Brahms Waltz
Campra Rigaudon
Capua O Sole Mio
Charpentier Te Deum
Chopin Fantasie Impromptu
Chopin Minute Waltz
Chopin Polonaise
Chopin Prelude No. 20 - Largo - C Minor
Chopin Prelude No. 7 - Andantino - A Major
Chopin Prelude No. 22 - Molto agitato - G Minor
Chopin Prelude No. 6 - Lent assai - B Minor
Chopin Waltz in E Flat
Clarke Trumpet Voluntary
Corelli Concerto Grosso, G minor
(Christmas Concerto)
Debussy Clair de Lune
Debussy Reverie
Debussy The Girl With The Flaxen Hair
Delibes Flower Duet from Lakme
Denza Funiculi Funicula
Donizetti L'Elisir d'Amore (Della Crudele Isotta)
Dvorak Humoresque
Dvorak New World Symphony (2nd movement)
Dvorak Slavonic Dance no. I
Dvorak Slavonic Dance no. II
Dvorak Slavonic Dance No. VIII
Elgar Chanson de Matin
Elgar Chanson de Nuit
Elgar Nimrod
Elgar Salut d'Amour
Elgar String Serenade
Faure Pavane
Faure Pie Jesu, from the Requiem
Faure Requiem Op:48 VII In Paradisum
Faure Sicilienne
Franck Panis Angelicus
Gounod Extracts from Romeo and Juliette
Gounoud The Soldiers Chorus, Faust
Grieg Idylle
Grieg Last Spring
Grieg Morning
Grieg Norwegian Dance No.2
Grieg Waltz
Grieg Wedding Day at Troldhaugen
Handel Largo from Xerces
Handel Lascia ch'io Pianga
Handel Messiah
Handel Water Music Suite in F Major
Handel Water Music Suite in D Major
Handel Music from the Royal Fireworks
Handel Entrance of the Queen of Sheba
Handel Where E'er You Walk from "Semele"
Handel Zadok the Preist
Haydn Selected Quartet Movements
Holst I Vow to Thee My Country
Jenkins Agnus Dei from the Armed Man
Jenkins Benedictus from the Armed Man
Jenkins Cantata Mundi from Adiemus
Jenkins Palladio
Lehar Vilia fom the Merry Widows
MacDowell To a Wild Rose
Mahler Death in Venice
Mascagni Intermezzo, Cavalleria Rusticana
Massenet Meditation from Thais
Mendelssohn If With All Your Hearts
Mendelssohn Sehnsuchtig
Mendelssohn Song Without Words
Mendelssohn Wedding March
Mourat Rondeau
Moussourgsky Gopak
Mozart Alleluja from "Exultate Jubilate"
Mozart Ave Verum Corpus
Mozart Don Giovanni extracts
Mozart Eine Kleine Nachtmusik
Mozart Elvira Madigan
Mozart Rondo alla Turca
Mozart Three Divertimenti
Mozart Non piu andrai, from the Marriage of Figaro
Mozart Voi che sapete, from the Marriage of Figaro
Niels Wiggo Gade Bridal Waltz
Offenbach Barcarolle
Pachelbel Canon
Pergolesi Arietta
Pretorius Es Ist Ein Ros
Puccini Extracts from La Boheme
Puccini Extracts from Madama Butterfly
Puccini Nessun Dorma
Puccini O Mio Babbino Caro
Purcell Dido's Lament
Purcell Oedipus
Purcell Trumpet tune
Purcell Two Rondeaux
Rachmaninov Prelude
Rachmaninov Vocalise
Rimsky-Korsakov Song of India
Rimsky-Korsakov
- The Young Prince & Princess from Scheherezade
Rossini Barber of Seville Overture
Rossini Galop, William Tell
Rubenstein Melody in F
Rubenstein Romance
Saint-Saens The Swan
Saint-Saens Mon Coeur S'Ouvre a ta Voix
Satie 3 Gymnopedies
Schubert Ave Maria
Schubert Moment Musicale
Schubert Serenade
Schubert Standchen
Schumann Scenes from Childhood
Schumann Traumerei
Shostakovich Romance
South Brent Suite
Staruss Blue Danube
Strauss Tritsch-Tratsch Polka
Strauss Tales from the Vienna Woods
Strauss Wiener Blut
Sullivan Three little Milk Maids from School
Tchaikovsky Chanson Triste
Tchaikovsky Pathetique Symphony
Tchaikovsky Extracts from the Nutcracker
Tchaikovsky Extracts from Swan Lake
Tchaikovsky Romeo and Juliett
Tchaikovsky Theme from Piano Concerto no 1
Tchaikovsky Theme from Symphony no. 5
Tchaikovsky Waltz from String Serenade
Tchaikovsky Waltz from Sleeping Beauty
The Danish String Quartet Sonderho Bridal Trilogy Pt II
Traditional Greensleeves
Verdi Andantino from 'La Forza del destino'
Verdi Extracts from La Traviata
Verdi Il Trovatore Act II The Gypsy Woman
Verdi Va Pensiero
Vivaldi Concerto for Two
Mandolins, Slow Movement
Vivaldi Spring
Vivaldi Summer
Vivaldi Autumn
Vivaldi Winter
Wagner Wedding March
William Walton - Crown Imperial March
Widor Toccata
James Bond Film Music:
Another Way To Die
Diamonds Are Forever
For Your Eyes Only
From Russia With Love
Goldeneye
Gold Finger
James Bond Theme
Licence to Kill
Live and Let Die
Nobody Does It Better
On Her Majesty's Secret Service
Skyfall
Thunderball
View to a Kill
We Have All the Time in the World
The Beatles Repertoire
And I Love Her
A Hard Day's Night
Across the Universe
All I've Got To Do
All My Loving
All You Need is Love
Back In the U.S.S.R.
Because
Blackbird
Can't Buy Me Love
Come Together
Day Tripper
Do You Want to Know a Secret?
Eight Days a Week
Eleanor Rigby
Got to Get You Into My Life
Hello Goodbye
Help
Here Comes the Sun
Here, There and Everywhere
Hey Jude
I Feel Fine
If I Fell
In My Life
I Want To Hold Your Hand
I Will Follow the Sun
Lady Madonna
Let Me Call You Sweetheart
Let It Be
Love Me Do
Maybe I'm Amazed
My Love
Michelle
Norwegian Wood
Ob-La-Di, Ob-La-Da
Oh, Darling
Oh, My Love
Paperback Writer
Penny Lane
Rocky Raccoon
She Loves You
Something
Strawberry Fields Forever
The Fool on the Hill
Til There Was You
Tomorrow Never Knows
When I'm sixty four
With a Little Help from My Friends
Yellow Submarine
Yesterday
TV and Film Music
About A Boy - I Love N.Y.E. (Badly Drawn Boy)
Amelie J'y Suis Jamais Alle (Yann Tiersen)
Amistad - The Long Road to Justice
An Affair to Remember - Theme
An American Tail - Somewhere Out There
Annie Get Your Gun - They Say Its Wonderful
Armegeddon - I Don't Want to Miss A Thing
Assasin's Creed video game - Revelations
Austin Powers Theme - Soul Bossa Nova
Avatar - I See You
Back to The Future - Theme
BBC Sport Formula 1 - Theme
Braveheart - Gift of a Thistle
Braveheart - For the Love of a Princess (Theme)
Braveheart - The Secret Wedding
Brideshead Revisited - Theme
Brigadoon - Come to Me, Bend to Me
Captain America: The First Avenger - Theme (Alan Silvestri)
Carousel - If I Loved You
Champions - Theme (Carl Davies)
Corpse Bride - Incidental Music (Danny Elfman)
Darling Buds of May - Theme
Dawsons Creek Feels Like Home
Da Vinci's Demons - Theme (Bear McCreary)
Django Unchained - Freedom (Anthony Hamilton & Elayna Boynton)
Doctor Who - 11th Doctor Theme
Downton Abbey - Theme
Dr Zhivago - Lara's Theme
Emma - The Seaside(Sim)
Father of The Bride - End Credits (Silvestri)
Fawlty Towers - Theme
Final Fantasy VI - Variations on Victory Fanfare
Flashdance - What a Feeling
Forrest Gump - Feather Theme
Friends - I'll Be There For You
From A Summer Place - Theme
Galdiator - Now We Are Free
Game of Thrones - Goodbye Brother(Ramin Djawadi)
Game of Thrones - Theme
Game of Thrones - Rains of Castamere
Great Escape - Theme
Halloween Main Theme
Harry Potter Medley
Harry Potter - Christmas At Hogwarts
Harry Potter and the Goblet of Fire - Potter Waltz
High Soceity - You're Sensational (Porter)
Home Alone - Somewhere In My Memory(Williams
Hook - Flight to Neverland
Hovis Ad DvorakNew World Symphony (2nd movement)
Howl's Moving Castle - Theme
I'd Rather be Right - Have You Met Miss Jones (Richard Rodgers) Ice Castles - Through the Eyes of Love
Indiana Jones - Theme
Inglorious Basterds/The Alamo
- The Green Leaves of Summer
Insidious - Nuvole Bianche Einaudi
Jaws - Main Titles
Jeeves and Wooster - Theme
Jesus Christ Superstar
- I Don't Know How to Love Him
Jurassic Park - Theme
La Valse d'Amelie - Yann Teiersen
Ladies of Lavender - Theme
Last of the Mohicans - The Kiss (Gael)
Laverne and Shirley Show - Making Our Dreams Come True
Legends of the Fall - The Ludlows
Les Miserables - One Day More
Les Miserables - A Heart Full of Love
Life is Beautiful Buongiorno Principessa
Lincoln - The People's House
Lonesome Dove - Theme (Basil Poledouris)
Lord of the Rings - Concerning Hobbits
Lord of the Rings - In Dreams
Lost - Parting Words
Love Actually - Glasgow Love Theme
Love Actually - PM Love Theme
Love Actually - Portuguese Love Theme
Lovestory Where Do I Begin?
Master and Commander - La Musica Notturna di Madrid
Match of the Day - Theme
Miss Saigon - Last Night of the World
Moulin Rouge - Come What May
Muppets Take Manhattan - He'll Make Me Happy
Muppets Take Manhattan - Somebody's Getting Married
New Moon - Do You Realize The Flaming Lips
North & South - Northbound Train
Oliver Twist - Where is Love
Once - Falling Slowly - Hansard & Irglová
Once upon a time in the West (Morricone)
One Day - We Had Today (Portman)
Once Upon a Time in Africa (Morricone)
P.S. I Love You - Kisses and Cake (Powell)
Prometheus DvorakNew World Symphony (2nd movement)
Pride and Prejudice - Can't Slow Down
Pride and Prejudice - Dawn
Pride and Prejudice - Theme Carl Davis (BBC)
Pulp Fiction - Miserlou (Dick Dale)
Pokemon - Gotta Catch 'Em All (Jason Paig)
Poltergeist - Carol Anne's Theme (Goldsmith)
Rent - Seasons of Love
Requiem for a Dream - Lux Aeterna
Robin Hood Prince of Thieves - Overture
Rocky - Theme - Gonna Fly Now
Romeo and Juliet - Theme
A Time For Us Love Andrea Rieu
Romeo and Juliet
- Balcony scene Craig Armstrong
Sex and the City - Theme
Sister Act - Oh Happy Day
Skyrim - Sons of Skyrim
Sleepless In Seattle - When I Fall in Love
South Pacific - Some Enchanted Evening (Rodgers & Hammerstein )
St Elmo's Fire - Theme
Star Trek (2009 film) - Labor of Love (Michael Giacchinno)
Star Trek - Giacchino Hella Bar Talk
Star Trek - Theme
Star Trek: The Next Generation - Inner Light (Picard's flute solo) (Jay Chattaway)
Star Trek: The Next Generation - Theme
Star Wars - Across the Stars
Star Wars - Cantina Bar Music Williams
Star Wars - Imperial March
Star Wars - The Throne Room
Star Wars - Theme
Star Wars - Yoda's
Superman - Theme
Superman - You Can Read My Mind - Love Theme
Super Mario World - Overworld theme (Koji Kondo)
The A Team - Theme (Post, Carpenter)
The Bohemian Girl - Marble Halls (Balfe) The Color Purple - Reunion/Finale (Hayes and Jones)
The Corpse Bride - Moon dance (Elfman)
The Corpse Bride - The wedding song(Elfman)
The Da Vinci Code - Chevaliers de Sangreal (Hans Zimmer)
The Deer Hunter – - Cavatina (Williams)
The English Patient - I'll Always Go Back To That Church
The Godfather - Theme
The Good the Bad and the Ugly - Ecstasy of Gold - Ennio Morricone
The Goonies - Theme
The Hatfields and McCoys - Love Theme
The King and I - I Have Dreamed (Rodgers & Hammerstein)
The Muppet Show - Theme
The Never Ending Story - Bastian's Happy Flight (Klaus Doldinger)
The Pink Panther - Theme (Henry Mancini)
The Prince of Egypt - When You Believe
The Princess Bride - Storybook Love
The Royal Tenenbaums - Mothersbaugh's Canon
The Royal Tenenbaums - Sparkplug Minuet (Mark Mothersbaugh)
The Sisterhood of the Traveling Pants 2 - Well Worn Pair of Pants
The Slipper and the Rose - Suddenly it Happens to You
The Snowman - Walking In The Air
The Walking Dead - Main Title
The Wedding Singer - Grow Old With You
Titanic - Theme
Titanic - Rose's Theme
Top Gun - Take My Breath Away
Top Hat - Top Hat and Tails (Berlin) True Romance - You're So Cool
Twilight:Breaking Dawn - A Thousand Years (Christina Perri)
Twilight - American Mouth - Flightless Bird
Twilight - Bella's Lullaby - Carter Burwell
Twilight - I Caught Myself (Paramore)
Twilight - Sleeping at last (Turning Page)
Twin Peaks - Theme
Vide Cor Meum (Hans Zimmer)
Wallace & Gromit - Theme
Wicked - For Good (Schwartz)
Willy Wonka and the Chocolate Factory - Pure Imagination
Disney Selection
Aladdin A Whole New World
Beauty and the Beast Be our Guest
Beauty and the Beast Something There
Beauty and the Beast Tale As Old As Time
Chitty Chitty Bang Bang Hushabye Mountain
Cinderella A Dream is a Wish Your Heart Makes
Cinderella So This is Love
Enchanted Loves True Kiss
Frozen Do you want to build a snowman
Frozen Let It Go
Frozen Love Is an Open Door
Lady and the Tramp Belle Notte
Mary Poppins Selection
Maleficant Once upon a dream (Lana del Rey)
Petes Dragon Candle in the water
Pinocchio When You Wish Upon a Star
Pirates of the Caribbean Theme
Pocahontas Colours of the Wind
Pocahontas If I Never Knew You
Sleeping Beauty Once Upon a Dream
Snow White Overture
Snow White Some Day My Prince Will Come
Song of the South Zip A Dee Doo Dah
Ratatouille - Le Festin (Camille)
Tangled See The Light
The Lion King - Circle of Life
The Little Mermaid Kiss the Girl
The Little Mermaid Part of your world
The Little Mermaid Under the Sea
The Princess Diaries 2 Royal Engagement Breakaway
The Slipper and the Rose Suddenly it Happens to You
Toy Story 2 When She Loved Me
Toy Story You've Got a Friend in Me
UP Married Life
Popular
A New Hope? Something to Live For
Aaron Neville and Linda Ronstadt Don't Know Much
Abba Dancing Queen
Abba Gimme Gimme Gimme
Abba I Do I Do
Abba Mamma Mia
Abba Money Money Money
Abba Slipping Through My Fingers
Abba SOS
Abba Take a Chance On Me
Abba Waterloo
Abba Winner Takes It All
ACDC Back In Black
ACDC Hells Bells
ACDC Highway to Hell
ACDC Thunderstruck
ACDC You Shook Me All Night Long
Ace of Base Beautiful Life
Adam Sandler Grow Old With You
Adams Heaven
Adams Summer of 69
Adele Hello
Adele Make You Feel My Love
Adele Rolling in the Deep
Adele Set Fire to the Rain
Adele Skyfall
Adele Someone Like You
Adele Turning Tables
Aerosmith Angels
Aerosmith I Don't Want to Miss a Thing
Aguilera Beautiful
Aguilera The Right Man
Airborne Toxic Event Sometime Around Midnight
Al Green Let's Stay Together
Alanis Morissette Ironic
Alex Lloyd Amazing
Alexander Rybank Fairytale
Alice Cooper Feed My Frankenstein
Alicia Keys Empire State of Mind
Alicia Keys If I Ain't Got You
Alicia Keys No One
Alkaline Trio Radio
All 4 One I Swear
Aloe Blacc The Man
Alphaville Forever Young
American Authors Best Day Of My Life
Amy Grant Thy Word
Amy Winehouse Rehab
Anderson Blue Tango
Anderson Forgotten Dreams
Andrae Crouch My Tribute
Angry Anderson Suddenly
Anon Ain't She Sweet
Anon Bring Me Sunshine
Anon I Can't Give You Anything But Love
Aphex Twin Avril 14th
Apres Midi Ameli Poulain
Arcade Fire Crown of Love
Arcade Fire Rebellion (Lies)
Ariana Grande feat. Iggi Azalea Problem
Ariana Grande The Way
Arlen Somewhere Over the Rainbow
Art Garfunkel Bright Eyes
Ashokan Farewell
Astley Never Gonna Give You Up
Avalanche City Love Love Love
Avicii Addicted To You
Avicii Heart Upon My Sleeve
Avicii Hey Brother
Avicii Wake Me Up
Avril Lavigne Let Me Go
Avril Lavigne I'm With You
Awolnation Sail
Bach/Nelson The Cello Song (Piano Guys)
Bacharach The Look of Love
Badly Drawn Boy The Shining
Band Aid Do They Know It's Christmas
Bare Naked Ladies If I Had a Million Dollars
Barry Manilow Copacabana
Barry Manilow Could It Be Magic
Barry Somewhere in Time
Barry You're the First, the Last, My Everything
Barry,Greenwich & Spector Chapel of Love
Bart As Long As He Needs Me
Bart Where Is Love?
Bassman Getting Sentimental Over You
Bastille Pompeii
Beam Flightless Bird, American Cat
Bee Gees How Deep is Your Love
Bee Gees To Love Somebody
Belle and Sebastien Fiction
Ben Folds The Luckiest
Ben Harper Forever
Ben Rector White Dress
Bennett The Way You Look Tonight
Berlin Dancing Cheek to Cheek
Bernstein Maria
Bernstein One Hand, One Heart
Bernstein Tonight
Bersnstein I Feel Pretty
Berstein America
Bésame Mucho Song for My Father
Bette Midler The Rose
Beyonce Ave Maria
Beyonce Crazy In Love
Beyonce Halo
Beyonce If I Were a Boy
Beyonce Love On Top
Beyonce XO
Biffy Clyro Many of Horror (When We Collide)
Bill Withers Lovely Day
Bill Withers Ain't No Sunshine
Billy Joel Piano Man
Billy Joel She's Always a Woman
Billy Joel She's Got A Way
Binge Serenade
Birds of Tokyo I'd Go with You Anywhere
Birdy Wings
Bishop It Might Be You
Bjork Joga
Black Eyed Peas I've Gotta Feeling
Black Eyed Peas Let's Get It Started
Black Eyed Peas Where is the Love
Blink 182 All the Small Things
Blink 182 The Rock Show
Blink 182 Josie (Everything's Gonna Be Fine)
Blunt Bonfire Heart
Blunt You're Beautiful
Blur Universal
Bob Dylan Like a Rolling Stone
Bob Schneider 40 Dogs (Like Romeo and Juliet)
Bobby Darin Beyond the Sea
Bocelli The Prayer
Bon Iver Holocene
Bon Iver Re: Stacks
Bon Iver Skinny Love
Bon Jovi Always
Bon Jovi Livin' on a Prayer
Bonfá A Day In The Life Of A Fool
Bonnie Tyler Total Eclipse of the Heart
Boston More Than A Feeling
Bowie As the World Falls Down
Bowie Changes
Bowie Heroes
Bowie Let's Dance
Bowie Life on Mars?
Bowie Modern Love
Braggs & Wilco California Stars
Brand New Quiet Things That No One Ever Knows
Brandi Carlile The Story
Brian Crain Song for Sienna
Brian Crain Butterfly Waltz
Britney Spears Baby, One More Time
Britney Spears Criminal
Britney Spears Toxic
Bruno Mars Count on Me
Bruno Mars Grenade
Bruno Mars Just the Way You Are
Bruno Mars Locked Out of Heaven
Bruno Mars Marry You
Bruno Mars When I Was Your Man
Buck Ram/The Platters Only You
Buckley Lilac Wine
C+C Music Factory Gonna Make You Sweat (Everybody Dance Now)
Candi Staton You've Got the Love
Capital Cities Safe and sound
Carlisle Butterfly Kisses
Carlos Nunez Dawn
Carly Rae Jepsen Call Me Maybe
Carmichael Georgia on My Mind
Carmichael Watermelon Weather
Carnes Bette Davis Eyes
Carpenters (They Long to Be) Close To You
Carpenters Goodbye to Love
Carpenters Solitaire
Carpenters Superstar
Carpenters We've Only Just Begun
Carpenters Yesterday Once More
Cascada Everytime We Touch
Cash I Walk the Line
Cassidy Songbird
Ce Lo Green Forget You
Celine Dion The Color of My Love
Chaka Khan Ain't Nobody
Chaka Khan Through The Fire
Chantal Kreviazuk Feels Like Home
Chaplin Smile
Chapman I Will Be Here
Charli XCX Boom Clap
Charlie McKerron Bulgarian Red
Charlie Puth One Call Away
Christina Perri A Thousand Years
Churchill/Morley Some Day My Prince Will Come
Chuck Berry Johnny B Goode
Cindy Lauper Time After Time
Clapton Layla
Clapton Wonderful Tonight
Clavin Harris Summer
Clean Bandit Dust Clears
Clean Bandit Rather Be
Cohen Hallelujah
Cocker You Are So Beautiful
Colbie Caillat Brighter Than the Sun
Colbie Caillat Realize
Colbie Caillat I Do
Cold Chisel Flame Trees
Coldplay A Sky Full of Stars
Coldplay Adventures of a Lifetime
Coldplay Atlas
Coldplay Charlie Brown
Coldplay Clocks
Coldplay Don't Panic
Coldplay Every Teardrop Is A Waterfall
Coldplay Fix You
Coldplay God Put A Smile On Your Face
Coldplay Hymn for the Weekend
Coldplay In My Place
Coldplay Life In Technicolour
Coldplay Lovers in Japan/Reign of Love
Coldplay Paradise
Coldplay Speed of Sound
Coldplay The Scientist
Coldplay Viva la Vida
Coldplay Yellow
Collins & Leigh Cock Linnet
Collins A Groovy Kind of Love
Collins Susudio
Commodores Three Times a Lady
Conor Oberst The First Day of My Life
Conti For Your Eyes Only
Corinne Bailey Rae Put Your Records On
Corrs Runaway
Corrs What Can I Do
Costello She
Cranberries Zombie
Creed Arms Wide Open
Crouch MyTribute
Crowded House Don't Dream Its Over
Crowded House Fall at Your Feet
Crowded House Don't Dream Its Over
Cure Close To Me
Cure Just Like Heaven
Cure Love Song
Daft Punk Digital Love
Daft Punk Get Lucky
Damien Rice Coconut Skins
Dashboard Confessional Stolen
Dave Matthews Band Crash into Me
Dave Matthews Band Pig
Dave Matthews Band Satellite
Dave Matthews Band Steady As We Go
Dave Matthews Band Sweet
Dave Matthews Band The Best of What's Around
Dave Matthews Band You and Me
David Cook The Time of My Life
David Gray Babylon
David Gray This Years Love
David Gray Just Dreaming (VSQ)
David Guetta Dangerous
David Guetta ft. Sia Titanium
David Guetta Without You
David Cook The Time of My Life
Davis All Blues
Davis You Are My Sunshine
Day I'm Forever Blowing Bubbles
Death Cab for Cutie Marching Bands of Manhattan
Def Leppard Hysteria
Def Leppard Stand Up (Kick Love into Motion)
Delta Goodrem In This Life
Denver Annie's Song
Denver Country Roads
Depeche Mode Enjoy The Silence
Depeche Mode I Just Can't Get Enough
Desmond Take Five
Desree Kissing You
DeVotchka How It Ends (The Winner Is)
Dewayne Everettsmith and Jasmine Beams It's Like Love
Dexy's Midnight Runners Come On Eileen
Diana Krall Peel Me a Grape
Diana Ross Ain't No Mountain High Enough
Dire Straits Brothers in Arms
Dire Straits Romeo and Juliet
Dj Sammy Heaven (Candlelight version)
Donaldson Makin' Whoopee
Donna Summer Hot Stuff
Donna Summer I Feel Love
Double Captain of Her Heart
Doves There Goes The Fear
Drake ft. Majid Jordan Hold On, We're Going Home
Dylan If Not For You
Earth, Wind & Fire September
Ed Sheeran Lego House
Ed Sheeran Sing
Ed Sheeran Tenerife Sea
Ed Sheeran Thinking Out Loud
Édith Piaf Hymne à l'amour
Édith Piaf Le Vie En Rose
Edward Sharpe & The Magnetic Zeros Home
Edwin H Lemare Moonlight and Roses
Eels I Like the Way This Is Going
Einaudi Divenire
Einaudi I Giorni
Einaudi Nuvole Bianche
Einaudi Svanire
Elbow Grounds For Divorce
Elbow One Day Like This
Ella Fitzgerald Always
Ella Fitzgerald It's Only a Paper Moon
Ellie Goulding Anything Could Happen
Ellie Goulding Burn
Ellie Goulding How Long Will I Love You?
Ellie Goulding Lights
Ellie Goulding Love Me Like You Do
Ellie Goulding Still Falling for You
Ellington Birmingham Break-Down
Ellington Caravan
Ellington Creolo Love Call
Ellington Don't Get Around Much More
Ellington In a Sentimental Mood
Ellington It Don't Mean A Thing
Ellington Mood Indigo
Ellington Satin Doll
Ellington Sophisticated Lady
Elliott Smith Say Yes
ELO Mr Blue Sky
Elton John Bennie and the Jets
Elton John Can You Feel the Love Tonight
Elton John Candle in the Wind
Elton John Goodbye Yellow Brick Road
Elton John Your Song
Elvis Can't help falling in love
Elvis Jojnny B Goode
Elvis The Wonder of You
Embrace Gravity
Emeli Sande Next To Me
Energy52 Cafe del Mar
Enrique Iglesias Hero
Enya Boadicea
Enya Flora's Secret
Enya May It Be
Enya Only If
Enya Only Time
Enya Orinoco Flow
Enya Silver Inches
Enya To Go Beyond
Enya Watermark
Et Makhtari Ya Aroussa Dok Al Mazahir (in the style of Cairo Orchestra)
Etta James A Sunday Kind of Love
Etta James At Last
Europe The Final Countdown
Euryethmics Sweet Dreams Are Made Of These
Evans I Could Not Ask For More
Evans Without You
Explosions in the Sky Your Hand in Mine
Extreme More Than Words
Fain I'll Be Seeing You
Fall Out Boy All of the Gin Joints
Fallout Boy Dance Dance
Fanfare Final Fantasy
Fein I'll Be Seeing You
Feist 1234
Final Fantasy Terra's Theme
Fine Young Cannibals She Drives Me Crazy
Fleetwood Mac Bleed to Love Her
Fleetwood Mac Everywhere
Fleetwood Mac Go Your Own Way
Fleetwood Mac Landslide
Fleetwood Mac Rhiannon
Fleetwood Mac You Make Loving Fun
Florence + the Machine Cosmic Love
Florence + the Machine Dog Days Are Over
Florence + the Machine Never Let Me Go
Florence + the Machine Shake It Out
Florence + the Machine You've Got the Love
Fonteyn Pop Looks Bach
Foo Fighters Everlong
Foo Fighters Learn To Fly
Foo Fighters Times Like These
Foo Fighters Walk
Foo Fighters Times Like These
Foreigner Eye of the Tiger
Fox Killing Me Softly with his Song
Frank Mills Music Box Dancer
Franklin & Dubin The Anniversary Waltz
Fratelli Chase Theme (The Goonies)
Fromisier Rose Popcorn Behaviour
Fun We Are Young
Gabriel Book of Love
Gabrielle Dreams
Gardel Por Una Cabeza
Garland In the Mood
Garner Misty
Gary Numan Cars
Gay Leaning on the Lamppost
Gemini Mio My Mio
Genesis Follow Me, Follow You
George Ezra Budapest
George Michael As
Gershwin But Not for Me
Gershwin Do It Again
Gershwin Embraceable You
Gershwin Fascinating Rhythm
Gershwin He Loves and She Loves
Gershwin I Got Rhythm
Gershwin It Ain't Necessarily So
Gershwin Liza
Gershwin Love is Here to Stay
Gershwin Mine
Gershwin Someone to Watch Over Me
Gershwin Summertime
Gershwin S'Wonderful
Gershwin The Man I Love
Gilbert & Sullivan Mikado
Glen Crying in The Chapel (Elvis)
Glover-Kind I Do Like to be Beside the Seaside
Gnarls Barkley Blind Mary
Gold Theme from Exodus
Gonzalez Heartbeats
Goo Goo Dolls Iris
Goodall Theme from Black Adder
Gotye Somebody That I used to Know
Grateful Dead Loose Lucy
Grateful Dead Ripple
Grateful Dead Scarlet Begonias
Grateful Dead U.S. Blues
Green, Sour, Heyman, Eyton Body And Soul
Greenday Good Riddance (Time Of Your Life)
Greenday Holiday
Greenday Wake Me Up When September Ends
Guns N Roses Don't Cry
Guns N Roses November Rain
Guns N Roses Paradise City
Guns N Roses Patience
Guns N Roses Sweet Child Of Mine
Gwen Stefani Cool
Hall and Oates You Make My Dreams Come True
Hamilton Cry Me A River
Hanley Zing! Went The Strings Of My Heart
Hansard & Irglová Falling Slowly
Happy Days - Theme
Happy Mondays Step On
Hardy Anne of Green Gables
Hazlewood These Boots Are Made For Walking
Helen Long One Day
Henderson & Dixon Bye Bye Blackbird
Henderson, Brown, Desylva The Birth Of The Blues
Hendrix Foxy Lady
Hendrix Little Wing
Hendrix Purple Haze
Henley Wind Beneath My Wings
Herold Clog Dance (Sony TV Ad)
Hess Ladies in Lavender
Hildebrand Hey Paula
Hot Chocolate You Sexy Thing
Houston I Believe In You And Me
Houston Greatest Love of All
Howard Fly Me to the Moon
Hozier Take me to church
Hozier Work Song
Huddleston Everyone Wants To Be A Cat
Huey Lewis and the News Do You Believe in Love
Hunter Hayes I Want Crazy
Hunters and Collectors Throw Your Arms Around Me
Hupfeld As Time Goes By
Hurricane Only the Strongest Will Survive
Ian Brown F.E.A.R
Idol White Wedding
Il Divo The Man You Love
Imagine Dragon Demons
Imagine Dragons It's Time
Imagine Dragons On Top of the World
Imagine Dragons Radioactive
Ingrid Michaelson The Way I Am
INXS Never Tear Us Apart
INXS Beautiful Girl
Irene Cara What A Feeling
Iron and Wine Love and Some Verses
Iron Maiden Run to the Hills
Irving Berlin Putting On The Ritz
Israel Kamakawiwo'ole Somewhere Over The Rainbow
Jack Johnson Angel
Jack Johnson Better Together
Jackie Wilson Higher and Higher
Jackson Beat It
Jackson Ben
Jackson Billy Jean
Jackson Browne These Days
Jackson Don't Stop Til You Get Enough
Jackson Human Nature
Jackson I Just Can't Stop Loving You
Jackson Love Never Felt So Good
Jackson Smooth Criminal
Jackson The Way You Make Me Feel
Jackson Thriller
Jagged Edge I Gotta Be
James Bay Let it Go
James Sit Down
James Taylor Carolina In my Mind
James Taylor Your Smiling Face
James Vincent McMorrow Higher Love
Jamiroquai Love Foolosophy
Jamiroquai Spend a Lifetime
Jarre Somewhere My Love
Jason Mraz I'm Yours
Jason Mraz Lucky
Jason Mraz Won't Give Up
Jay Z ft. Justin Timberlake Holy Grail
Jennifer Hudson Giving Myself
Jennifer Rush The Power of Love
Jeremy Soule Sons Of Skyrim
Jessie J ft. Ariana Grande & Nicki Minaj Bang Bang
Jessie J Flashlight
Jewel Face of Love
Jim Brickman Love Of My Life
Jimmy Eat World The Middle
Joan Jett I Love Rock 'n Roll
Jobim Desafinado
Jon Schmidt Pachelbel Meets U2
John Mayer XO (Beyoncé cover)
John Murphy In the House, In a Heartbeat
Johnny Nash I Can See Clearly Now
Johnsson Pennies from Heaven
Jonsi We Bought a Zoo
Joplin Cleopha
Joplin Country Club
Joplin Ragtime Dance
Joplin The Chrysanthemum
Joplin The Easy Winners
Joplin The Entertainer
Joplin The Favorite
Joshua Radin Only You (originally by Yaz)
Journey Any Way You Want It
Journey Don't Stop Believin'
Journey Faithfully
Journey Open Arms
Joy Division Love Will Tear Us Apart
Juanes La Camisa Negra
Justin Bieber Baby
Justin Bieber Boyfriend
Justin Bieber Love Yourself
Justin Timberlake I Think That She Knows
Justin Timberlake Mirrors
Kaempfert Swinging Safari
Kamen (Everything I Do) I Do it for You
Kanda New York, New York
Kansas Dust in the Wind
Kansas Carry On My Wayward Son
Kanye West All of The Lights
Kanye West Touch the Sky (instrumental loop)
Kanye West ft. Dwele Flashing Lights
Karen O & Ezra Koenig The Moon Song
Katrina and the Waves Walking On Sunshine
Katy Perry Dark Horse
Katy Perry Unconditionally
Katy Perry Birthday
Katy Perry E.T
Katy Perry Firework
Katy Perry Roar
Katy Perry Teenage Dream
Katy Perry Unconditionally
KC n Jo Jo All My Life
Keane Somewhere Only We Know
Keating Tango (Habanera)
Kenny Chesney Me and You
Kern Smoke Gets In Your Eyes
Kesha Take it Off
Killers All These Things That I've Done
Killers Human
Killers Mr. Brightside
Killers Smile Like You Mean It
Killers When You Were Young
Kimbra Settle Down
King Stand By Me
King Creosote Something to Believe In
King/James Taylor You've Got a Friend
Kings of Leon Use Somebody
Kinks You Really Got Me
Kiss Beth
Kiss Forever
Kiss I Was Made For Loving You
Korberg Anthem from Chess
Kosma Autumn Leaves
Kylie Minogue Can't Get You Out of My Head
Kylie I believe in You
Kylie Minogue On a Night Like This
Labyrinth Feat. Emili Sande Beneath You're Beautiful
Lacuna Coil Nothing Stands in Our Way
Lady Antebellum Just A Kiss
Lady Antebellum Need You Now
Lady Gaga Alejandro
Lady Gaga Applause
Lady Gaga Bad Romance
Lady Gaga Edge Of Glory
Lady Gaga Judas
Lady Gaga Paparazzi
Lady Gaga Pokerface
Lady Gaga Telephone
Lady Gaga Venus
Lai Theme from 'Love Story'
Lana Del Ray Young & Beautiful
Lana del Rey Shade of Cool
Lana Del Rey Summertime Sadness
Lana Del Ray Video Games
Landon Pigg Falling in Love at a Coffee Shop
Lauper Time after Time
Led Zeppelin All My Love
Led Zeppelin Black Dog
Led Zeppelin Going to California
Led Zeppelin Kashmir
Led Zeppelin Starway to Heaven
Led Zeppelin Thank You
Led Zeppelin Whole Lotta Love
Lee Fields and the Expressions Ladies
Legend All of Me
Legend Ordinary People
Legrand What Are You Doing For the Rest of Your Life
Lennon Imagine
Lennon Love
Lenny Kravitz Are You Gonne Go My Way?
Lenny Kravitz Fly Away
Lenny Kravitz The Chamber
Leona Lewis Bleeding Love
Leona Lewis Run
Leonardo's Bride Even When I'm Sleeping
Lerner/Loewe Get Me To The Church On Time
Lerner/Loewe On The Street Where You Live
Levellers What a Beautiful Day
Lifehouse Everything
Lifehouse You and Me
Lightfoot If You Could Read My Mind
Lighthouse Family High
Linda Ronstadt and Aaron Neville Don't Know Much
Linkin Park My December
Lloyd Webber - Don't Cry for Me Argentina, from Evita
Lloyd Webber All I ask from You
Lloyd Webber I Don't Know How to Love Him
Lloyd Webber Love Changes Everything
Lloyd Webber Memory
Lloyd Webber Music of the Night
LMFAO Party Rock Anthem
Loewe Get Me to the Church On Time
Loewe I Could Have Danced All Night
Lonestar Amazed
Looking Glass Brandy (You're a Fine Girl)
Lopez Let It Go from 'Frozen'
Lorde Royals
Loreena McKennitt Kecharitomene
Loreena medley Tango to Evora
Loreena medley Tango to Evora,Bonny Swans, Skellig
Loreena medley The old Ways
Love Affair Everlasting Love
LovLand A Secret Garden
Lowline Monitors
Lulu To Sir With Love
Lumineers Hey Ho
Lyle Lovett If I Had a Boat
Lyle Lovett South Texas Girl
M83 Midnight City
Maccabees Toothpaste Kisses
MacColl The First Time I Ever Saw Your Face
Mack & Johnson The Charleston
Madness It Must Be Love
Madonna Crazy For You
Madonna Like a Prayer
Madonna Like a Virgin
Magic! Rude
Malotte The Lord's Prayer
Mamas and Papas California Dreaming
Mancini Baby Elephant Walk
Mancini Charade, Theme Song
Mancini Molly Maguires, Theme Song
Mancini Moon River
Mancini Song from 10
Mandy Moore Only Hope
Mantovani Charmaine
Mariah Carey Hero
Mariah Carey Without You (I Can't Live If Living is Without You)
Mark Knopfler Irish Boy
Mark Ronson ft. Bruno Mars Uptown Funk
Marley One Love
Maroon 5 Love Somebody
Maroon 5 Moves Like Jagger
Maroon 5 Payphone
Maroon 5 Sugar
Maroon 5 This Love
Martin Garrix Animals
Martin That's Amore
Marvin Gaye Let's Get It On
Marvin Gaye You're All I Need to Get By
Marvin Gaye How Sweet It Is (to be loved by you)
Marvin Gaye I Heard it Through the Grapevine
Matt Redman 10,000 Reasons
Mazzy Star Fade into You
McCartney Maybe I'm Amazed
McCartney Mull of Kintyre
McCartney My Love
McConnel Collection of Cornish Folk Tunes
McGraw Good Morning Beautiful
Meat Loaf I Would Do Anything For Love
Medley & Warnes I've Had the Time
Meghan Trainor All About That Bass
Metallica Enter Sandman
Metallica Master of Puppets
Metallica Nothing Else Matters
Metallica One
Metallica To live is to die
MGMT Kids
Michael Bublé At This Moment
Michael Bublé Crazy Love
Michael Bublé Everything
Michael Bublé Haven't Met You Yet
Michael Bublé Me and Mrs Jones
Miley Cyrus Adore You
Miley Cyrus We Can't Stop
Miley Cyrus Wrecking ball
Miller Moonlight Serenade
Milo Greene Cutty Love
Minnie Riperton Lovin' You
Moby Raining Again
Modest Mouse Float On
Monk, Hanighen,Williams 'round Midnight
Monkees I'm a Believer
Morissey Every Day is Like Sunday
Morricone Chi Mai
Morricone Gabriel's Oboe (The Mission)
Morricone Theme from Cinema Paradiso
Morrison Brown Eyed Girl
Morrison Caravan
Morrison Crazy Love
Morrison Have I Told You Lately
Morrison Moondance
Morrison Sweet Thing
Morrison These Are the Days
Mumford & Sons I will Wait
Mumford & Sons Sigh No More
Muse Feeling Good
Muse Knights of Cydonia
Muse Starlight
Muse Survival
Muse Uprising
Muse Unintended
Musiq Soulchild Dontchange (Don't Change)
Myrow, Gannon Autumn Nocturne
N Sync This I Promise You
Nat King Cole L.O.V.E.
Nat King Cole Let's Face the Music and Dance
Nat King Cole Unforgettable
Natalie Cole This Will Be (An Everlasting Love)
Needtobreath Learn to Love
Neil Diamond Sweet Caroline
Neil Young Heart of Gold
New Order Blue Monday
Newton John Xanadu
NeYo Let Me Love You
Nick Drale Northern Sky
Nina Simone Feeling Good
Nine Inch Nails The Fragile
Nirvana Smells Like Teen Spirit
Nirvana Come as You Are
Norah Jones Don't Know Why
Norah Jones Feeling the Same Way
North Unchained Melody
Oasis Little By Little
Oasis Cigarettes and Alcohol
Oasis Don't Look Back In Anger
Oasis Masterplan
Oasis Roll With It
Oasis Stop Crying Your Eyes out
Oasis Talk Tonight
Oasis Whatever
Oasis Wonderwall
Of Monsters and Men Little Talks
OMI Cheerleader
One Direction Little Things
One Direction Story of My Life
One Direction What Makes You Beautiful
One Republic All Fall Down
One Republic Apologize
One Republic Counting Stars
One Republic Good life
One Republic Love Runs Out
One Republic Secrets
One Republic/The Piano Guys Secrets
Orbison Pretty Woman
Outkast Hey Ya!
Owl City Fireflies
Panic at the Disco I Write Sins Not Tragedies
Paramore The Only Exception
Parton I Will Always Love You
Pask/Morgan The Bill (Theme Tune)
Passenger Let Her Go
Passion Pit Moth's Wings
Passion Pit Take a Walk
Pat Benatar We Belong
Patsy Cline Crazy
Paul and Ford How High The Moon
Paul Mc Cartney We All Stand Together
Paul McCartney Silly Love Songs
Paul Mottram Morning Dew
Paul Van Dyke For An Angel
Pearl Jam Daughter
Pearl Jam Just Breathe
Penguin Cafe Orchestra Air a Danser
Perez Prado Guaglione (Guinness advert)
Peter Gabriel In Your Eyes
Peter, Paul and Mary Wedding Song (There is Love)
Pharrell Williams Happy
Philip Philips Home
Phish Wading in the Velvet Sea
Piano Guys Pachelbel Meets U2
Piazzola Liebertango
Piazzolla Calambre
Pink Just Give Me a Reason
Pink Floyd Hey You
Pink Floyd Wish You Were Here
Pink Floyd Another Brick In The Wall
Pink Floyd Shine On You Crazy Diamond
Plain White Ts Hey There Delilah
Police Every Little Thing She Does
Polyphonic Spree Soldier Girl
Porter All of You
Porter Anything Goes
Porter Begin the Beguine
Porter Every Time We Say Goodbye
Porter I Concentrate On You
Porter I Get a Kick Out of You
Porter I Love Paris
Porter I Love You
Porter It's Alright With Me
Porter I've Got You Under My Skin
Porter Just One of Those Things
Porter Lets do it
Porter Night and Day
Porter True Love
Porter What is This Thing Called Love?
Porter You'd Be So Nice To Come Home To
Porter You're Sensational
(From High Society)
Porter You're the Top
Post, Carpenter The A Team Theme Tune
Poulton Aura Lee (Love me tender)
Pretenders I'll Stand By You
Prince I Wanna Be Your Lover
Prince Kiss
Prince Purple Rain
Prince Nothing Compares to You
Private Life Touch Me
Proclaimers I'm Gonna Be (500 Miles)
Procol Harum A Whiter Shade of Pale
Queen Another One Bites The Dust
Queen Bohemian Rhapsody
Queen Crazy Little Thing Called Love
Queen Don't Stop Me Now
Queen Fat Bottomed Girls
Queen Somebody To Love
Queen You're My Best Friend
R. Kelly I Believe I Can Fly
R.E.M. At My Most Beautiful
R.E.M. Night Swimming
R.E.M. Shiny Happy People
R.E.M. The One I Love
Radiohead Karma Police
Radiohead Motion Picture Soundtrack
Radiohead No Surprises
Radiohead Street Spirit
Ramones Baby I Love You
Rascal Flatts Bless the Broken Road
Rascal Flatts My Wish
Ray LaMontagne You Are the Best Thing
Ray Noble Love Is The Sweetest Thing
Red Hot Chili Peppers Road Trippin'
Red Hot Chilli Peppers Snow (Hey oh)
Red Hot Chilli Peppers Under the Bridge
Reed Perfect Day
RED Lost
Regina Spektor Fidelity
Regina Spektor Us
Reid/Brooker Whiter Shade of Pale
REO Speedwagon Can't Fight This Feeling Anymore
RHCP Other Side
Rice & Ulvaeus I Know Him So Well, Chess
Rice Blowers Daughter
Richard Marx Now and Forever
Richard Marx This I Promise You
Richie Endless Love
Richie Hello
Rihanna Diamonds
Rihanna ft. Mikky Ekko Stay
Rihanna Only Girl in the World
Rihanna Rude Boy
Rihanna Umbrella
Rihanna We Found Love
Rihanna What Now
Robbie Williams Angels
Robbie Williams Eternity
Robbie Williams Let Me Entertain You
Robbie Williams She's the One
Robin Thicke Blurred Lines
Robinson My Girl
Rod Stewart Sailing
Rodgers "The Most Beautiful Girl in the World"
Rodgers Bewitched, Bothered and Bewildered
Rodgers Blue Moon
Rodgers My Funny Valentine
Rodgers Selection from Sound of Music
Rodgers You'll Never Walk Alone
Rolling Stones She's a Rainbow
Ronan Keating When You Say Nothing At All
Rota Speak Softly Love from the 'Godfather'
Roxette Listen to Your Heart
Rozalla Everyone is Free to Feel Good
- (Romeo and Juliet)
Runrig Every River
Sade Your Love is King
Sam Cooke Wonderful World
Sam Cooke You Send Me
Sam Smith Stay With Me
Sam Smith Latch
Sam Smith Lay Me Down
Sam Sparro Black And Gold
Sam Smith Writings on The wall
Sarah McLachlan Answer
Sarah McLachlan In The Arms Of An Angel
Sartori Time To Say Goodbye
Savage Garden Truly, Madly, Deeply
Say Something A great big world
Schless On The Wings Of Love
Schonberg I Dreamed A Dream, from Les Miserables
Seal Change is Gonna Come
Seal Kiss from a Rose
Sebastien Tellier La Ritornelle
Secret Garden Anticipation
Selah Wonderful, Merciful Savior
Serj Tankian Gate 21
Shakira Hips Don't Lie
Shania Twain From This Moment On
Shearing Lullaby of Birdland
Sia Chandelier
Sia Elastic Heart
Sigur Ros Staralfur
Sigur Ros Hoppipolla
Sigur Ros Untitled 3
Simon and Garfunkel America
Simon and Garfunkel Bridge Over Troubled Water
Simon and Garfunkel Mrs Robinson
Simon and Garfunkel Sound of Silence
Simple Minds Don't You (Forget About Me)
Sinatra Come Fly With Me
Sinatra If
Sinatra It Had to Be You
Sinatra Love and Marriage
Sinatra Strangers in the Night
Sinatra Summer Wind
Sinatra Young At Heart
Sinclar Love Generation
Sixpence None The Richer Kiss Me
Skynyrd Sweet Home Alabama
Sledge When a Man Loves a Woman
Slipknot Vermilion Pt. 2
Smashing Pumpkins 1979
Smashing Pumpkins Today
Smashing Pumpkins Tonight, Tonight
Snow Patrol Chasing Cars
Snow Patrol Just Say Yes
Snow Patrol Run
Sondheim Send in the Clowns
Speckert Cowboy Songs
Speckert Folk Fiddle tunes
Springsteen Fire
Springsteen Secret Garden
Starship Nothing's Gonna Stop Us Now
Status Quo Rockin' All Over the World
Stereophonics Bartender and the Thief
Stevie Wonder Ribbon In The Sky
Stevie Wonder I Just Called To Say I Love You
Stevie Wonder Isn't She Lovely
Stevie Wonder Signed Sealed and Delivered
Stevie Wonder Sir Duke
Stevie Wonder You Are The Sunshine Of My Life
Stevie Wonder You and I
Sting Fields of Gold
Sting Fragile
Stone Roses I Am The Resurrection
Stone Roses Ten Storey Lovesong
Stookey Wedding Song (There Is Love)
Story of the Year Until the Day I Die
Stranglers Golden Brown
Strayhorn Chelsea Bridge
Strayhorn Take the 'A' Train
Streisand Evergreen
Streisand The Way We Were
Styx Come Sail Away
Suessdorf Moonlight in Vermont
Sufjan Stevens Casimir Pulaski Day
Sum 41 In Too Deep
Super Furry Animals Hello Sunshine
Super Furry Animals Northern Lites
Supremes Stop! In The Name Of Love
Swedish House Mafia Don't You Worry Child
Sweet Ballroom Blitz
Switchfoot Only Hope
Switchfoot/VSQ Dare You to Move
System of a Down Aerials
System of a Down Toxicity
Taio Cruz Dynamite
Take That Patience
Take That Could It Be magic
Take That Greatest Day
Take That Million Love Songs
Take That Rule the World
Take That The Flood
Talking Heads Road to Nowhere
Tammy Wynette Stand By Your Man
Tank You Mean That Much
Taylor Swift Enchanted
Taylor Swift Shake It Off
Taylor Swift Love Story
Taylor Swift Safe and Sound
Taylor Swift Today Was a Fairytale
Taylor Swift Wildest Dreams
Taylor Swift You Are In Love
Taylor Swift You Belong With Me
Tennessee Waltz
Terror Squad feat. Fat Joe and Remy Ma Lean Back
Tesla Love Song
Texas So in Love with You
The Alarm Walk Forever By My Side
The Beach Boys Don't Worry Baby
The Beach Boys God Only Knows
The Beach Boys I Get Around
The Beach Boys Wouldn't It Be Nice
The Bee Gees First of May
The Black Keys Gold on the Ceiling
The Calling Wherever You Will Go
The Charlatans Loving You Is Easy
The Cinematic Orchestra To Build a Home
The Coral Dreaming of you
The Coronas Warm
The Darkness I believe in a Thing Called Love
The Decemberists Yankee Bayonet (I Will Be Home Then)
The Doors Riders on the Storm
The Doors Break On Through
The Doors Light My Fire
The Doors Peace Frog
The Doors People are Strance
The Eagles Hotel California
The Four Tops I Can't Help Myself
The Frames Headlong
The Fray How To Save A Life
The Fray You Found Me
The Jackson 5 I'll be There
The Jam English Rose
The Kinks Lazing On A Sunny Afternoon
The Magnetic Fields The Book of Love
The Mission UK Like a Child Again
The Moody Blues Nights of White Satin
The National I Need My Girl
The Pixies Here Comes Your Man
The Pogues A Rainy Night in Soho
The Police Every Breath You Take
The Postal Service Such Great Heights
The Red Jumpsuit Apparatus Your Guardian Angel
The Rolling Stones (I Can't Get No) Satisfaction
The Rolling Stones As Tears Go By
The Rolling Stones Paint It Black
The Rolling Stones Start Me Up
The Rolling Stones Wild Horses
The Script Breakeven
The Shins New Slang
The Smiths Charming man
The Smiths Please, Please, Please
The Smiths There is a Light That Never Goes Out
The Style Council Shout to the top
The Temper Trap Sweet Disposition
The The This Is the Day
The Tokens The Lion Sleeps Tonight (in the style of Tight Fit )
The Wanted Glad You Came
The Wanted Gold Forever
The Weeknd Can't Feel My Face
The White Stripes Seven Nation Army
The White Stripes We're Going to be Friends
The Who Teenage Wasteland
The Frames Headlong
Thin Lizzy Still in Love with You
Third Eye Blind Never Let You Go
Thurston Harris Little Bitty Pretty One
Tiffany I Think We're Alone Now
Tim Buckley Song to the Siren (in the style of the This Mortal Coil cover)
Tim McGraw Good Morning Beautiful
Time of My Life (Dirty Dancing)
Tina Turner Simply the Best
Tom Baxter Better
Tom Jones Delilah
Tom Odell Real Love
Tom Petty Free Fallin'
Toni Basil Hey Mickey
Tool Sober
Townes Van Zandt Loretta
Traditional Auld Lang Syne
Traditional English Country Gardens
Traditional Happy Birthday Variations
Traditional La Paloma
Traditional Loch Lomond
Traditional Londonderry Air
Traditional Mexican Hat Dance
Traditional Swing Low Swing Charriot
Train Hey, Soul Sister
Train Marry Me
Travolta and Newton John Grease Medley
U2 All I Want Is You
U2 Beautiful day
U2 One
U2 Sunday Bloody Sunday
U2 With or Without You
Ugly Kid Joe Everything About You
Uncle Kracker Smile
Ungar and Mason Lover's Waltz
Usher Without You
Valens La Bamba
Vampire Weekend M79
Vanessa Carlton A Thousand Miles
Vanessa Williams Save The Best For Last
Vangelis Chariots of Fire
Vangelis Hymne
Various Tangos
Velvet Underground Sunday Morning
Verve Bittersweet Symphony
Village People YMCA
Vinton I Love How You Love Me
Walk the Moon Shut Up and Dance
Wannadies You And Me Song
Warbeck Pellagia's Aria (Captain Corelli's Mandolin)
Warren I Could Not Ask for More
Warren I only have eyes for you
Warwick I Say a Little Prayer
Weezer Buddy Holly
Weiss What a Wonderful World
Westlife Flying Without Wings
Westlife You Raise Me Up
Wet Wet Wet Love is All Around
Wilco Art of Almost
Will Young Evergreen
Will.i.am & Britney Scream and Shout
Williams Can't Take My Eyes of You
Williams Music to Watch Girls By
Within Temptation Mother Earth
Wolf The Magic Postion
Womak I Hope You Dance
Yazoo Only You
Yeah Yeah Yeahs Hysteric
Yilvis The Fox
Yiruma River Flows In You
Yo Yo Ma Second Time Around
Young When I Fall In Love
Yvonne Fair It Should Have Been Me
Zac Brown Band Free/Into the Mystic (Van Morrison) Medley
Zac Brown Band Whatever It Is
Zanarkland Final Fantasy
Zedd Clarity
Zero 7 Home
Zero 7 Somersault
Andante String Quartet