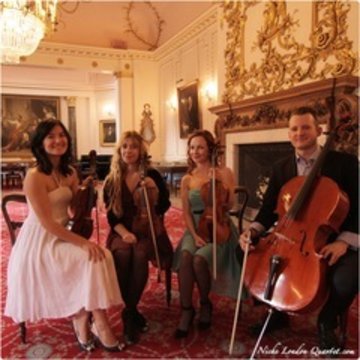 String quartet
Niche - The London String Quartet
Support available Mon-Sun
Like Niche - The London String Quartet?
Watch & Listen
1-3 of 7 videos
All Of Me - John Legend live Niche London String Quartet
Brandenberg - Pachelbel's Canon in D - Sleeping Beauty by Niche London String Quartet
Game of Thrones music by Niche London String Quartet
About Niche - The London String Quartet
London's fashionable & talented musicians for hire for Wedding Music, Corporate events & TV. Playing everything from Mozart to Pharrell!
Public liability insurance of £10 million
Encore badges
Saved the day!
Booked for an Encore gig with less than 24 hours' notice
7th Anniversary
This act has been working with Encore for over 7 years
Musicianship
Genres:
Classical
, Baroque
, Classical crossover
, Contemporary classical
, Early music
, Fanfare
, Film / TV music
, Musical theatre
, Christmas
, Traditional church music
, 1990s era music
, 1950s era music
, 1980s era music
, 1970s era music
, 1960s era music
, 1940s era music
, 1930s era music
, 1920s era music
, Pop
, Acoustic
, Ambient pop
, Covers
, Disco
, Hip Hop
, R&B
, Soul
, Top 40
, Tribute
, Rock
, Alternative rock
, Britpop
, Classic rock
, Indie
, Glam rock
, Bollywood
, Jewish music
Event types:
Wedding
, Wedding proposal
, Funeral / Memorial service
, Church service
, Hotel / Restaurant event
, Bar / Club / Venue event
, Private event
, Corporate event
, Charity event
, Concert
, Recording session
, Theatre / Show
, Cruise
, Burns night
, Birthday party
, Christmas party
, New Year's Eve
Song list
Someone Like You – Adele
Rolling in the Deep – Adele
Chasing Pavements – Adele
Skyfall – Adele
Make You Feel My Love – Adele
Take On Me – A-Ha
NEW Let's Stay Together – Al Green
Princes Familiar – Alanis Morisette
Best Day Of My Life – American Authors
Moon River – Audrey Hepburn/Andy Williams
The ABBA Medley
The Beatles Medley – Unique to Niche containing 12 Beatles favourites
In My Life – The Beatles
Yesterday – The Beatles
All you need is Love – The Beatles
Here Comes the Sun – The Beatles
Stand By Me – Ben E King
Halo – Beyonce
NEW Crazy in Love – Beyonce
God Only Knows – The Beach Boys
Laura – Bat For Lashes
NEW Lovely Day – Bill Withers
Uptown Girl – Billy Joel
Tender – Blur
The Universal – Blur
NEW Is This Love – Bob Marley
Prelude – Bonobo
NEW Livin On A Prayer – Bon Jovi
Marry You – Bruno Mars
Grenade – Bruno Mars
Uptown Funk – Bruno Mars/Mark Ronson
Call Me Maybe – Carly Rae Jepson
NEW My Heart Will Go On (Titanic) – Celine Dion
1000 years (as heard in Twilight) – Christina Perry
Rather Be – Clean Bandit
Viva La Vida – Coldplay
Paradise – Coldplay
Charlie Brown – Coldplay
Sky Full of Stars – Coldplay
Til Kingdom Come – Coldplay
Just Like Heaven – The Cure
The Lovecats – The Cure
Get Lucky – Daft Punk
Amie – Damien Rice
If You're Not the One – Daniel Bedingfield
Kissing You (Love Theme Romeo & Juilet soundtrack) – Des'ree
Love Me For a Reason – Boyzone
Thinking Out Loud – Ed Sheeran
Home (Wedding music from Modern Family) – Edward Sharpe and the Magnetic Zeros
Love Me Like You Do – Ellie Goulding
NEW How Long Will I Love You (About Time Soundtrack) – Ellie Goulding
One Day Like This – Elbow
Your Song – Elton John
Only Time – Enya
Layla – Eric Clapton
At Last – Eta James
Song Bird – Eva Cassidy
Fields of Gold – Eva Cassidy
Emmylou – First Aid Kit
Need Your Love So Bad – Fleetwood Mac
You Got the Love – Florence and the Machine
Everlong – Foo Fighters
Thinkin Bout You – Frank Ocean
Fly Me to the Moon – Frank Sinatra
Can't Take My Eyes Off You – Frankie Valli
Somebody That I Used to Know – Gotye
Iris – Goo Goo Dolls
Mmmbop – Hanson
You Make My Dreams Come True – Hall & Oates
F.E.A.R – Ian Brown
You Give Me Something – James Morrison
Higher Love – James Vincent McMorrow
I'm Yours – Jason Mraz
Ordinary People – John Legend
All of Me – John Legend
Paperweight (Dear John Soundtrack) – Joshua Radin
Don't Stop Believin' – Journey/ Glee
NEW Cloudbusting – Kate Bush/Just Us
All My Life – K Ci and Jojo
Mr Brightside – The Killers
Young and Beautiful – Lana Del Rey
What a Wonderful World – Louis Armstrong
It Must Be Love – Madness
Perfect Stranger – Magnetic Man ft. Katy B
Cry Me a River – Michael Buble
Moondance – Michael Buble
Wrecking Ball – Miley Cyrus
NEW Bring Me Sunshine – Morecame & Wise
When I Fall In Love – Nat King Cole
Pink Moon – Nick Drake
NEW Cheerleader – OMI
Whatever – Oasis
Masterplan – Oasis
Love is in the Air – Paul Young
Happy – Pharrell Williams
Groovy Kind of Love – Phil Collins
Here Comes Your Man – Pixes
Hey There Delilah – Plain White Ts
Bohemian Rhapsody – Queen
Somebody to Love – Queen
Don't Stop Me Now – Queen
We Will Rock You, Another One Bites The Dust, We Are the Champions – Queen Medley
No Surprises – Radiohead
Creep – Radiohead
You Are The Best Thing – Ray LaMontagne
Only Girl in the World – Rihanna
She's the One – Robbie Williams
Angels – Robbie Williams
Oh Pretty Woman – Roy Orbson
Stay With Me – Sam Smith
Chandelier – Sia
Hoppipolla – Sigur Ros
Disarm – Smashing Pumpkins
Today – Smashing Pumpkins
Tonight Tonight – Smashing Pumpkins
There is a Light That Never Goes Out – The Smiths
Chasing Cars – Snow Patrol
NEW Never Knew Love Like This – Stephanie Mills
Signed, Sealed, Delivered – Stevie Wonder
Rule the World – Take That
Blank Space – Taylor Swift
Love Story – Taylor Swift
Shake It Off – Taylor Swift
Sweet Disposition – Temper Trap
My Girl – The Temptations
The Lion Sleeps Tonight – The Tokens
Precious Things – Tori Amos
A Perfect Circle – 3 Libras
Bittersweet Symphony – The Verve
Shut Up and Dance – Walk the Moon
You Raise Me Up – Westlife/Josh Groban
River Flows Through You – Yiruma
Coming soon… Beyonce, Rudimental & more!
Classical
Canon in D – J. Pachelbel
Bridal Chorus – R.Wagner
Wedding March — F. Mendelssohn
Adagio in G – T. Albinoni
Air on a G String – J. S. Bach
Jesu Joy of Our Desiring – J.S. Bach
Arioso – J.S Bach
Brandenberg Concerto No.3 – J.S Bach
Adagio for Strings – S. Barber
Fur Elise – L. van Beethoven
Ode to Joy – L. van Beethoven
Moonlight Sonata – L. Van Beethoven
Prelude to Carmen – G. Biset
Minuet in E No.5 – L. Boccherini
Menuetto from Serenade No.1. – J. Brahms
O Sole Mio – E. Capua
By the Sleepy Lagoon [Desert Island Disks theme] – E. Coates
Farewell To Stromness – P. M. Davies
The Girl with the Flaxen Hair – C. Debussy
Clair de Lune – C. Debussy
The Flower Duet (Lakme / British Airways Ad) – L. Delibes
Humoresque – A. Dvorak
Slavonic Dance No. VIII – A. Dvorak
I Giorni – L. Einaudi
Chanson de Matin – E. Elgar
Chanson de Nuit – E. Elgar
Salut d'Amour – E. Elgar
Pavane – G. Faure
Panis Angelicus – C. Franck
Por Una Cabeza (from Scent of a Woman)- P. Gardel
Brudevalsen (Danish Bridal Waltz) – N. Gade
Ave Maria – C. Gounod
The Royal Fireworks Music – G. F. Handel
Water Music – G. F. Handel
Arrival of the Queen of Sheba – G.F. Handel
Halleluia Chorus (The Messiah) – G.F. Handel
All We Like Sheep (The Messiah) – G.F. Handel
Largo (Violin Sonata in D) – G.F. Handel
Zadok the Priest – G.F. Handel
NEW Jupiter (from The Planets) – G. Holst
Air – G. Holst
The Entertainer – S. Joplin
Meditation (from Thais) – J. Massenet
Intermezzo (from Cavalleria Rusticana) – P. Mascagni
Czardas – V. Monti
Gabrielle's Oboe – E. Morricone
Divertimenti – W.A Mozart
Ronda alla Turca – W.A. Mozart
Eine kleine Nachtmusik – W.A. Mozart
O Mi Babbino Caro – Puccini
Vocalise – S. Rachmaninoff
Bolero – M. Ravel
The Swan (from Carnival of the Animals) – C. Saint-Saëns
Gymnopodie No.1 – E. Satie
Three Little Maids (The Mikado) – A. Sullivan
Sleeping Beauty Waltz – P. Tchaikovsky
The Nutcracker Suite – P. Tchaikovsky
Extracts from the Four Seasons – A. Vivaldi
When the Saints
Scarborough Fair
Christmas Songs – Modern and Traditional Favourites!
Bollywood selections
Chura Liya Hai
Cherhra Hai Ya Chaand
Jai Ganesh Jai Ganesh Deva
Sooraj Dooba Hai
Sadda Haq
Sanam Re
Tajhe Bhula Diya
Terri Ore
Jewish selections
Dodi Li (Bridal March)
Erev Shel Shoshanim (Wedding Processional)
Hava Nagila and Tsena Tsena
Jerusalem of Gold (Y'rushshalayim Shel Sahov)
Od Yeshoma (Version 1 /wedding recessional)
Od Yeshoma (Version 2 /wedding recessional)
Oif'n Pripetshok
Ose Shalom and Hevenu Shalom Aleychem
Simon Tov and Chosen Kalle Mazel Tov (wedding Recessional)
Yedid Nefesh (Wedding Processional)
Film, TV & Musical Soundtracks
Pirates of the Caribbean Soundtrack
All I ask of You – Phantom of the Opera
A Thousand Years – Twilight
Anything Goes – Anything Goes
Back to the Future Theme – Back to the Future
Barber's Adagio for Strings – Platoon
Concerning Hobbits – Lord of the Rings
Fellowship of the Ring Selection – Lord of the Rings
Game of Thrones Theme – GoT
Gabriel's Oboe – The Mission
NEW Hedwig's Theme – Harry Potter
How Long Will I Love You – About Time
I Dreamed a Dream – Les Miserables
NEW James Bond Themes Medley
Jurassic Park Themes – Jurassic Park/World
Kissing You – Romeo & Juiliet
Let's Go Fly a Kite – Mary Poppins
Live and Let Die – James Bond
NEW Marry Me – My Best Friend's Wedding
Maria – Westside Story
My Girl – My Girl
My Heart Will Go On – Titanic
Portuguese Love Theme – Love Actually
Por Una Cabeza – Scent of a Woman
Raiders March – Indiana Jones
Somewhere Over The Rainbow – The Wizard of Oz
Starwars Theme – Starwars
This Is Halloween – The Nightmare Before Christmas
Win One for the Reaper – Lost
Your Song – Moulin Rouge
Disney Music
A Whole New World – Aladdin
Can You Feel The Love Tonight – The Lion King
I See The Light – Tangled
Let It Go – Frozen
Lava – The Lava Short Film
Part of Your World – The Little Mermaid
Tale as Old as Time – Beauty and the Beast
NEW When You Wish Upon A Star – Pinocchio