Singing guitarist
Tommy Gallagher
Support available Mon-Sun
Watch & Listen
1 of 1 video
Tommy Gallagher sings covers live in the sound booth
About Tommy Gallagher
Tommy is a great value solo rock/pop/indie covers singer-guitarist from York!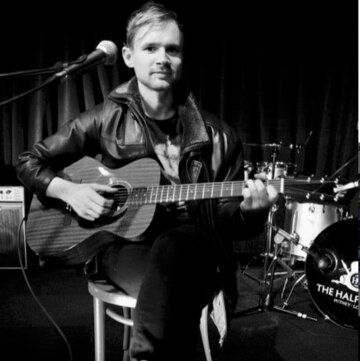 Encore badges
Member of the Encore community forum
Musicianship
Genres:
Acoustic
, Pop
, Folk
, Country
, Folk rock
, Irish rock
, Covers
, Rock
, Alternative rock
, Britpop
, Classic rock
, Indie
, Rock 'n' Roll
, Pop rock
Event types:
Bar / Club / Venue event
, Wedding
, Virtual event
, Wedding proposal
, Funeral / Memorial service
, Church service
, Hotel / Restaurant event
, Private event
, Corporate event
, Charity event
, Concert
, Recording session
, Theatre / Show
, Cruise
, Burns night
, Christmas party
, New Year's Eve
, Birthday party
Song list
Adele - Make you feel my love
Alanis morisette - Hand in my pocket
Alison Moyet - Only you
All Saints - Never Ever
Amy Winehouse - Back to black
Amy Winehouse - Valerie
Amy Winehouse - Love is a losing game
Arcade fire - Wake up
Arctic Monkeys - I bet you look good on the dancefloor
Babylon - David Gray
Ben e king - Stand by me
Black keys - Lonely boy
Blur - Country House
Blur - Tender
Bob Dylan - Dont' Think Twice, It's Alright
Bob Dylan - Make you feel my love
Bob Dylan - Simple Twist Of Fate
Bob Dylan - Blowing in the wind
Bob Dylan - Like a rolling stone
Bob Seger - Old time rock and roll
Britney Spears - Hit me baby one more time
Cindy Lauper - Girls just wanna have fun
Coldplay - Yellow
Cranberries - Dreams
Creedence clearwater revival - Fortunate son
Dreams - The Cranberries
Dire straits - Walk of life
Don McLean - American Pie/Vincent
Ed Sheeran - Lego House/Thinking Out Loud
Elliott smith - Angeles
Elliott smith - Needle in the hay
Elliitt smith - Ballad of big nothing
Elliott smith - Between the bars
Elton John  - Crocodile Rock
Erasure - A Little Respect
Extreme - More than words
Glasvegas - Geraldine
Gotye - Somebody I used to know
Green Day - Good Riddance (Time of your life)
Harry Chapin -Cat's in the cradle
George Michael - Faith
Jake Bugg - Lightning Bolt
Jake Bugg - Simple as this
Jake bugg - Country song
Jimmy Cliff - I can see clearly now
John prine - Speed of the sound of loneliness
John prine - That's the way the world goes round
John prine - you got gold
Johnny Nash - I can see clearly now
Kasabian - club foot (Am with capo)
Keane - Everybody's changing
Keane - Somewhere only we know
Kings of Leon - 1st album
Leonard Cohen - Hallelujah
Lewis Capaldi - Someone you loved
Louis Armstrong - What a wonderful world (other version)
Natalie Imbruligia - Torn
Oasis - Champagne supernova
Oasis - Columbia
Oasis - I hope I think I know
Oasis - champagne supernova
Oasis - cigarettes and alcohol
Oasis - don't look back in anger
Oasis - half the world away
Oasis - headshrinker
Oasis - hello
Oasis - hey now
Oasis - married with kids
Oasis - masterplan
Oasis - morning glory
Oasis - rock and roll star
Oasis - roll with it
Oasis - shaker maker
Oasis - slide away
Oasis - some might say
Oasis - songbird
Oasis - stand by me
Oasis - supersonic
Oasis - talk tonight
Oasis - whatever
Oasis - wonder wall
Ocean colour scene - the circle
Otis reading - sitting on the dock of the bay
Pulp - Common People
Pulp - Disco 2000
REM Imitation of life // g shapes capo on 3rd
RHCP - Zeffer song
Radiohead - Creep
Radiohead - fake plastic trees
Radiohead Just
Radiohead high and dry
Razorlight - Golden Touch
Ricky Martin - Living la vida loca 
Robbie Williams - Angels
Rod Stewart - Maggie May
Ryan Adams - Oh my sweet Carolina Ryan Adams
Ryan Adams - new york new york
Sam Cooke - What a Wonderful World
Sam fender - The Borders
Steve Earle - I feel alright
Steve miller band The joker
Stuck in the middle with you - Stealers Wheel
The Beatles - I saw her standing there
The Beatles - Twist and shout
The Beatles - All My Loving
The Beatles - Hey Jude Ballad of John and Yoko
The Beatles - Ballad of John and Yoko
The beatles good morning
The beatles revolution
The Beatles - Get back
The Beatles - Hey Jude
The Beatles - I am the walrus
The Beatles - Help
The Black Keys - Lonely Boy
The Clash - Should i stay or should i go?
The Killers - Mr Brightside
The Kooks - She moves in her own way
The Libertines - Vertigo
The Pogues - Dirty old town
The Proclaimers - I'm gonna be
The Righteous Brothers - Unchained Melody
The Smiths - The Boy With the Thorn In His Side
The Smiths - This charming man
The Strokes - Last Night
The Temptations - My Girl 
The Undertones - Teenage Kicks
The Verve - The drugs dont work/Bittersweet Symphony/Lucky Man/Sonnet/This is music
The Zutons  - Valerie
The beautiful south- Old red eyes is back
The bluebells - Young at heart
The courteeners - Not nineteen forever
The killers - When you were young
The libertines - Vertigo
The seahorses- Love is the law/blinded by the sun
The smiths - this charming man
Tom waits - Downtown train
Tracy chapman - Talk about a revolution
Travis - Why does it always rain on me?
Travis - Driftwood
Turin brakes - Pain Killer
U2 - Still haven't found what I'm looking for
U2 - With or without you
Van Morrison - Brown Eyed Girl