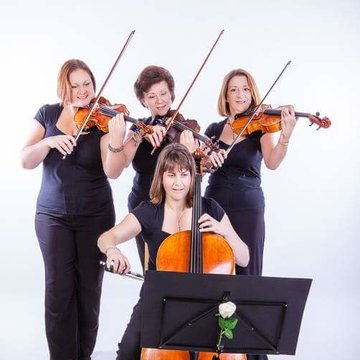 String quartet
The Parisi String Quartet
Full refund
booking protection
Full refund if your event can't go ahead due to Covid
Free date changes
after booking
Like The Parisi String Quartet?
About The Parisi String Quartet
We are an experienced String Quartet based in the East Yorkshire Region who play fabulous Classical, Pop, Rock, Film and Show music...
Public liability insurance of £5 million
Performance details
We have vehicles we can use to travel to gigs
Musicianship
Genres:
Classical
, Classical crossover
, Contemporary classical
, Early music
, Film / TV music
, Musical theatre
, Folk rock
, Jazz
, Swing
, Easy listening
, Light music
, Pop
, Acoustic
, Covers
, Rock
, Alternative rock
, Britpop
, Classic rock
, Indie
, Pop rock
, Rock 'n' Roll
Event types:
Wedding
, Wedding proposal
, Funeral / Memorial service
, Hotel / Restaurant event
, Private event
, Corporate event
, Charity event
, Concert
, Recording session
Song list
Modern
Ain't No Mountain High Enough – Diana Ross
All About You – McFly
All I Ask of You (Phantom) – Lloyd Webber
All You Need is love – Beatles
And I Love Her – Beatles
Angels - Robbie Williams
Anything Goes – Cole Porter
Baby I Love You - Ronettes/Ramones
Bad Romance - Lady GaGa
La Bamba – Ritchie Valens
Beethoven Meets the Beach Boys - Heron
Bewitched, Bothered and Bewildered - Rogers
Big Spender – Cy Coleman
Born to be Wild – Steppenwolf
Bring me Sunshine – Arthur Kent
Broken Stones – Paul Weller
Can You Feel the Love? – Elton John
Can't Take my Eyes Off of You – Franki Valli
Chasing Cars – Snow Patrol
Cinema Paradiso Theme – Morricone
Crazy for You – Madonna
Crazy little Thing Called Love – Queen
Cuban Dances (Tangos) – Cervantes
Dance the Night Away – Raul Malo
Dancing Queen – Abba
Dangerfield – Nigel Hess
Demons - Imagine Dragons
Diamonds are Forever – John Barry
Don't Stop Me Now - Queen
Embraceable You – Gershwin
The Entertainer – Joplin
Everlong - Foo Fighters
Everything I Do - Bryan Adams
Fawlty Towers Theme – Wilson
Fields of Gold – Sting
Final Countdown – Europe
(I would Walk) Five Hundred Miles – Proclaimers
Fix You – Coldplay
Forget You – Bruno Mars
From This Moment – Shania Twain
Game of Thrones – Ramin Djawadi
Greatest Day – Take That
Habenera (Carmen) – Bizet
Here Comes the Sun – Beatles
Hey Jude – Beatles
Hoppipola – Sigur Ros
How Deep is Your Love - Bee Gees
Human – The Killers
I Can't Help Falling in Love - Elvis
I Can't Help Myself – Four Tops
I Do, I Do, I Do! – Abba
I Don't Want to Miss a Thing – Aerosmith
I Dreamed a Dream (Les Miserables) - Schonberg
I Know Him so Well – Rice
If I Fell – Beatles
I'll Stand By You – Chrissie Hynde
Isn't she Lovely - Stevie Wonder
It Ain't Necessarily So – Gershwin
It Must be Love – Stiffre/Madness
Jealousy Tango - Gade
The King and I Suite - Rogers
The Kiss (Last of the Mohicans) – Jones/McLean
Lady Madonna – Beatles
Lean on Me – Bill Withers
Let's Do It – Cole Porter
Let's Face the music and Dance - Berlin
The Lion Sleeps Tonight – Solomon Linda
Livin' on a Prayer – Bon Jovi
The Lord is My Shepherd – Goodall
Love and Marriage - Cahn/Sinatra
Love Me Tender – Poulton/Elvis
Lovely Day – Bill Withers
Make You Feel My Love – Dylan/Adele
Makin' Whoopee – Donaldson
Mamma Mia - ABBA
Marry You – Bruno Mars
Match of the Day – Stoller
Moon River – Mercer
More than a Feeling - Boston
Music of the Night (Phantom) – Lloyd Webber
My Funny Valentine – Rodgers
Oh Happy Day - Traditional/Gospel
Oklahoma Suite – Rodgers
Ole Faithful - Carr/Kennedy
One Day Like This - Elbow
Only You - Ram
Palladio – Karl Jenkins
Perfect Day – Lou Reed
Perhaps – Osvaldo Farre
Perfect - Ed Sheeran
Poirot Theme – Gunning
Pride & Prejudice – Carl Davis
Putting on the Ritz – Berlin
Rags Various - Joplin
Renaissance Tunes - Anon.
She (Notting Hill) – Charles Aznavour
Shooting the Moon – OK Go
Smells Like Teen Spirit – Nirvana
Smooth Criminal – Michael Jackson
Somebody to Love – Queen
Someone to Watch Over Me – Gershwin
Songbird – Eva Cassidy
Sound of Music Suite – Rodgers
South Pacific Suite – Rodgers
Stairway to Heaven – Led Zeppelin
Summertime – Gershwin
Sunrise Sunset (Fiddler on the Roof) – Bock
Sway – Beltran
Sweet Child of Mine – Guns' N Roses
Swing Low Sweet Chariot - Traditional
Take on Me – A-ha
Tango Op 165 – Albeniz
Tango Argentino – Villoldo
Tango Criollo – Villoldo
Tango Por Una Cabeza (Scent of a Woman) – Gardel
Telephone – Lady Gaga
Thank You – Dido
Thank You for the Music – Abba
That Ole Devil Called Love - Fisher/Roberts
They Can't Take That Away – Gershwin
Thinking Out Loud - Ed Sheeran
A Thousand Years – Christina Perri
Thriller – Michael Jackson
Three Lions - Baddiel/Skinner
Time After Time – Cindy Lauper
Town Called Malice – The Jam
Try a Little Tenderness – Connelly/Robbins
Unforgettable – Nat King Cole
Viva La Vida – Coldplay
Wake Me Up Before You Go–Go – George Michael
The Way You Look Tonight – Kern
Whatever – Oasis
When I Fall In Love – Nat King Cole
When I'm Sixty Four – Beatles
When the Red Red Robin - Woods
When You Wish Upon A Star – Washington
Wonderful Tonight – Eric Clapton
Wonderful World – Douglas/Weiss
Yellow – Coldplay
Yesterday - Carpenters
YMCA – Village People
Your Song – Elton John
You're All I Need – Marvin Gaye
You're my Best Friend - Queen
You've Got The Love – Florence and the Machine
Classical
Air on G – J. S. Bach
Arie (My Faithful Heart) – J.S. Bach
Arioso - J.S. Bach
Arrival of the Queen of Sheba – Handel
Ave Maria – Caccini
Ave Maria – Schubert
Badinerie – J.S. Bach
Bacarolle – Offenbach
The Blue Danube – J Strauss
Brandenburg Concertos No3 – J.S. Bach
Canon in D – Pachelbel
Chanson de Matin – Elgar
Con te Partiro – Sartori
Concertos for Strings – Vivaldi
Dance of the Swans (Swan Lake) – Tchaikovsky
Divertimento K136 – Mozart
Eine Kleine Nachtmusik – Mozart
Fantasia in A minor – Handel
Firework Music – Handel
Four Season (Selection) – Vivaldi
La Folia – Corelli
Gigue – J.S.Bach
Greensleeves – Traditional
Habanera (From "Carmen") - Bizet
Jesu Joy of Man's Desiring – J.S. Bach
O My Beloved – Puccini
Ombra Mai Fu (Largo) – Handel
Pas de Deux (Swan Lake) – Tchaikovsky
Pavan No 1 – John Jenkins
Pavane – Faure
Polovtsian Dance – Borodin
Preludio & Giga – Vivaldi
Romance (From "The Gadfly") - Shostakovich
Rondeau - Mouret
Rondeau (Abdelazar) - Purcell
Rondeau (Fairy Queen) – Purcell
Russian Lulaby – Berlin
Sarabande & Variations – Handel
Serenade - Haydn
Serenade – Schubert
Sinfonia in A - Teleman
Sinfonia in G – Sammartini
Sonata de Camera – Vivaldi
Sonata in A – Mozart
Sonata in D – Veracini
The Swan (Carnival of the animals) – Saint-Saens
Trumpet Tune – Purcell
Trumpet Voluntary – Clarke
Valse Lente (Coppelia) – Delibes
Voi Che Sapete (Marriage of Figaro) – Mozart
Waltz – Brahms
Water Music – Handel
Wedding March – Mendelssohn
Wedding March – Wagner
Young Prince & Princess – Rimsky-Korsako