String duo
The London Violin Duo
Full refund
booking protection
Full refund if your event can't go ahead due to Covid
Free date changes
after booking
Like The London Violin Duo?
Watch & Listen
1-3 of 9 videos
Canon (Teleman) for violin duo
Mamma Mia (Abba) for violin duo
Water Music (Handel) for violin duo
About The London Violin Duo
London-based violin duo with wide-ranging experience performing at functions in the UK.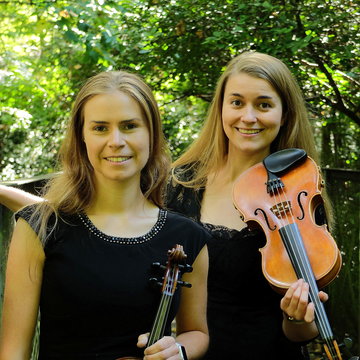 Public liability insurance of £5 million
Performance details
We have vehicles we can use to travel to gigs
We can perform with backing tracks
Musicianship
Genres:
Christmas
, Traditional church music
, Classical
, Baroque
, Classical crossover
, Contemporary classical
, Film / TV music
, Musical theatre
, Renaissance
, Folk
, Bluegrass
, Ceilidh
, Country
, Traditional English folk
, Traditional Irish folk
, Traditional Scottish folk
, Jazz
, Blues
, Ragtime
, Easy listening
, Pop
, Covers
, Funk
, Top 40
, Rock
, Indie
, Pop rock
, World music
, Bollywood
, Latin
, Jewish music
, Polish music
, Tango
, Scottish music
Event types:
Wedding
, Wedding proposal
, Funeral / Memorial service
, Church service
, Hotel / Restaurant event
, Bar / Club / Venue event
, Private event
, Corporate event
, Charity event
, Concert
, Recording session
, Theatre / Show
, Cruise
, Burns night
, Birthday party
, Christmas party
, New Year's Eve
Song list
You are free to choose any number of genres or individual pieces from our repertoire, and we are happy to advise you should you need any help. If you have a specific theme or mood that you want to create, then we can tailor a playlist to suit it.
BAROQUE & RENAISSANCE
Air (J.S. Bach)
Jesu Joy of Man's Desiring (J.S. Bach)
Sheep May Safely Graze (J.S. Bach)
Canon in D (Pachelbel)
Rondeau (Mouret)
Trumpet Voluntary (Purcell)
Extracts from The Water Music (Handel)
Extracts from The Royal Fireworks (Handel)
The Arrival of the Queen of Sheba (Handel)
Extracts from The Four Seasons (Vivaldi)
Pavane (Milán)
Padovan (Peuerl)
Rigaudon, Paysane & Menuett (Boismortier)
Contredanse & Musette (E. Chédeville)
Bourrée (Händel)
Menuett (N. Chédeville)
Musette (Naudot)
Canon, Menuett & Allegro (Telemann)
Allegro & Vivace (de Gant)
March (C.P.E. Bach)
CLASSICAL
Menuetto (Boccherini)
Wedding March (Mendelssohn)
Ode to Joy (Beethoven)
Serenade (Haydn)
Allegro (Fiocco)
Menuett (Haydn)
Allegro (Stamitz)
Menuett & Mirror Duet (Mozart)
Minuetto & Rondo (Hook)
Duo in G major, op. 8/2 (Pleyel)
Duo in G major, op. 10/4 (Gebauer)
ROMANTIC
Bridal Chorus (Wagner)
Ave Maria (Schubert)
Waltz of the Flowers (Tchaikovsky)
The Flower Duet (Delibes)
Salut d'Amour (Elgar)
Extracts from Carmen (Bizet)
The Swan (Saint-Saens)
Duo in G major, op. 85/2 (Mazas)
Duo in G major, op. 32/1 (Dancla)
Duo in A major, op. 85/3 (Mazas)
Allegro non tanto (Kalliwoda)
Moderato (de Bériot)
TRADITIONAL
Amazing Grace
Greensleeves
Scarborough Fair
TANGOS
La Cumparsita (Rodriguez)
La Payanca (Berto)
Volver (Gardel)
Vuelvo al sur (Piazzolla)
El Cachorrito (Villoldo)
La Punalada (Castellanos)
Catamarca (Arolas)
A la Luz de los Faroles (Mendiznobal)
Chiquilin de Bachin (Piazzolla)
El Chamuyo (Canaro)
El dia que me quieras (Gardel)
El Choclo (Villoldo)
Por Una Cabeze (Piazzolla)
Libertango (Piazzolla)
VIENNESE WALTZES
The Beautiful Blue Danube (J. Strauss II)
Two Waltzes from Gold and Silver (Lehar)
Philomel Waltz (J. Strauss I)
Russian March (J. Strauss II)
Andantino from The Gypsy Baron (J. Strauss II)
Fireproof! (Josef Strauss)
The Schönbrun Palace (Lanner)
The Emperor Waltz (J.Strauss II)
Roses from the South (J. Strauss II)
Clear the Tracks! (E. Strauss)
Light Cavalry (Franz von Suppe)
Tales of the Vienna Woods (J. Strauss II)
Radetsky March (J. Strauss I)
FILMS & MUSICALS
Let it Go (from Frozen)
Bare Necessities (from The Jungle Book)
Tale as Old as Time (from Beauty and the Beast)
Walking in the Air (from The Snowman)
Colours of the Wind (from Pocahontas)
Somewhere Over the Rainbow (from The Wizard of Oz)
I Dreamed a Dream (from Les Miserables)
A Whole New World (from Aladidn)
My Heart Will Go On (From Titanic)
Theme from Game of Thrones
Theme from Pink Panther
Send in the Clowns (from A Little Night Music)
Moonriver (from Breakfast at Tiffany's)
You've Got a Friend in Me (from Toystory)
My Favourite Things (from The Sound of Music)
The Lonely Goatherd (from The Sound of Music)
Supercalifragilisticexpialidocious (from Mary Poppins)
Chim Chim Cher-ee (from Mary Poppins)
Everybody Wants to be a Cat (from The Aristocats)
POP & ROCK
Mamma Mia (Abba)
I Have a Dream (Abba)
Dancing Queen (Abba)
Skyfall (Adele)
Make You Feel My Love (Adele)
Eleanor Rigby (The Beatles)
Yesterday (The Beatles)
Here Comes the Sun (The Beatles)
Stand By Me (Ben E King)
Yellow (Coldplay)
Take me to the Church (Hozier)
ABC (Jackson Five)
Don't Stop Believeing (Journey)
All of Me (John Legend)
Roar (Katy Perry)
Hallelujah (Leonard Cohen)
The Sound of Silence (Simon & Garfunkel)
Stop (The Spice Girls)
JAZZ, BLUES & RAGTIME
Good morning blues
Makin' Whoopee
The Entertainer
Lullaby of Birdland
House of the Rising Sun
Number Twelve Train
The Fascinator
Smoke Gets in your Eyes
Paragon Rag
Frankie and Johnny
Tuxedo Junction
Take Five
Summertime
FOLK (ENGLISH)
Hunting the Hare (Jig)
Morpeth Rant (Reel)
The Fairy Dance (Reel)
Constant Billy (Morris Dance)
The Keel Row (Hornpipe)
Country Gardens (Morris Dance)
The Staffordshire Hornpipe (Hornpipe)
The Girl I Left Behind Me (March)
King of the Fairies (Hornpipe)
The Trumpet Hornpipe (Hornpipe)
FOLK (IRISH)
The Wind that Shakes the Barley (Reel)
The Bridal (Jig)
Danny Boy (Air)
The Peeler's Away with my Daughter (Jig)
Red-Haired Boy (Hornpipe)
The Fox-Hunter's Jig (Slip Jig)
Drowsy Maggie (Reel)
Harvest Home (Hornpipe)
Carolan's Air (Air)
The Mason's Apron (Reel)
The Last Rose of Summer (Air)
FOLK (SCOTTISH)
The Bonny Lass o' Fyvie (Dothy Ballad)
Brochan Lom (Strathspey)
Mrs Jamieson's Favourite (Air)
Lord Macdonald's Reel (Reel)
The Flowers of Edinburgh (Reel)
Miss Sally Hunter of Thurston (Jig)
Mary, Young and Fair (Air)
The Gay Gordons (Jig)
The Spey in Spate (Reel)
Earl Grey (Strathspey)
AMERICAN OLD-TIME
Arkansas Traveller
Old Joe Clark
Turkey in the Straw
Little Maggie
Stoney Point
Salt River
Wagnoer
Little Sadie
Cotten-eyed Joe
The Eighth of January
BLUEGRASS
Blackberry Blossom
Fire on the Mountain
Bill Cheatem
East Tennessee Blues
Dusty Miller
Leather Britches
Sally Goodin
Cripple Creek
CAJUN
Johnny peu pas Danse
Baynou Noir
Les Flammes d'Enfer
Acadian Two-step
TEXAS STYLE
Tom and Jerry
Cotton Patch Rag
Gray Eagle
Ragtime Annie
FOLK (SWEDISH)
Swan Polska
Halling from Ekshärad
Halling from Malung
Slängpolska from Kalmar
Byss-Kalle's Polska
Spel-Göran's Waltz
Schottische from Lima
Granny's Wedding Polska
FOLK (FINNISH)
Raharinki
A Hundred Years
Karelian Quadrille
FOLK (DANISH)
Polska from Funen
Knorifas and Reel from Roskilde
FOLK (NORWEGIAN)
Seljord Bridal March
The Devil's Tune
The Herd-girl's Sunday
Wedding Song
Mazurka from Lofoten
Drevsjo Waltz
Norwegian Hymn ' I See You Sweet Lamb'
Prices
Note: prices may vary based on travel distance. For an exact quote, click "Check availability".
| | | |
| --- | --- | --- |
| Performance duration | Price | |
| Up to 1 hour | £375 | |
| Up to 2 hours | £440 | |
| Up to 3 hours | £500 | |
Reviews
3 verified reviews
Satisfaction
Professionalism
Communication
Punctuality
From Encore customers:
Safiya-Mae L, 3 years ago
From other customers:
Abigail G, 3 years ago
Alexandra H, 3 years ago