Choir
The Christmas Consort
Support available Mon-Sun
Like The Christmas Consort ?
About The Christmas Consort
Professional LDN based SATB group from Guildhall school of music and drama! We have great performance experience and we're a very fun bunch!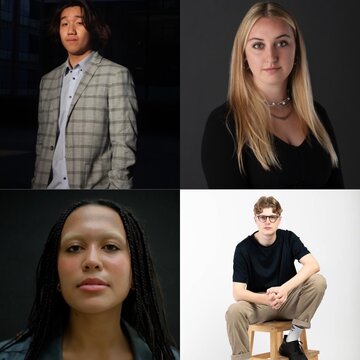 Public liability insurance of £10 million
Musicianship
Genres:
Classical
, Baroque
, Opera
, Renaissance
, Musical theatre
, Medieval music
, Early music
, Contemporary classical
, Classical crossover
Song list
Any piece from the book of 100 Carols for choirs
We are happy to take requests however our only ask is if you are able to provide us with the sheet music or let us know in advance so we have time to find the music and prepare.
We are very flexible and are comfortable with any music we are given!
We are able to sing pieces in multiple languages due to our conservatoire training therefore there are no limitations!
A babe is born
* A child is born in Bethlehem
A great and mighty wonder
A maiden most gentle
* A merry Christmas
A New Year carol
* A spotless Rose
* A virgin most pure
Adam lay ybounden
* All my heart this night rejoices
* Alleluya, a new work is come on hand
* Angels, from the realms of glory
Angelus ad virginem
As with gladness men of old
* Ave plena gracia
* Away in a manger babe is born, A Birthday carol
Born in a stable so bare
* cherry tree carol, The Child in a manger
* child is born in Bethlehem, A Christmas night
* Coventry carol
* Coventry carol
* Cradle song
* crown of roses, The Dashing through the snow
* Deck the hall
* Ding-dong, ding
Ding dong! merrily on high
* Gabriels message
God rest you merry, gentlemen
Going through the hills Goud-King-Wencesla,
* Goodpeonieglinhis Christmas-time
* great and mighty wonder, A
* Hail! Blessed Virgin Mary, Hark! the herald-angels sing
Have you heard the story?
* He is born the divine Christ-child
Here we bring new water
* Here we come a-wassailing
* holly and the ivy, The How sweet and clear
* Hush! my dear, lie still and slumber
* I danced in the morning
I heard the bells on Christmas Day
I saw a fair mayden
* I saw a maiden
I saw three ships
Twish you a merry Christmas
I wonder as I wander
• Il est ne le divin enfant
In Bethlehem, all in a stable
* In dulci jubilo
* In the bleak mid-winter
In the bleak mid-winter
* Infant holy, infant lowly
* Infant King, The
It came upon the midnight clear
Jesus child
Jesus Christ is risen today
* Jesus Christ the apple tree
Jingle, bells
* Joseph was an old man
Joy to the world
Jovs seven
* King Jesus hath a garden
* Kings of Orient
Lo! he comes with clouds descending
* Lo, how a Rose e'er blooming
Longfellow's carol
* Lord of the Dance
* Lully, lulla, thou little tiny child
* Lully, lulla, thou little tinv child
* Lute-book lullaby maiden most gentle, A Mary's lullaby
* merry Christmas, A Myn lyking
Nativity carol
New Year carol, A
Now the holly bears a berry
Nowell, nowell
• O come, all ye faithful
O come, o come, Emmanuel
* O little one sweet
O little town of Bethlehem
* O little town of Bethlehem
* O Oueen of heaven
Of the Father's heart begotten
On Christmas night all Christians sing
On the first day of Christmas
* Once, as I remember
Once in roval David's city
* Out of your sleep
* Past three a clock
Personent hodie
Quelle est cetter odeur agréable?
* Quem pastores laudavere
* Regina coeli, laetare
Rejoice todav with one accord
* Rise up, shepherd, and follow
* Shepherds, in the field abiding
* Shepherds left their flocks a-straying
Shepherd's pipe carol
* Silent night
Sing aloud on this day!
* Sing lullaby!
Sing this night
Sir Christmas
Softly through the winter's darkness
* spotless Rose, A Star carol
Still, still, still
* Stille Nacht
Sussex carol
* Sweet was the song the Virgin sang
* The angel Gabriel from heaven came
* The cherry tree carol
* The crown of roses
The first good joy that Mary had
The first Nowell
* The holly and the ivy
* The Infant King
The shepherds' farewell
* The three kings
* The tree of life my soul hath seen
* The truth from above
The twelve days of Christmas
* There is a flower
* There is no rose
* There's a star in the east
This Christmas night
* This is the truth sent from above
* This jovful Eastertide
Thou must leave thy lowly dwelling
* three kings, The
* Three kings from Persian lands afar
* Tomorrow shall be my dancing day
* truth from above, The twelve days of Christmas, The Unto us is born a Son
* Up! good Christen folk, and listen
* virgin most pure, A
* Wassail song
* Wassail, Wassail, all over the town
* We three kings of Orient are
* We wish you a merry Christmas
* Wexford carol
* What cheer?
* When Christ was born
* When Jesus Christ was yet a child