Guitarist
Stefanos Tsourelis
(4.9)
Read all 14 reviews
Check availability and get a free quote now - no commitment to book
Watch & Listen
About Stefanos
Reviews
About Stefanos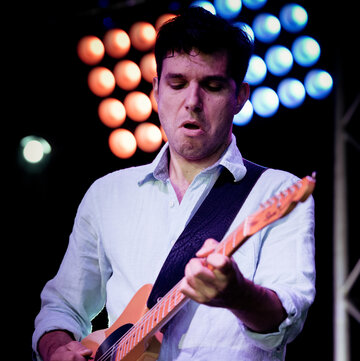 Public liability insurance
Versatile musician high level performer on both oud and guitar. His style ranges from Jazz, Soul and Blues to Mediterranean music.
ABOUT Professional Guitarist, Oud Player and Composer based in London. Born in Larisa, Greece, he has been playing music from the age of 10. He took his first lessons on the greek Lute by Yiorgos Deligiannis. Later he studied the Oud with Kuriakos Kalaitzides and guitar with Kostas Maginas in Thessaloniki. At the age of 17 he started performing professionally as a Guitarist and Oud player in local clubs, theatres and festivals across Greece. In 2005 he moved to London and studied at The London Guitar Institute/ Guitar X. He was taught and inspired by great guitarists such as Shaun Baxter, Mike Outram and John Wheatcroft, and was awarded the prestigious title of 'Best Guitarist of the Year' in 2008. During this time Stefanos performed as a guitarist with Andy Thunderclap Newman, and collaborated with London based musicians such as Rom D Collective, Andrew Mckinney, Vasilis Xenopoulos and Duncan Eagles among others. He also lead the world music group Anosis and his own Jazz Fusion Trio. As a Blues guitarist, Stefanos has performed with Joshua Blue, Sam Kelly, Alix Antony and Robin Bibi, and he also played Jazz Funk as a member of The Groove Warriors with Dave Clayton and Vic Bynoe. He has also performed and recorded on Oud for Noraay Means Light, the Iota Group and currently Melange Collective. Stefanos is well known for his versatility and ability to move across styles and genres on both the Guitar and Oud, and his musical style incorporates Blues, Rock, Jazz and Mediterranean sounds. His main influences are: Jim Hendrix, SRV, John McLaughlin, Pat Metheny, Jeff Beck, Wes Montgomery and many more. At present, Stefanos is part of three exciting projects: Acoustic trio with bassist Dave Jones and drummer Eric Ford Modern Jazz trio with bassist Kevin Glasgow and drummer Emiliano Caroselli Guitar Duo with guitarist Benjamin Gasiglia Katz In 2017 he is about to release his first album, "Native Speaker"with Dave Jones on bass and Eric Ford on drums. He frequently performs with fine musicians such as Maurizio Minardi, Demi Garcia Sabat, Shirley Smart and Peter Michaels at venues such as: Barbican free stage, Pizza Express Soho, The Vortex, Wiltons Theatre, 100 Club, The Bulls Head (Barnes) and Half Moon (Putney). In 2016 Melange released their album 'Via Maris' and they performed live on World on 3 Sessions on BBC Radio 3.
Musicianship
Genres:
Jazz
, Blues
, World music
, Greek music
Event types:
Private event
, Wedding
, Wedding proposal
, Funeral / Memorial service
, Church service
, Hotel / Restaurant event
, Bar / Club / Venue event
, Corporate event
, Charity event
, Concert
, Recording session
, Theatre / Show
, Cruise
, Burns night
, Birthday party
, Christmas party
, New Year's Eve
Reviews
13 verified reviews
Satisfaction
Professionalism
Communication
Punctuality
From Encore customers:
Lauren F, 2 months ago
Amazing band!booked for a relaxed bbq and they delivered!! So many great comments from the guests about how much they enjoyed the band. Thank you guys, you made our event really special!!
Kate O, 2 months ago
The communication before our event was spot on - Jose is very responsive and was willing to answer all my questions very quickly. The band were super professional, excellent quality and very flexible (my timings went awry and they played some filler before the first set so my guests weren't mingling in silence) I would highly recommend!!
Angela H, 3 months ago
The Burning Shoes kept all our guest very entertained and keep the volume to an acceptable level for our audience.
David F, 9 months ago
Excellent, much praise from the audience. Very personable and friendly.
Miles B, 1 year ago
The Burning Shoes were an absolute delight to hire. Contact and confirmation was prompt and friendly - they booked in with no trouble and arranged a special set to suit the needs of our unusual audience. On the night, the band performed spectacularly, and held our crowd's attention, filling up the festival's biggest venue and getting everyone moving and singing along. We received loads of positive feedback from guests and staff about the quality of the music and the entertainment factor of the show. I would definitely hire the Burning Shoes again - and would recommend them to anyone looking for a lively covers band to really make an impact at your event. Miles Battye Senior Events Officer The Scout Association
Barney D, 1 year ago
All very good, especially under difficult weather situations on one day. they went down extremely well with the audiences and also the crew.
Fran P, 1 year ago
Fantastic group. Would definitely book again.
David A, 1 year ago
Burning shoes are a top band. The lead singer was brilliant as were the group. Everyone I spoke to were full of praise for there reportoire. Well done the burning shoes. Best wishes Dave
Annette R, 1 year ago
What a fabulous evening we all had to celebrate my mum's 80th birthday! The Burning Shoes were fantastic and they managed to fit in all the songs we'd chosen specially for mum including 'Happy birthday' - twice!! Thank you Burning Shoes, you were FAB and we would definitely book again!!
Emma, 1 year ago
Nicola J, 1 year ago
Jose was an absolute pleasure to deal with and the band performed fantastically. Everybody at our event said how impressed they were with the professionalism of the band, many saying the band was the high-light of the evening and would book the band themselves for weddings, etc! We asked the band to play a few requests and picked a range of songs from their current repertoire, which was a great mix of songs for everyone to enjoy. Thank you for being sensitive to the occasion - it was a charity event commemorating what would have been my late Father's birthday - and this was something very much considered. The band are extremely dynamic and although the listed singer could not attend the date of our event, singer Guilia is incredible and we couldn't have been happier! We'd love to invite the band back to any future celebrations with hold. 100% recommend these fantastic musicians for any occasion. HUGE THANKS and all the best, Nicola & Family
Stephanie S, 1 year ago
excellent band, great performance would recommend for any event. Really enjoyed the performance
From other customers:
Amanda P, 1 year ago
We hired the band for a wedding celebration in our garden. Jose made the booking process very easy and he was very careful to make sure we had the right kind of mix of instruments and singer to suit us. He sent a long and varied list of song choices. Requests were also encouraged. On the day the band were professional in every way from setting up to performing a whole beautiful range of songs. There was something to suit everyone. We loved Lee Gold's voice (and amazing keyboard skills - how I would love to be able to do that!). Harrison Cole's jazz trumpet was smooth and cool all through, not forgetting the great bass Kevin Glasgow and the fabulous rhythm house that is Jose Sacristan. This band had just the right mix for us of jazzy, cool music while our guests wanted to eat and talk, but could turn up the volume and liven up the beat at just the right time for some dancing. Plus the band were such lovely guys - friendly and warm and had a great rapport with our guests. We have had great feedback from our guests about how great the band were. I can thoroughly recommend booking this band. Amanda Parker
London N, 2 years ago
Some words from London Jazz News' review of the Stefanos Tsourelis Trio's live performance at Bull's Head, Barnes Feb 11th 2017: Simple chords suddenly awoken by incredibly fast runs in unison with the bass- one of the amazing variety of timbres in the trio ….. One of Tsourelis' heroes is John McLaughlin (and his 80s/90s trios with Trilok Gurtu) and you could hear a strong influence. ..... Eric Ford's sensitive cymbal work was complex, tiny beats scattered between the strokes of the cowbell, often following the rhythm of the melodies... the full drum sound allowed guitar and bass to play in unison without the sense of anything missing …. There were time signatures to keep you on the edge of your seat throughout the gig, here 6/8, then 7/8 - Tsourelis studied Greek lute, and its rhythms, in Greece before being introduced to the oud by his teacher…. There was a wonderful sense of the trio grooving together very intuitively ….. The gorgeous chord melody head and Metheny-esque solo lulled us, the repeated phrases recurring like waves….. Moody and minor, with fast, rising, almost flamenco riffs caught in the net of the spacey chords ….. Spancil Hill, an Irish tune, was the only one not written by Tsourelis, and the sweet melody nestled among oriental trills. Dave Jones' solo was beautifully melodic as well as percussive …..
© Encore Technologies, Ltd.
Crafted with bagels and in London