Classical Indian ensemble
Samswara
Check availability and get a free quote now - no commitment to book
Watch & Listen
About
Song list
Reviews
About Samswara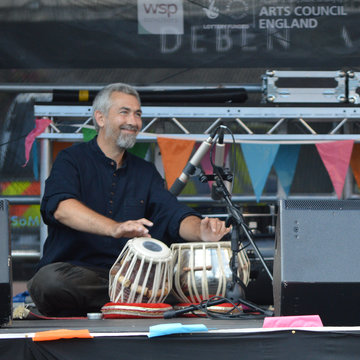 Classical Indian ensemble
Public liability insurance of £10 million
Samswara have been performing Indian sitar & tabla music together since 2001 and have developed a strong performance rapport between them.
Samswara have been playing together for over 14 years, developing their dynamic performances and spontaneous, playful musical dialogues through which they journey from slow, meditative melodies through to fast and highly detailed exciting rhythmical interplay. Samswara were performers at the National celebration of British Asian Live Arts in 2008 and were voted 'Best Group' in the MTM South West & South Wales Asian & Ethnic Minorities Awards 2014. Samswara have performed Indian music together in Art centres, Festivals , private events, Weddings and functions and were performers at the National Celebration of British Asian Live Arts in 2008. They have also recorded 2 Indian classical Sitar & Tabla CD's together – Rag Ahir Bhairav & a live recording of Rag Kirvani. " . . .The brilliant sitar of Ricky Romain in duet with Jon Sterckx's tabla wizardry was a first class example of musicians "playing off" each other, their evident joy never becoming indulgent, and never compromising the aims of the music. . . ." – Colin Sell, BBC Radio 4. " a mesmerising sitar & tabla performance by Ricky Romain & Jon Sterckx". Plymouth South Asian Society.
Performance details
We have vehicles we can use to travel to gigs
We require car parking close to venues
Our equipment is PAT tested
Musicianship
Genres:
Classical
, Indian music
, World music
Event types:
Concert
, Bar / Club / Venue event
, Private event
Song list
Raga Bhairavi
Raga Ahir Bhairav
Raga Bageshri
Raga Bhairav
Raga Bilaskhani Todi
Raga Chandrakauns
Raga Charukeshi
Raga Desh
Raga Dhani
Raga Durga
Raga Hindol
Raga Jhinjhoti
Raga Jog
Raga Kafi
Raga Kedar
Raga Khamaj
Raga Kirvani
Raga Malkauns
Raga Manj Khamaj
Raga Marwa
Raga Multani
Raga NandKauns
Raga Pilu
Raga Puriya Kalyan
Raga Rageshri
Raga Shankara
Raga Shivranjani
Raga Shri
Raga Sohni
Raga Yaman
Reviews
From customers:
Dr. D, 2015 years ago
Ricky and Jon played at my marriage to my wife Dilara on a beautiful summer's day in late August 2011 in Bromley, Kent - and I cannot emphasize quite enough how wonderful it was to have them honour our special day with their performance. From start to finish they have both been absolute gentlemen to deal with; precise through the booking process and extremely reliable on the day - they were kind enough to arrive at the venue a good couple of hours early to set up the equipment on an outdoor stage, and went on to perform superbly for hours. Ricky and Jon created an ambience where the elegance of their music melted into the warm sunshine and the celebratory mood; our guests were mesmerized, and I myself have never heard classical Indian music played to such a high standard anywhere. My deeply traditional parents, who pride themselves on their knowledge of Indian culture and music, were equally impressed. Throughout the day they were a joy to have present - gracious, polite and charismatic - and we were all sorry to see them leave as evening drew near. I would recommend Ricky and Jon without a moment's hesitation for an event of any kind, given that they enhanced ours beyond measure.
Mahesh S, 2018 years ago
It was a treat to listen to Jon Sterckx and Ricky Romain on the tabla and sitar respectively. Jon and Ricky gave a short but superb introduction to Indian music, explained some of the difference between western and Indian styles and captivated the audience later with the rendition of the Bhairavi raga in Vilambit, Madhya and Drut tintaal. Jon and Ricky engaged very well with the audience providing a thrilling performance and deserving the rapturous applause they received at the end. I am looking forward to hearing them again soon!
Colin 4, 2018 years ago
The brilliant sitar of Ricky Romain in duet with Jon Sterckx's tabla wizardry was a first class example of musicians "playing off" each other, their evident joy never becoming indulgent, and never compromising the aims of the music.
Sanjay S, 2018 years ago
A mesmerizing Sitar and Tabla Performance by Ricky Romain and Jon Sterckx. Plymouth South Asian Society AGM performance.
Kirpal G, 2018 years ago
We recently got married in April 2012, and had both Jon & Ricky perform at our wedding. I am a Sikh, and my wife is English. We wanted to celebrate the two cultures together at our marriage, so we went on the search for musicians who could complement this idea. We searched for many hours, and also reviewed many sites offering this service. We are so glad that we chose both Jon & Ricky as they were amazing. One of the things we love about these guys, is their passion and love for what they do (just watch ANY of their videos!). This was the main reason, accompanied by their impressive knowledge and musical talent that made the decision for us. Once I made contact with Jon, the booking process was simple and extremely well communicated. We spoke as necessary, as my booking involved having both an indoor and outdoor performance. Even before we had confirmed our booking, we were invited to see them play at Colston Hall in Bristol, which we took up appreciatively. It was clear that these guys know what they are doing, and are very popular, rightly so. On the day, everything went extremely well. The music, went down a real treat, and we had so many guests compliment the skills and sound from the tabla & sitar played by Jon & Ricky. We echo all of the other testimonials, and have since recommended both Jon & Ricky to friends. Seeing them again was a real pleasure. Again, many guests complimented their talent and took their contact details for future events. We also have them at the top of our list for future bookings. If you are seriously looking for a musical duo who will add fun, calm, passion, and celebration to your event, and you really want to stand out from the crowd then book them now. Just do it.
Nisha S, 2018 years ago
My husband and I were keen to have live music performed during our Hindu (Gujarati) Wedding Ceremony. We were in search of a harmonious balance of traditional sounds with a unique composition/style and Jon and Ricky surpassed our expectations! They engaged with us from the very moment we agreed to have them perform, onwards; they ensured they understood the ceremony well and captured our vision in advance. They even put together mini sample compositions! On the day itself, there was no doubt about their talent and professionalism shining. From arriving in good time, to displaying a natural passion, to invoking the different emotions for each part of the ceremony, reflected through the choice in Raags, they were superb!!! Our guests really enjoyed their performance and even complimented us on our choice in musicians!! We would highly recommend Jon and Ricky.
Dr M, 2018 years ago
Nabila and I would like to thank you for helping to make our traditional Pakistani wedding reception so memorable! We really appreciated how you worked with our friends to orchestrate the entrance music! It was truly special! So many of our guests (1500 of them in total!) commented on just how much they loved your music. You helped create the perfect atmosphere for our special day. We've had lots of people ask us about you even after the wedding and I'm sure they'll be booking you guys soon too! Once again, thank you for everything!
Eunice L, 2018 years ago
Thank you so much for playing for us on Saturday. So many memories have been etched into our consciousness of the day, and the backdrop to them all was the sound of the sitar and the tabla that you both so beautifully provided. Thank you so much, it was so beautiful!
Rashid N, 2018 years ago
Jon and Ricky played at our wedding last year, October 2012 at West Midlands Safari Park. They were absolutely wonderful. They were so professional in every step of the way and just brought the venue to life with their beautiful music. An absolute pleasure to have them and will definitely recommend them to anyone. PS. For all seasoned Tabla Sitar music lovers, they performed exquisitely and beyond all expectations. Thank you Jon and Ricky for adding joy to our special day.
Susi N, 2018 years ago
We booked Jon et al for our wedding and are really glad we did. During the initial booking process Jon was very honest and accomodating as we werent 100% sure how we would have the music set up on the day. The musicians turned up in plenty of time to run through and warm up before the guests joined them. And the music worked really well, we were very pleased. The guests enjoyed it all too, I wouldnt hesitate to recommend them - A very professional team and a job well done!
Gurminder ), 2018 years ago
We booked Jon and co for one of our music event days at the Hall. Everyone really enjoyed listening and both created a wonderful atmosphere as they were situated in the Long Gallery at the Hall. We have booked them again for our event on the 29th October!
Prof O, 2018 years ago
Thank you so much for performing at my daughter Jessica's wedding at North Cadbury Court to a very international mix of guests. We were delighted with your duo performance . It was wonderful and enhanced the enjoyment of the wedding celebrations. Many of our guests commented on the excellence of both the Sitar and tabla playing. I very much hope we will have the opportunity to listen to you again. Thank you both again, Best wishes, Prof B K Sandhu OBE.
Sonia M, 2018 years ago
Thank you both so much for playing the sitar and tabla on our wedding day, to welcome our guests and during our wedding ceremony. The music was utterly beautiful and you both did a perfect job of being sensitive to the Indian ceremony, playing at exactly the right volume to create a magical atmosphere and also pausing during the appropriate moments… So many of our guests commented on the music, and also on how interesting you were to talk to - and even the priest was impressed by the sensitivity with which you played! We will be sure to recommend you to friends and are already wondering when we might have another party where you guys could play again… Wedding at Mandarin Oriental Ballroom, Hyde Park.
Sarah H, 2018 years ago
I got married on the 21 Nov and we had Jon Sterckx and colleague.We made the best decision to have them.They played the sitar and tabla and were brilliant. I'm Asian and my husband is English the blend was amazing. Played for 3 hours after my ceremony and before the wedding breakfast. Thankyou very much.
Maria S, 2018 years ago
Jon and Ricky's performance for us was absolutely brilliant! They entertained our audience in the most professional manner - consulting with us first to decide what to play and for how long. The music was awe inspiring, meditative and thoroughly uplifting. Everyone felt that they'd been temporarily transported somewhere for more exotic! They are both first class musicians and it was a real privilege to hear them play. I can highly recommend Samswara. With many, many thanks once again!
© Encore Technologies, Ltd.
Crafted with bagels and in London