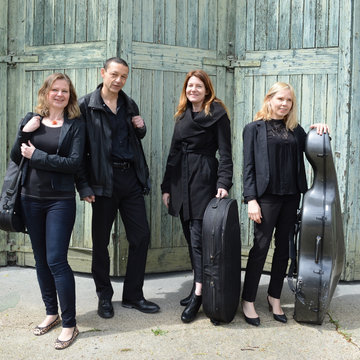 String quartet
Richmond Strings
Support available Mon-Sun
About Richmond Strings
RS are a vibrant professional string quartet providing background music for weddings and events throughout London and the South East.
Public liability insurance of £10 million
Encore badges
Member of the Encore community forum
6th Anniversary
This act has been working with Encore for over 6 years
Musicianship
Genres:
Christmas
, Classical
, Baroque
, Classical crossover
, Contemporary classical
, Film / TV music
, Musical theatre
, Opera
, Light music
, Easy listening
, Pop
, Covers
, Rock
, Britpop
, Pop rock
Event types:
Recording session
, Wedding
, Wedding proposal
, Funeral / Memorial service
, Church service
, Hotel / Restaurant event
, Bar / Club / Venue event
, Private event
, Corporate event
, Charity event
, Concert
, Theatre / Show
, Cruise
, Burns night
, Birthday party
, Christmas party
, New Year's Eve
Song list
RS Repertoire List
Baroque/Classical:
Air On A G String from Suite No. 3 (Bach)
Minuet in G (Anna Magdalena) (Bach)
Arioso from Cantata No. 156 (Bach)
Berceuse
Brandenburg Concerto No. 2 in F (Bach)
Brandenburg Concerto No. 3 in G (Bach)
Brandenburg Concerto No. 4 in G (Bach)
Cantata No. 140  ("Wachet Auf") Sinfonia (Bach)
Chorale Prelude: "Liebster Jesu, wir sind hier" (Bach)
Chorale Prelude: "Wachet auf, ruft uns die Stimme" (Bach)
Concerto Grosso in D minor, Op. 3, No. 11 (Vivaldi)
"The Four Seasons" (Vivaldi):   
"Summer"
"Autumn"
"Winter"
"Spring"
"Jesu, Joy of Man's Desiring" (Bach)
Double Violin Concerto in D Minor Bach
Double Violin Concerto in A Minor Vivaldi
Double Violin Concerto in D Minor Vivaldi
Christmas Concerto Grosso No 8 Corelli
Canon Pachelbel
Hornpipe From Water Music Handel
Allegro & Minuet From The Fire Music Handel
Flower Duet From Lakme Delibes
Mazurka From Coppelia Delibes
Marche Militaire
Minuet Boccerini
Rondo From Abdelazar Purcell
Intermezzo From Cavalleria Rusticana Mascagni
Gigue Bach
Largo from the Concerto for Two Violins in D minor (Bach)
Violin Sonata No. 4 in D major (Handel)
Violin Concerto in E major: First Movement (Bach)
Divertimento 1 Mozart
Divertimento 2 Mozart
Divertimento 3 Mozart
Eine Kleine Nacht Music Mozart
Overture From The Marriage Of Figaro
Voi Che Sapete The Marriage Of Figaro Mozart
Non Piu Andrai The Marriage Of Figaro Mozart
Quartet In G KV156 Mozart
Quartet KV157 Mozart
Quartet KV387 Mozart
Quartet KV421 Mozart
Quartet KV428 Mozart
Quartet KV458 Mozart
Quartet KV464 Mozart
Quartet KV465 Mozart
Quartet KV499 Mozart
Quartet KV575 Mozart
Quartet KV589 Mozart
Quartet KV590 Mozart
Rondo Alla Turca Mozart
Symphony no 29 Mozart
Serenade Op 3 No5 Haydn
Quartet op.64 no 3 Haydn
Quartet Op.18 no 1 Beethoven
Quartet Op.125 no 1 Schubert
Serenade For Strings Tchaikovsky
Romantic/Modern:
Adagio for Strings (Barber)
Adagio Cantabile from the "Pathetique" Sonata (Beethoven)
Allegretto (after Boccherini) (Kreisler)
Bolero Ravel
Beau Brummel Elgar
Chanson De Matin Elgar
Salut D'Amour Elgar
"Che Gelida Manina" from "La Bohéme" (Puccini)
Clair de lune (Debussy)
Czardas from "Die Fledermaus" (J. Strauss, Jr.)
Dance Of The Hours (La Gioconda) Ponchielli
Entr'acte to Act III of "Carmen" (Bizet)
Entr'acte to Act IV of "Carmen" (Bizet)
"Flower Song" from "Carmen" (Bizet)
The Girl with the Flaxen Hair (Debussy)
Golden Earrings (Traditional)
Golliwog's Cake-walk (Debussy)
3 Gymnopédies (Satie)
"Gypsy Life" (Herbert)
"Habañera" from "Carmen" (Bizet)
Hoe-down from "Rodeo" (Copland)
Hungarian Dances (Brahms): Nos. 1, 2, 3, 4, 5, 6, 7, 10, 11 & 21
Largo from the "New World" Symphony (Dvorák)
Meditation from "Thais" (Massenet)
Menuet from "Le Tombeau de Couperin" (Ravel)
"Morning Mood" from Peer Gynt Suite (Grieg)
The Old Refrain (Kreisler)
Nimrod From The Enigma Variations Elgar
O Sole Mio Rinaldo di Capua
Palladio (Karl Jenkins)
Pavane (Fauré)
Pavane pour une infante defunte (Ravel)
Polovtsian Dances 'Prince Igor' Borodin
Prelude No. 2 (Gershwin)
Rhapsody on a Theme of Paganini:  18th Variation (Rachmaninov)
Romance (Shostakovich)
Romanza Andaluza (Sarasate)
Rumanian Folk Dances (complete) (Bartók)
"Simple Gifts" Fugue (Naughtin)
Son of the Puzta, Op. 134, No. 2 (Keler)
Tambourin Chinois (Kreisler)
The Pearl Fishers Duet Bizet
The Planets Theme Holst
Trisch-Trasch Polka J.Strauss
"Vilia" from "The Merry Widow" (Lehar)
Vocalise (Rachmaninov)
Waltzes:
"Blue Danube" Waltzes (J. Strauss, Jr.)
Caprice Viennois (Kreisler)
Chopin Waltzes: Op. 18, Op. 64, #1 & Op. 64, #2
Chopin Waltz Op 70 No 3
"Danube Waves" ("Anniversary Waltz") (Ivanovici)
"Die Fledermaus" Waltzes (J. Strauss, Jr.)
Liebesfreud (Kreisler)
"Merry Widow" Waltzes (Lehar)
"Midnight Bells" Waltz (Kreisler)
Musetta's Waltz from "La Boheme" (Puccini)
Richard Rodgers' Waltzes:
Waltzes from Der Rosenkavalier (R. Strauss)
Schön Rosmarin (Kreisler)
Tales from the Vienna Woods (J. Strauss, Jr.)
Two Hearts in Three-Quarter Time (Stolz)
Waltz Of The Flowers Tchaikovsky
Waltz from Symphony No. 8 in G (Dvorák)
"Wiener Blut" Waltzes (J. Strauss, Jr.)
Broadway/Pops/Latin:
Bachianas Brazileiras No. 5 (Villa-Lobos)
Blue Tango Leroy Anderson
Danzas Argentinas No. 2 (Ginastera)
"El Choclo" Tango (Villoldo)
"Jealousy" Tango (Gade)
La Vie En Rose Louiguy
La Cumparsita G. Rodriguez
La Spagnola (V Di Chiara)
Loony Tunes Fugue (Naughtin)
"Manha de Carnaval" from "Black Orpheus" (Bonfa)
Birthday Variations (Variations on "Happy Birthday") (Naughtin)
"Noites Cariocas" (Bandolim)
"The Orange Blossom Special" (Rouse)
"Por Una Cabeza" Tango (from "Scent of a Woman")(Gardel)
Sunrise Sunset From Fiddler On The Roof Jerry Bock
"Tico-Tico" (Abreu)
Wedding Music:
"Amazing Grace" (Traditional)
"Ave Maria" (Bach/Gounod)
"Ave Maria" (Schubert)
Bridal Chorus from Lohengrin (Wagner)
Chaconne, Meditation and Recessional (Naughtin)
"Entrance of the Queen of Sheba" from Solomon (Handel)
Hornpipe from the Water Music (Handel)
"La Réjouissance" from the Royal Fireworks Music (Handel)
The Lord's Prayer (Malotte)
Minuet from the Water Music (Handel)
"Ode to Joy" (Beethoven)
Overture from the Royal Fireworks Music (Handel)
The Pachelbel Canon
"Panis Angelicus" (Frank)
Rondeau from Symphonies des fanfares (Mouret)
"Sabbath Prayer" from Fiddler on the Roof (Bock)
"Sheep May Safely Graze" from Cantata No. 208 (Bach)
Trumpet Tune (The King of Denmark) (Purcell)
Trumpet Voluntary in D (Clarke)
Wedding March from A Midsummer Night's Dream (Mendelssohn)
Wedding Processional from The Sound of Music (Rodgers)
Irish/Folk/Traditional:
Fiddle Dance Fletcher
Folk Tune Fletcher
Galway Rambler (Medley of traditional Irish Jigs and Reels)
Greensleeves Traditional
Irish Sherry Trad. & O'Carolan
Londonderry Air
James Bond Themes:
From Russia With Love John Barry
Goldfinger John Barry
Live And Let Die George Martin
Millenium Robbie Williams
Nobody Does It Better Marvin Hamlisch
Light/Jazz/Pop/Film:
A Foggy Day Gershwin
As Time Goes by Herman Hupfeld from Casablanca
Anthem by Andersson/Ulvaeus From 'Chess'
Anything Goes Cole Porter
Autumn Leaves Joseph Kosma
Bethena Scott Joplin
Bittersweet Symphony The Verve
Blue Moon Richard Rogers/Lorenz Hart
Bohemian Rhapsody Queen
Brazilian Fiddler
Brideshead Theme By Geoffrey Burgon from Brideshead Revisited
Cabaret John Kander
Can't Take My Eyes Off You Crewe/Gaudio
Chasing Cars –Snow Patrol
Changes David Bowie
Cheek To Cheek Irvin Berlin
Close Every Door by Andew Lloyd Webber
from Joseph & the Amazing Technicolour Dreamcoat
Cock Linnet Charles Collins/Fred Leigh
Come Back To What You Know Embrace
Country Club Scott Joplin
Dad's Army Jimmy Perry
Dark Eyes Russian Gypsy Traditional
Elbow
El Relicario Jose Padilla
Fawlty Towers Theme & Variations Dennis Wilson
Fly Me To The Moon Bart Howard
Girl From Ipanema Antonio Carlos Jobim
Getting Sentimental Over You George Bassman/Ned Washington
Glenn Miller Medley
Harry Lime Theme Anton Karas from The Third Man
Hello Dolly Jerry Herman
Hello
I Do I Do I Do Abba
I Do Like To Be Beside The Seaside Glover-Kind
I Dreamed A Dream by Claude-Michel Schonberg/Alain Boubill from Les Miserables
If You Knew Susie Buddy DeSylva/Joseph Meyer
It Had To Be You
If David Gates Bread
I Don't Know How To Love Him
It Don't Mean A Thing Duke Ellington
I Wont Dance Jerome Kern
Jealousy
Jeeves & Wooster Anne Dudley
Just Another Rumba Gershwin
La Bamba
La Paloma
Lara's Theme
Love Moves In Mysterious Ways
Lady In Red
Let Me Try Again
Let's Do It Cole Porter
Love Changes Everything 'Aspects Of Love'
Love Me Tender Elvis Presley
Makin' Whoopee
Match Of The Day
Misty
Moondance Van Morrison
Moon River
Moonlight And Roses Lemare
Moonlight In Vermont Karl Suessdorf
My Funny Valentine Richard Rodgers
Music of the Night from Phantom of the Opera Lloyd Webber
Music To Watch Girls By Velona/Ramin
No Strings Irvin Berlin
One Day Like This Elbow
On The Street Where You Live
Over The Rainbow Harld Arlen
Paragon Rag Scott Joplin
Pasadena
Pennies from Heaven Arthur Johnson
Penny Whistle
Purple Haze Jimi Hendrix
Ragtime Dance Scott Joplin
Raindrops Keep Falling On My Head Burt Bacharach
Rule The World Take That
Scarborough Fair
Singing In The Rain
Speak Softly Love The Godfather Nino Rota
Smoke Gets In Your Eyes
Somebody Loves Me Gershwin
Spanish Dance
Summer Holiday
Summertime From Porgy & Bess Gershwin
Spread A Little Happiness
Stardust
Sway/ Cherry Pink Pablo Beltran
Thunderbirds
The Entertainer Scott Joplin
The Final Countdown Europe
The Folks Who Live On The Hill Jerome Kern
The Way We Were
To Life
Waterloo Abba
When I Fall In Love
With One Look
The Beatles:
All You Need Is Love
Eleanor Rigby
Here Comes The Sun
Hey Jude
I Feel Fine
Penny Lane
The Long And Winding Road
Yesterday
Beatles Medley
Jewish Music:
Baruch Habba (Julius LazarusMombach S.A.)
Erev Shel Shoshanim (Y. Hadar)
Eshet Chayil (B.Z. Shenker)
Halaluyah! (D.M.D.)
Hariu (Charles Salaman)
Hava Nagila
Ma Yedidot
Mi Addir (Salomon Sulzer)
Christmas Music:
Bell Carol/In Dulci Jubilo ("Good Christian Men Rejoice")  (Traditional)
"Bring a Torch, Jeannette, Isabella" (Traditional)
Christmas Medley I
Christmas Medley II
              includes:  "Shepherds Leave Your Sheep"
                "Come, O Come Emmanuel"
                "Here We Come A-Caroling"
Christmas Medley III
             includes:   "The Coventry Carol"
                "God Rest You Merry, Gentlemen"
                "Listen, Lordlings, Unto Me"
Greensleeves ("What Child Is This") (Traditional)
"Lo, How a Rose E'er Blooming" (Praetorius)
"O Holy Night" (Adam)
"Ring, Christmas Bells" (Leontovich)
"Silent Night, Holy Night" (Gruber)
"We Wish You a Merry Christmas" (Traditional)
Richmond Strings
Reviews
From customers:
Toby B
4 years ago
, for a Recording session in 30A