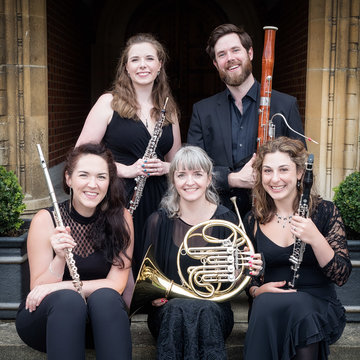 Check availability and get a free quote now - no commitment to book
Watch & Listen
About
Reviews
Like London Myriad Ensemble?
About London Myriad Ensemble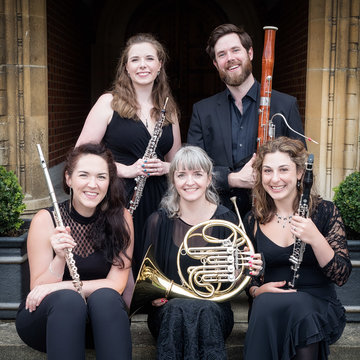 Since its conception as a professional chamber group in 2004, the London Myriad Ensemble has performed regularly both in the UK and internationally, with a wide ranging repertoire ranging from classical to contemporary, including several pieces written specifically for the group. The ensemble performs as a flexible ensemble, with a wind quartet as its core. Performances range from duo repertoire to sextet, adding strings or piano for many of their concerts. Members share a passion for chamber music alongside a wealth of experience within the music profession and individual members have worked with major ensembles, orchestras and eminent musicians in the UK and internationally, including the Royal Philharmonic Orchestra, Hallé Orchestra, Royal Opera House Orchestra and BBC Symphony Orchestra. Following their First Prize win at the 2nd International Israeli Music Competition 2009, the London Myriad Ensemble performed at the Purcell Room in the Southbank Centre and also live on BBC Radio 3's "In Tune" programme. The ensemble perform regularly in recital, with notable venues including St. Martin-in-the-Fields, St. James's Piccadilly, St. Paul's Covent Garden, the National Portrait Gallery and the residence of the British High Commissioner to the Seychelles. They also enjoy providing music for a variety of events. With a keen interest in new music and in expanding the repertoire in particular for woodwind chamber ensemble, the London Myriad have given several world premiere performances. These premieres have included Peter Nickol's 'Ultramarine', Owen Bourne's 'Myriad', 'Quintet' by Gregers Brinch, Litha Efthymiou's 'Lady Macbeth' and Stephan Hodel's 'Nüssliphone' in the Serpentine Pavilion, all of these being specifically written for the ensemble. London Myriad have given a number of UK premieres including Carl Schimmel's 'Towns of Wind and Wood' and works by Rob Keeley and have also worked as the resident ensemble for New Music Brighton over two seasons culminating in two concerts and over ten works written for them. London Myriad look forward to collaborating with composer Litha Efthymiou for performances as part of the Tête à Tête Opera Festival in August 2015. The London Myriad Ensemble has a keen interest in education and outreach. Individual members have a wide variety of experience as instrumental teachers and ensemble tutors in addition to their professional work and London Myriad run a popular course for pre-formed advanced wind ensembles at Benslow Music. In their capacity as Concordia International Artists they have hosted, devised and led a number of large outreach workshops and performances at Wiltons Music Hall as part of their Young Audiences project in Tower Hamlets and beyond. Members of LME regularly freelance with major orchestras and ensembles such as the RPO and LSO and other eminent musicians.
Prices
Note: prices may vary based on travel distance. For an exact quote, click "Check availability".
Personalised Music Message
Book me to create a unique music video for you to send to a friend as a gift. This could be a birthday message, first dance song for a wedding anniversary, or just your friend's favourite song to cheer them up.
Reviews
From customers:
Laurence C, 11 years ago
One of the most accomplished, best organised and well-motivated chamber ensembles...they were a real joy to work with"…"A group which is surely destined to be a leading UK chamber group in years to come
Gregers H, 6 years ago
In December, the 'London Myriad Ensemble' performed a tremendous and rarely heard programme of works for wind quintet and were joined for the majority of the recital by Japanese pianist Yuki Negishi. The ensemble brought a myriad of gems through their riveting and diverse performance to the Rudolf Steiner House Theatre near London's Regents Park. Their ensemble playing is a treat to hear and a true example of the challenges and joys of chamber music making
Bridget C, 10 years ago
I was very impressed by the high standard of their musicianship. They conveyed a sense of enjoyment in playing together resulting in an enthusiastic response from the audience
© Encore Technologies, Ltd.
Crafted with bagels and in London