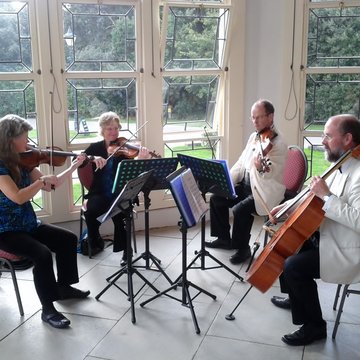 String quartet
Keysworth String Quartet
Support available Mon-Sun
Like Keysworth String Quartet?
Watch & Listen
1-3 of 9 videos
Keysworth String Quartet - 5 magic tracks
Keysworth String Quartet plays - A Thousand Years (HD)
The Keysworth String Quartet play - Pachelbel's Canon in D
About Keysworth String Quartet
Based in Dorset we have a wealth of experience playing a wide selection music for weddings, receptions and dinners at all types of venue.
Public liability insurance of £2 million
Encore badges
Saved the day!
Booked for an Encore gig with less than 24 hours' notice
6th Anniversary
This act has been working with Encore for over 6 years
10 gigs
Experienced: 10 bookings through Encore
Musicianship
Genres:
Traditional church music
, Christmas
, Folk
, Classical
, 1920s era music
, 1930s era music
, 1940s era music
, 1950s era music
, 1960s era music
, 1970s era music
, 1980s era music
, 1990s era music
, Jazz
, Easy listening
, Light music
, Pop
, Covers
, Top 40
, Acoustic
, Traditional Irish folk
, Traditional Scottish folk
, Traditional English folk
, Baroque
, Early music
, Film / TV music
, Renaissance
, Opera
, Musical theatre
Event types:
Wedding
, Wedding proposal
, Funeral / Memorial service
, Church service
, Hotel / Restaurant event
, Private event
, Corporate event
, Charity event
, Concert
, Birthday party
, Christmas party
, New Year's Eve
Song list
Our list so far... we are constantly adding to it, so if you don't see what you are looking for please ask:
POPULAR CLASSICS
Albeniz Tango
Albinoni Adagio
Arne Rule Britannia
Bach Four pieces from Suite in D
Bach Brandenburg Concerto no.2
Bach Brandenburg Concerto no.3
Bach Concerto for 2 violins
Bach Jesu, Joy of man's desiring
Bach Prelude from the Cello Suite in G
Bach Bourrees from the Cello Suite in C
Bach Sleepers, Wake
Bach Sheep may safely graze
Bach My heart ever faithful
Bach Aria-Ich will nur dir zu Ehren Laben
Bach Prelude in C
Bach Arioso
Bach/Gounod Ave Maria
Barber Adagio
Beethoven Minuet in G
Beethoven Ode to Joy
Bizet Carmen
Bizet The Pearl Fishers - Duet
Boccherini Minuet
Borodin Polovtsian Dance
Borodin Nocturne from String Quartet no.2
Brahms Hungarian Dance no.5
Brahms Menuetto
Brahms First Symphony - Theme
Charpentier Prelude to Te Deum
Chopin Mazurka in F
Chopin Waltz op34 no2
Clarke Trumpet Voluntary/Prince of Denmark's March
Clarke Trumpet Tune
Corelli Christmas Concerto
Daquin The Cuckoo
Debussy Clair de Lune
Debussy Golliwogg's Cakewalk
Debussy The Girl with the Flaxen Hair
Delibes Flower Duet
Delibes Pizzicato
Delius Serenade (from Hassan)
di Capua O sole mio
Dvořák Humoresque
Dvořák Slavonic Dance no.8
Elgar Chanson de Matin
Elgar Chanson de Nuit
Elgar Salut d'amour
Elgar Nimrod from Enigma Variations
Elgar Idylle
Elgar Pomp & Circumstance March no.1
Elgar Land of Hope and Glory
Faure Pavane
Field Triumphal March
Franck Panis Angelicus
Glass Company
Gluck Dance of the Blessed Spirits
Grainger Molly on the shore
Grainger Mock Morris
Grieg Morning
Grieg Anitra's Dance
Grieg In the hall of the mountain king
Grieg Norwegian Dance no.2
Grieg Norwegian Dance no.3
Grieg Waltz op12
Grieg Wedding Day at Troldhaugen
Grieg Holberg Suite
Handel Water Music
Handel Hornpipe
Handel Arrival of the Queen of Sheba
Handel Largo
Handel Fireworks Music
Handel Messiah
Handel Silent Worship (from Tolemy)
Haydn Serenade
Haydn String quartets…
Holst I vow to thee my country
Khatchaturian Adagio
Mahler Adagietto
Mascagni Cavalleria Rusticana - Intermezzo
Massenet Meditation from Thais
Mendelssohn Wedding March
Mouret Rondeau (Fanfare)
Moussorgsky Gopak
Mozart Rondo alla Turca
Mozart Laudate Dominum
Mozart Bird Catcher's Song
Mozart Marriage of Figaro - Overture
Mozart Marriage of Figaro - Voi che sapete
Mozart Marriage of Figaro - Non piu andrai
Mozart Wedding March
Mozart Eine Kleine Nachtmusik
Mozart Divertimento in D K136
Mozart Divertimento in B flat K137
Mozart Divertimento in F K138
Mozart Ave Verum Corpus
Mozart Symphony no. 29 in A
Mozart String quartets…
Offenbach Barcarolle
Offenbach Cancan
Pachelbel Canon
Parry Jerusalem
Prokofiev Troika
Puccini Mio Babino Caro
Puccini Nessun Dorma
Puccini Madame Butterfly - Humming Chorus
Puccini Chrysanthemums
Puccini Madame Butterfly - Un Bel Di, Vedromo
Puccini La Boheme - Musetta's Waltz Song
Purcell Trumpet Tune
Purcell Trumpet Voluntary/Prince of Denmark's March
Purcell Sound the trumpet
Purcell Two Rondeaux
Purcell Chacony
Purcell Golden Sonata
Rachmaninoff Vocalise
Rachmaninoff Rhapsody on theme of Paganini - variation 18
Ravel Bolero
Saint-Saens The Swan
Sati Gymnopedie no. 1
Scarlatti Sonata in D
Schubert Moment Musical
Schubert Ave Maria
Schubert Serenade
Schubert The Trout
Schumann Träumerei
Shostakovitch Romance from The Gadfly
Tchaikovsky Danse des Mirlitons
Tchaikovsky March
Tchaikovsky Valse de Fleurs
Tchaikovsky Dance of the Sugar Plum Fairy
Tchaikovsky The Sleeping Beauty - Waltz
Tchaikovsky Swan Lake - Waltz
Tchaikovsky Andante Cantabile
Ungar Ashokan Farewell
Verdi The Force of Destiny
Verdi La Traviata - Prelude
Verdi La Traviata - Brindisi (drinking song)
Vivaldi The Four Seasons - Spring
Vivaldi The Four Seasons - Summer
Vivaldi The Four Seasons - Autumn
Vivaldi The Four Seasons - Winter
Vivaldi Concerto for 2 violins in A minor
Vivaldi Concerto for 2 violins in D minor
Wagner Bridal Chorus
FILM
Arlen Over the Rainbow
Arlen Stormy Weather
Armstrong Portuguese Love Theme
Armstrong Glasgow Love Theme
Barry All Time High
Barry You only live twice theme
Barry We have all the time in the world
Bernstein Magnificent Seven
Boccherini Passacalle
Des'ree & Tim Atack Kissing you (Balcony scene)
Gardel Por una Cabeza (Tango)
Goldsmith The Gremlin Rag
Goodwin 633 Squadron
Hansard & Irglova Falling Slowly
Horner My heart will go on
Hupfield As time goes by
Iron & Wine Flightless Bird, American Mouth
Jarre Lara's Theme
Karas Harry Lime Theme
Lai Love Story
Lisa Gerrard Now we are free
Lopez Let it go
Louis Armstrong Jeepers Creepers
Mancini Moon River
Mancini The Thorn Birds theme
Mancini Meggie's Theme
Mantovani (Erno Rapee) Charmaine
Marianelli Dawn from Pride & Prejudice
McLean The Kiss
Menken Beauty and the Beast
Menken A Whole New World
Monty Norman James Bond Theme
Morley Climbing the Down
Morricone Gabriel's Oboe
Myers Cavatina
Newman You've got a friend in me
Nott Wallace & Gromit theme
Post & Carpenter The 'A' Team
Rota Godfather theme
Rota Godfather 2 theme
Rota Kay's theme
Sandler Grow old with you
Sherman Hushabye Mountain
The Duprees My own true love
Trenet La Mer (Beyond the Sea)
Vangelis Chariots of fire
van Heusen Moonlight becomes you
Williams Double Trouble
Williams Hogwarts March
Williams Hedwig's theme
Williams Jurassic Park theme
Williams Raiders March
Williams Star Wars theme
Williams Rebel Fleet and end credits
Williams The Throne Room and end credits
Williams Schindler's List - theme
JAZZ
Bacharach Alfie
Bacharach Walk on By
Cole Porter Let's do it
Cole Porter Anything goes
Cole Porter Every time we say goodbye
Cole Porter Begin the Beguine
Donaldson Makin' Whoopee
Gay Leaning on a lamppost
Gershwin S'Wonderful
Gershwin Love is here to stay
Gershwin By Strauss
Gershwin Nice work if you can get it
Gershwin I'll build Astaire Way to Paradise
Gershwin Someone to watch over me
Gershwin Swansea
Gershwin They can't take that away from me
Gershwin I've got rhythm
Gershwin Summertime
Iradier La Paloma
Johnson Pennies from heaven
Nat King Cole Unforgettable
Nat King Cole Dance Ballerina
Rodgers My Funny Valentine
Scott Joplin The Entertainer
Scott Joplin Elite Syncopations
Scott Joplin The Easy Winners
Scott Joplin Ragtime Dance
Scott Joplin Country Club
Scott Joplin Paragon Rag
Scott Joplin Pineapple Rag
Scott Joplin Maple Leaf Rag
Scott Joplin Scott Joplin's New Rag
Shearing Lullaby of Birdland
Strayhorn Take the A Train
Vera Lynn/Sinatra… A Nightingale Sang in Berkeley Square
Suessdorf Moonlight in Vermont
LIGHT CLASSICS
Baynes Destiny Waltz
Bocelli Con Te Partiro (I'll go with you)
Bratton The Teddy Bears' Picnic
Collins & Leigh Cock Linnet
Denza Funiculi Funicula
Franklin Anniversary Waltz
Glinka Galop
Joyce Songe d'Automne Waltz
Lehar The Merry Widow Waltz
Leroy Anderson Blue Tango
Leroy Anderson Sleigh Ride
Leroy Anderson Plink Plank Plunk
Leveridge The Roast Beef of Old England
Mancini Inspector Clouseau
Molloy Love's old sweet song
Penn The Honeysuckle and the Queen Bee
Piazzolla Libertango
Rapee Charmaine Waltz
Russell A Life on the Ocean Wave
Smith/Key The Star-Spangled Banner
Sousa Stars and Stripes Forever
Strauss Annen Polka
Strauss Auf freiem Fusse Polka
Strauss Pizzicato Polka
Strauss The Kiss Waltz
Strauss The Blue Danube
Strauss Emperor Waltz
Strauss Radetzky March
Strauss Roses from the South
Strauss Thunder & Lightning Polka
Strauss Tritsch-Tratsch Polka (Chit-Chat Polka)
Sullivan Pirates of Penzance
Sullivan Three Little Maids from School
Waldteufel Skater's Waltz
POP SONGS
Adele Set Fire to the Rain
Adele/Bob Dylan/Billy Joel Make you feel my love
Adele Skyfall
Adele Someone Like You
Carpenters/Manilow Can't smile without you
Aznavour She
John Denver Annie's Song
Beatles Medley
Beatles All you need is love
Beatles I want to hold your hand
Beatles She loves you
Beatles All my loving
Beatles Michelle
Beatles Eleanor Rigby
Beatles When I'm 64
Beatles And I love her
Beatles Let it be
Bette Midler/Westlife The Rose
Boone April Love
Bruno Mars (Billy Joel) Just the way you are
Bruno Mars It will rain
Bruno Mars Marry You
Christina Perri A Thousand Years
Cohen Hallelujah
Carole King It's Too Late
Coldplay Clocks
Coldplay Fix You
Coldplay Paradise
Coldplay The Scientist
Coldplay Viva la Vida
Coldplay Yellow
Craig Armstrong Finding Beauty
Daft Punk Get Lucky
Davis & Mitchell You are my sunshine
Elbow One day like this
Elton John Your Song
Elvis Can't help falling in love with you
Eva Cassidy (McVie) Songbird
The Fray How to save a life
Gamble, Huff, Gilbert Me & Mrs Jones
Glover-Kind I do like to be beside the seaside
Guns n' Roses Sweet Child o' Mine
Josh Groban/Westlife You Raise me up
Journey Don't stop believin'
Katy Perry Firework
Kent The White Cliffs of Dover
Kings of Leon Use somebody
Lionel Richie Endless Love
Lonestar Amazed
Madness (Labi Siffre) It must be Love
Michael Buble Everything
Nina Simone/The Fall Feeling Good
Pat Metheny Letter From Home
Oasis Roll With It
Oasis Wonderwall
Owl City Fireflies
The Platters Only you
Queen You're my best friend
Righteous Brothers Unchained Melody
Eva Cassidy I know you by Heart
Sinatra/Como/Dorsey etc Santa is comin' to town
Snow Patrol Chasing Cars
Stevie Wonder You are the sunshine of my life
Sting Every Breath you take
Sting/Eva Cassidy Fields of Gold
Take That Rule the World
Taylor Swift Love Story
The Verve (Jagger & Richards) Bittersweet Symphony
Twilight Flightless Bird
U2 A man and a woman
Vera Lynn (Franklin/Dubin) Anniversary Waltz
Beyonce, Eta James (Warren) At last
Willson Till there was you
SHOWS - TV - TRADITIONAL
Adler & Ross Hernando's Hideaway (Tango)
Acker Bilk Stranger on the shore
Bart Food, glorious food
Berlin Medley
Bernstein Maria
Bernstein New York, New York
Burgon Brideshead Revisited - theme
Davis Pride & Prejudice
Gunning Poirot theme
Henson/Pottle The Muppet Show theme
Holst Chrissemas Day in the morning
Horovitz The Trials of Rumpole
Josephs Pride & Prejudice
Kern The folks who live on the hill
Khachaturian Adagio from Spartacus
Lloyd Webber The Music of the Night
Lloyd Webber All I ask of You
Lloyd Webber Love changes everything
Lloyd Webber Cats
Loewe Get me to the church on time
Loewe I could have danced all night
Lunn Downton Abbey Theme
Reade The Victorian Kitchen Garden - Prelude, Summer
Rodgers Climb Every Mountain
Rodgers Edelweiss
Rodgers You'll never walk alone
Schifrin Mission: Impossible
Schonberg I dreamed a dream
Sousa Liberty Bell
Trad. Sailor's Hornpipe
Trad. Danny Boy
Trad. Dr McKinnons Reel
Trad. The Red Haired Boy
Trad. The Irish Washerwoman
Trad. Loch Lomond
Trad. A Londonderry Air (Danny Boy)
Trad. The Peeler's away with me daughter
Trad. Drowsy Maggie & Lord McDonald
Trad. Scottish Medley
Trad. Mary, young and fair
Trad. Four Welsh Songs
Trad. " Greensleeves"
Trad. Skye Boat Song
Trad. Auld Langs Syne
Wilson Fawlty Towers theme
Hymns Hymns for church, or elsewhere…
Keysworth String Quartet