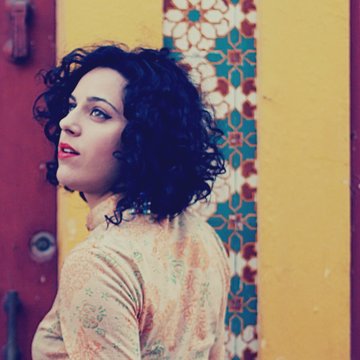 Singer (soprano)
Filipa Portela
Support available Mon-Sun
Watch & Listen
1 of 1 video
"So war...", soprano Filipa Portela
About Filipa
I'm a Portuguese soprano and performer. Hire me if you want an unforgettable musical experience!
Encore badges
5th Anniversary
This act has been working with Encore for over 5 years
Musicianship
Genres:
Classical
, Baroque
, Opera
, Classical crossover
, Contemporary classical
, Medieval music
, Renaissance
, Film / TV music
, Early music
Event types:
Concert
, Wedding
, Wedding proposal
, Funeral / Memorial service
, Church service
, Hotel / Restaurant event
, Bar / Club / Venue event
, Private event
, Corporate event
, Charity event
, Recording session
, Theatre / Show
, Cruise
, Burns night
, Birthday party
, Christmas party
, New Year's Eve
Other skills:
Fluent improviser
, Animateur
, Music therapy
, Instrumental teaching
, Theory teaching
, Singing teaching
, Community music worker
, Actor
, Dancer
Song list
Opera/Operette
C. M. VON WEBER
Kommt ein schlanker Bursch gegangen (Der Freischütz)
J. STRAUSS
Mein Herr Marquis (Die Fledermaus)
Spiel ich die Unschuld vom Lande (Die Fledermaus)
R. STRAUSS
Großmächtige Prinzessin, Rezitativ und Arie (Ariadne auf Naxos)
W. A. MOZART
Durch Zärtlichkeit und Schmeicheln (Die Entführung aus dem Serail)
Ach, ich fühl's (Die Zauberflöte)
L. BEETHOVEN
O wär' ich schon mit dir vereint (Fidelio)
C. ZELLER
Ich bin die Christel von der Post (Der Vogelhändler)
Englische Arien
L. BERNSTEIN
Glitter and be Gay (Candide)
B. BRITTEN
Be kind and courteous (Midsummer Night's Dream)
G. F. HANDEL
Oh sleep, why dost thou leave me? (Semele)
Myself I shall adore (Semele)
H. PURCELL
Pursue thy conquest, love (Dido and Aeneas)
W. A. MOZART
In uomini, in soldati (Così fan tutte)
Una donna a quindici anni (Così fan tutte)
Deh vieni, non tardar (Le Nozze di Figaro)
Batti batti, o bel Masetto (Don Giovanni)
Vorrei spiegarvi, o Dio
MONTEVERDI
Deh, nasconditi, o Virtù (L'incoronazione di Poppea)
G. VERDI
Sul fil d'un soffio etesio (Falstaff)
Saper vorreste (Un Ballo in Maschera)
Caro nome (Rigoletto)
A. CESTI
Intorno all'idol mio (Orontea)
G. DONIZETTI
Convien partir (La figlia del regimento)
O luce di quest'anima (Linda di Chamounix)
Quel guardo il cavaliere (Don Pasquale)
Prendi per me, sei libero (L'elisir d'amore)
G. MEYERBEER
Ombra leggera (Dinorah)
G. PUCCINI
Quando m'en vo (La Bohème)
O mio babbino caro (Gianni Schicchi)
F. POULENC 
Non, Monsieur, mon mari (Les Mamelles de Tirésias)
La Voix Humaine
G. BIZET
Je dis que rien ne m'épouvante (Carmen)
J. MASSENET
Je marche sur tous les chemins… Obéissons (Manon)
J. OFFENBACH
Les oiseaux dans la charmille (Les Contes d'Hoffmann)
G. CHARPENTIER
Depuis le jour (Louise)
C. GOUNOD
Je veux vivre (Roméo et Juliette)
J. P. RAMEAU
La Folie (Platée)
-
Oratorio
F. J. HAYDN
With verdure clad (Creation)
G. B. PERGOLESI
Cuius animam gementem (Stabat Matter)
Vidit suum dulcem natum (Stabat Matter)
G. F. HANDEL
How beautiful are the feet (Messiah)
J. S. BACH
Ich will dir mein Herzen schenken (Matthäus-Passion)
Aus Liebe (Matthäus-Passion)
Kantate Jauchzet Gott in allen Landen (BWV 51)
TELEMANN
Jauchzet, frohlocket, der Himmel ist offen (TWV 1:953)
Meines Herzens Trost und Freude (Kantate Jauchzet, ihr Himmel)
Liebe die vom Himmel stammet, Herr der starken Himmelsheere (TWV 01:1044)
-
Songs
A. SCHOENBERG 
Die Brettl Lieder
C. SCHUMANN
6 Lieder, Op. 23
R. SCHUMANN
Der Nussbaum
F. SCHUBERT
Der Musensohn
Delphine
Litanei
Im Frühling
Ganymede
Seligkeit
An die Musik
Der Hirt auf dem Felsen
H. WOLF
Er ist's
W. A. MOZART
Abendempfindung an Laura
Als Luise die Briefe ihres ungetreuen Liebhabers verbrannte
An Chlöe
R. STRAUSS
Schlechtes Wetter
Allerseelen
Ich wollt ein Sträußlein binden 
Amor
Freundliche Vision
Morgen!
Hat gesagt - bleibt's nicht dabei
Ständchen
Lieder der Ophelia
L. SPOHR
6 Deutsche Lieder
A. J. FERNANDES
Canção de Tecedeiras
F. LOPES-GRAÇA
Quem embarca?
J. OVALLE
Azulão
T. DE LIMA
Trovas portuguesas
V. DA MOTTA
A Estrela
Canção Perdida
Pastoral
A. FRAGOSO
Canções do Sol Poente
H. VILLA-LOBOS
Nesta Rua
Lundu da Marqueza de Santos
Bachianas Brasileiras No. 5, Aria I
Canção do Poeta do Século XVIII
E. TOLDRÁ
Seis Canciones
J. RODRIGO
De donde venis amore
M. DE FALLA
Siete Canciones Populares Españolas
X. MONTSALVATGE
Canción de cuna para dormir a un negrito
De los Álamos vengo
Französische Lieder
G. FAURÉ
Après un Rêve
Au bord de l'eau
Ici-bas
Automne
L. BERNSTEIN
La Bonne Cuisine
L. DELIBES
Les Filles de Cadix
M. RAVEL
La-bas, vers l'église
Pièce en forme de Habanera
E. DELL'ACQUA
Villanelle
F. POULENC 
Les chemins de l'amour
Fêtes Galantes
La Courte Paille
C. DEBUSSY
Mandoline
Nuit d'Étoiles
Fleur de Blés
Fêtes Galantes
Chansons de Bilitis
D. MILHAUD
Chansons de Ronsard
E. CHAUSSON
Colibri
Le temps des lilas
E. SATIE
La Diva de L'Empire
Je te veux
R. HAHN
Si mes vers avaient des ailes
J. MASSENET
Élegie
J. CANTELOUBE
Chants d'Auvergne
G. ROSSINI
La Promessa
S. PROKOFIEV
Five Poems of Anna Akhmatova (cycle)
B. BRITTEN
O can ye sew cushions?
H. H. A. BEACH
Take, O take those lips away
H. PURCELL
Music for a while
J. DOWLAND
Flow my tears
Come again
Now, o now
C. GOUNOUD
Ave Maria
Filipa
Reviews
From customers:
Simon W
4 years ago
, for a Theatre / Show in 100 Renfrew St
Scott J
4 years ago
, for a Concert in 100 Renfrew St