About ELECTRUM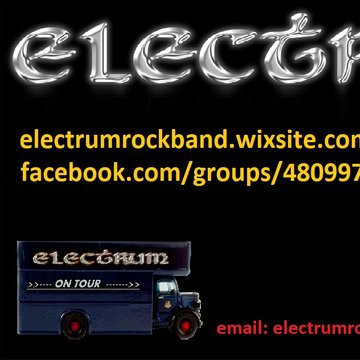 Electrum is an established and respected rock covers band. We play a mix of upbeat instantly recognisable songs spanning 6 decades
Performance details
We have vehicles we can use to travel to gigs
We require car parking close to venues
Our equipment is PAT tested
Musicianship
Genres:
Pop
, Covers
, Rock
, Classic rock
, Hard rock
, Glam rock
, Pop rock
, Power rock
, Rock 'n' Roll
, Progressive rock
Song list
Electrum Setlist includes
2 MINUTES TO MIDNIGHT - IRON MAIDEN
20th CENTURY BOY - T REX
ACE OF SPADES - MOTORHEAD
ALIVE - PEARL JAM
ALL RIGHT NOW - FREE
ALL THE SMALL THINGS - BLINK
AMERICAN IDIOT - GREEN DAY
ANOTHER BRICK IN THE WALL - PINK
FLOYD
ARE YOU GONNA GO MY WAY - LENNY KRAVITZ
AULD LANG SYNE - TRAD
BAD CASE Of Lovin' YOU - ROBERT PALMER
BAD MOON RISING - CCR
BALLROOM BLITZ - SWEET
BLACK NIGHT - DEEP PURPLE
BOHEMIAN LIKE YOU - DANDY WARHOLS
BORN TO BE WILD - STEPPENWOLF
BREAKING THE LAW - JUDAS PRIEST
BROWN SUGAR - ROLLING STONES
BUCK ROGERS - FEEDER
CAN'T GET ENOUGH - BAD COMPANY
CAN'T STOP - RED HOT CHILLI PEPPERS
CAROLINE - STATUS QUO
CHASING CARS - SNOW PATROL
COME TOGETHER - GODSMACK
COMFORTABLY NUMB - PINK FLOYD
CRAZY HORSES - OSMONDS
DAKOTA - STEREOPHONICS
DANI CALIFORNIA - RED HOT CHILLI PEPPERS
DOCTOR DOCTOR - UFO
DON'T BELIEVE A WORD - THIN LIZZY
DON'T WASTE MY TIME - STATUS QUO
DON'T YOU FORGET ABOUT ME - SIMPLE
MINDS
DOWN DOWN - STATUS QUO
DREAM ON - AEROSMITH
ENTER SANDMAN - METALLICA
EVERYONE'S A WINNER - GUN
EPIC - FAITH NO MORE
EVERYTHING ABOUT YOU - UGLY KID JOE
FEEL LIKE MAKIN LOVE - BAD COMPANY
FEELING GOOD - MUSE
FOOTLOOSE - KENNY LOGGINS
FREEBIRD - LYNYRD SKYNYRD
GET Back - BEATLES
GET IT ON - T REX
GET OVER IT - EAGLES
GIMME SOME LOVIN' - THUNDER
GIVE ME ALL YOUR LOVING - ZZ TOP
HARD TO HANDLE - BLACK CROWES
HAVE A NICE DAY - BON JOVI
HIGHWAY TO HELL - AC / DC
HOLIDAY - GREEN DAY
HONKY TONK WOMAN - ROLLING STONES
HOT LEGS - ROD STEWART
HUNGRY LIKE THE WOLF - DURAN DURAN
I WISH IT COULD BE CHRISTMAS - WIZZARD
INSIDE - STILTSKIN
IT'S MY LIFE - BON JOVI
JEAN GENIE - DAVID BOWIE
JOHNNY B GOODE - CHUCK BERRY
KASHMIR - LED ZEPPELIN
LIL' DEVIL - CULT
LIVING ON A PRAYER - BON JOVI
LONG TRAIN RUNNING - DOOBIE BROTHERS
MAMMA MIA - ABBA
MESSAGE IN A BOTTLE - POLICE
MONEY - PINK FLOYD
MONEY FOR NOTHING - DIRE STRAITS
NEED YOU TONIGHT - INXS
NAKED - REEF
NO MATTER WHAT - BADFINGER
NO-ONE KNOWS - QUEENS OF THE STONE AGE
NOW I'M HERE - QUEEN
OBLIVION - TERRORVISION
PAINT IT BLACK - REEF
PARANOID - BLACK SABBATH
PINBALL WIZARD + CAN'T EXPLAIN - WHO
PLACE YOUR HANDS - REEF
PLAY THAT FUNKY MUSIC - THUNDER
RADAR LOVE - GOLDEN EARRING
Rock'n'Roll - LED ZEPPELIN
ROCKING IN THE FREE WORLD - NEIL
YOUNG
ROCKS - PLACEBO
ROSALIE - THIN LIZZY
SAD BUT TRUE - METALLICA
SATURDAY NIGHT'S ALRIGHT.. -
NICKELBACK
SCHOOLS OUT - ALICE COOPER
SEVEN NATION ARMY - WHITE STRIPES
SEX ON FIRE - KINGS OF LEON
She Sells Sanctuary - CULT
SHOUT - TEARS FOR FEARS
SHUT UP AND DANCE - WALK ON THE
MOON
SLITHER - VELVET REVOLVER
SMELLS LIKE TEEN SPIRIT - NIRVANA
SPIRIT IN THE SKY - NORMAN
GREENBAUM
STAND AND DELIVER - ADAM AND THE
ANTS
SULTANS OF SWING - DIRE STRAITS
SUMMER OF '69 - BRYAN ADAMS
TAINTED LOVE - SCORPIONS
TEENAGE KICKS - UNDERTONES
THE BOYS ARE BACK IN TOWN - THIN
LIZZY
THE CHAIN - FLORENCE AND THE
MACHINE
THE PRETENDER - FOO FIGHTERS
THE TROOPER - IRON MAIDEN
THRILLER - MICHAEL JACKSON
TIE YOUR MOTHER DOWN - QUEEN
TIME - PINK FLOYD
TIMES LIKE THESE - FOO FIGHTERS
TUSH - ZZ TOP
UNSKINNY BOP - POISON
UPRISING - MUSE
USE SOMEBODY - KINGS OF LEON
VERTIGO - U2
WALKING BY MYSELF - GARY MOORE
WANTED DEAD OR ALIVE - BON JOVI
WARPIGS - BLACK SABBATH
WE GOTTA GET OUT OF THIS PLACE - ANIMALS
WHATEVER YOU WANT - STATUS QUO
WHISKEY IN THE JAR - THIN LIZZY
WHITE WEDDING - BILLY IDOL
WHOLE LOTTA LOVE - LED ZEPPELIN
WHOLE LOTTA ROSIE - AC / DC
WICKED GAME - HIM
WISHING WELL - FREE
WITH OR WITHOUT YOU - U2
WORD UP - GUN
YOU REALLY GOT ME - KINKS
Customer questions
Will the singer be the same as who I see in the videos?
Yes
Can you provide an iPod/DJ service before and between your sets?
Yes
How much time do you need to set up?
75 minutes
Can I pick the songs you play from the set list?
Yes
Is all of the equipment (e.g. PA & lighting) included in your quote?
Yes
Can you learn song requests before the event?
Yes - we are very fast learners