String duo
Cupid's Bow Cello Duo
Support available Mon-Sun
Like Cupid's Bow Cello Duo?
Watch & Listen
1-2 of 2 videos
Canon in D by Pachelbel performed by Cupid's Bow Cello Duo
Every Breath You Take by Cupid's Bow Cello Duo
About Cupid's Bow Cello Duo
Cello duo with a highly versatile repertoire, playing Bach to Beyoncé. Perfect for weddings and functions.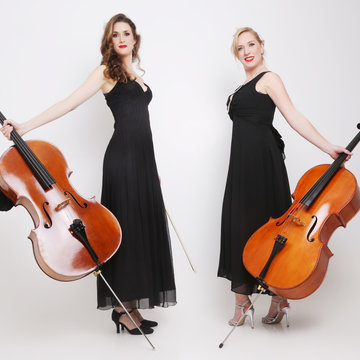 Public liability insurance of £6 million
Encore badges
Saved the day!
Booked for an Encore gig with less than 24 hours' notice
5th Anniversary
This act has been working with Encore for over 5 years
10 gigs
Experienced: 10 bookings through Encore
Musicianship
Genres:
Christmas
, Contemporary Christian
, Military
, Traditional church music
, Classical
, Baroque
, Classical crossover
, Contemporary classical
, Early music
, Fanfare
, Film / TV music
, Medieval music
, Musical theatre
, Renaissance
, Opera
, 1920s era music
, 1930s era music
, 1940s era music
, 1950s era music
, 1960s era music
, 1970s era music
, 1980s era music
, 1990s era music
, Folk
, Bluegrass
, Ceilidh
, Country
, Folk rock
, Irish rock
, Rockabilly
, Traditional English folk
, Traditional Irish folk
, Traditional Scottish folk
, Jazz
, Blues
, Cabaret
, Dixieland
, Gypsy jazz
, Jazz fusion
, Latin jazz
, Modern jazz
, Postmodern jukebox jazz
, Ragtime
, Swing
, Avant garde
, Easy listening
, Experimental
, Light music
, Marching
, Originals
, Pop
, Acoustic
, Ambient pop
, Americana
, Covers
, Disco
, Funk
, Funk rock
, Hip Hop
, Karaoke
, Motown
, R&B
, Soul
, Top 40
, Tribute
, Vintage
, Rock
, Alternative rock
, Britpop
, Classic rock
, Glam rock
, Hard rock
, Hardcore
, Heavy metal
, Indie
, Pop rock
, Post rock
, Power rock
, Progressive rock
, Punk rock
, Rock 'n' Roll
, Synth rock
, World music
, African music
, Afrobeat
, Arabic
, Argentinian
, Armenian
, Asian music
, Australian music
, Balkan
, Bavarian oompah
, Bollywood
, Bossa nova
, Brazilian music
, Calypso
, Caribbean music
, Choro
, Cuban music
, Cumbia
, Flamenco
, French music
, German music
, Greek music
, Hawaiian music
, Indian music
, Italian music
, Jewish music
, Klezmer
, Latin
, Mariachi
, Merengue
, Polish music
, Polka
, Polynesian music
, Reggae
, Russian music
, Salsa
, Samba
, Scottish music
, Ska
, Skiffle
, Spanish music
, Tango
Event types:
Wedding
, Wedding proposal
, Funeral / Memorial service
, Church service
, Hotel / Restaurant event
, Bar / Club / Venue event
, Private event
, Corporate event
, Charity event
, Concert
, Recording session
, Theatre / Show
, Cruise
, Burns night
, Birthday party
, Christmas party
, New Year's Eve
Song list
Some of our favourites, and therefore on our cd, 'Arioso':
Que Sera -Livingston/Evans
Can-Can –Offenbach
Summertime –Gershwin
Por Una Cabeza –Gardel
She -Aznavour/Kretzner
The Swan -Saint-Saens
William Tell Overture –Rossini
Chanson d'Amour -Shanklin & Hart
Sailor's Hornpipe -trad.
Autumn Leaves -Kosma
Arioso –J.S. Bach
Barbara Allen –trad.
Waves of the Danube –Ivanovic
Hungarian Dance -Brahms
Drunken Sailor- Trad.
Bare Necessities- Gilkyson
CLASSICAL/BAROQUE
Composers include Brahms, Strauss, Haydn, Handel, Breval, W.A. Mozart, Chopin, Mozart, Bach, Hook, Schumann, Dotzauer, Guignon, Pleyel, Beethoven, Schubert, Bartok, Kodaly, Couperin, Boismortier, Telemann, Purcell, Stravinsky, many more.
POPULAR CLASSICAL PIECES
Air ('on a G string') – Bach
Air (from the Water Music) – Handel
Arrival of the Queen of Sheba – Handel
Autumn – Vivaldi
Bach – Double Concerto
Canon in D –Pachelbel
Celeste Aida – Verdi
Clair de Lune - Debussy
Fur Elise – Beethoven
Greensleeves
Hornpipe (from the Water Music) - Handel
I Wanna Be Like You – Sherman
In the Hall of the Mountain King - Grieg
Jesu Joy of Man's Desiring – J.S. Bach
La Rejouissance – Handel
Largo from "winter" (Four Seasons) – Vivaldi
Marche Militaire – Schubert
Minuet from "Eine Kleine Nachtmusik" –Mozart
Minuet from "Music for the Royal Fireworks" – Handel
Nimrod (adagio) – Elgar
Non Piu Andrai (from "Mariiage of Figaro) - Mozart
Ode to Joy from "Symphony No. 9"– Beethoven
Plovtsian Dance – Borodin
Sheep May Safely Graze – J.S. Bach
Spring (Four Seasons) – Vivaldi
Spring 1 Recomposed by Max Richter
Swan Lake – Tchaikovsky
The Silver Swan – Orlando Gibbons
To a Wild Rose - MacDowell
Trumpet Voluntary –Clark
Voi Che Sapete - Mozart
Wedding March –Wagner
TRADITIONAL/FOLK
Mainly British and Irish & Eastern European folk tunes, including Arkansas Traveller, Dark Eyes, Greensleeves, Harvest Home, It was a Lover and his Lass, Land of my Fathers, Londonderry Air (=Danny Boy), Planxty Irwin, Star of the County Down, Wedding of William and Mairi. Also some Bollywood.
POP/FILM/DISNEY
Always Look on the Bright Side of Life – Monty Python
A Million Dreams – The Greatest Showman
Addams Family theme
Adventure of a Lifetime – Coldplay
Ain't Nobody – Chakra Khan
Angels – Robbie WIlliams
All of Me – John Legend
All Through the Nigh _trad. Welsh melody
Always A Woman to Me – Billy Joel
Amazing Grace
American Pie – Don McLean
At Last (Etta James)
A Million Dreams – Greatest Showman
A Thousand Years
Aladdin – A Whole New World
Barnacle Bill
Basin Street Blues
Beautiful Day – U2
Beauty and the Beast Theme – Disney
Besame Mucho - Velazquez
Best Day of My Life – American Authors
Better Place – Rachel Platten
Bittersweet Symphony – Verve
Blame it on the Boogie – Michael Jackson
Bring Me Sunshine
British National Anthem – jazz version
Budapest – George Ezra
Can't Help (Lovin' Dat Man)
Can You Feel the Love Tonight? – Lion king (Elton John)
Cha-cha
Chim Chim Cher-ee (from Mary Poppins)
Chitty chitty bang bang
Clair de Lune
Clocks – Coldplay
Close to you – Carpenters/Bacharach
Come Fly With Me
Consider Yourself (from Oliver!)
Computer game themes: Tetris, Mario Brothers, Halo4
Crazy In Love – Beyonce
Crazy Little Thing Called Love - Queen
Dark Eyes
Diamonds are a Girl's Best Friend
Don't Stop Me Now – Queen
Don't You Worry About a Thing –Stevie Wonder
Down By the Sally Gardens
Eastenders theme
Ebony & Ivory – Stevie Wonder/ Paul McCartney
Edelweiss
English Country Garden floral medley
Everybody Wants To Be A c¬¬at
Every Breath You Take
Faith – George Michael
Fawlty Towers
The Final Countdown
Fix You - COldplay
Flintstones theme
Free Fallin' – Tom Petty
Game of Thrones Theme
Get Lucky – Daft Punk
Get me to the church on Time
Glenlogie (Scottish trad.)
Ghost busters theme tune
The Girl from Ipanema
God Only Knows – Beach Boys
Great Escape theme
Greatest Day – Take That
Groovy Kind of Love – Toni Wine
Grounds For Divorce – Elbow
Habanera
Halo – Beyonce
Happy –Pharrell Williams
Happy Birthday
Harvest Home
Havana – Cabello
Have I Told You Lately? – Van Morrison
Here Comes the Sun – Beatles
Hoppipola – Sigur Ros
How Long Will I Love You? (E. Goulding version)
Hushaby Mountain
I Have A Dream - ABBA
I Say a Little Prayer (Aretha Franklin)
Isn't She Lovely? (Stevie Wonder)
It Don't Mean a Thing (if it ain't got that swing)
It Must Be Love (Madness)
I Will Always Love You – Dolly Parton/Whitney Houston
I Will Wait – Mumford & Sons
James Bond theme
Kiss From A Rose – Seal
Kissing You – Desree (Romeo & Juliet)
La Vie en Rose
Last of the Summer Wine theme
Let it Go (from Frozen)
Let's Do It (Let's Fall in Love) – Cole Porter
The Liberty Bell
Life On Mars – Bowie
The Lonely Goatherd - Sound of Music
Love Is All Around – Love Actually/Reg Presley
Love is A Verb – John Mayer
Lucky – Radiohead
Make You Feel My Love – Adele
Marry You – Bruno Mars
Mary Poppins Medley of Songs – Disney
Mexican Hat Dance
Mairi's Wedding
Mamma Mia!
Mission Impossible theme
Miss Marple theme
Mister Sandman
Moon River
Muppet Show theme
My Favourite Things
My Heart Will Go On (from film Titanic)
My Lighthouse – REND collective
Nellie the Elephant
Night on a Bald Mountain – Mussorgsky
Once Upon A Dream - Sleeping Beauty
One Day Like This - elbow
Oompah Loompah song
Our Last Summer – ABBA
Palladio
Paradise – Coldplay
Perfect – Ed Sheeran
Pink Panther theme
Pizzicato Polka
Phantom of the Opera theme tune
Puttin' On the Ritz
Rather Be – Clean Bandit
Roar – Katy Perry
Rock Around the Clock
Rolling in the Deep – Adele
's Wonderful – Gershwin
Salut d'Amour
Schindler's List theme
Secrets: one republic
Shake it Off – Taylor Swift
She – Aznavour
Shotgun – George Ezra
Signed, Sealed, Delivered – Stevie Wonder
Simple Gifts
Sir Duke – Stevie Wonder
Somewhere Only We Know – Keane
Somewhere over the Rainbow
Speak Softly Love ('Godfather' theme)
Stand By Your Man – Wynette/Sherrill
Star wars themes
Stop! (Spice Girls)
Summertime
Supercalifragilisticexpialidocious
Sweet Child o' Mine – Guns 'n' Roses
Swing Low Sweet Chariot
Take the "A" Train
Teddybear's Picnic
Temper Trap (Sweet Disposition) Ben Stevenson
The Way You Look Tonight – Fields/Kern
This is Me – Greatest Showman
Thriller – Michael Jackson
Those Magnificent Men in their Flying Machines
Top Of the World – Carpenters
Up – Married life (Disney film)
Uptown Funk – Mars/Ronson
Valse a Mille Temps
Wallace and Grommit theme
Wedding March (we play both versions, by Wagner and Mendelssohn)
Whatever – Oasis
Wildest Dreams – Taylor Swift
With or Without You – U2
When I'm 64 – Beatles
When you Wish Upon a Star - Pinocchio
Wonderwall - Oasis
You are the Wind Beneath My Wings
You're My best friend – Queen
Your Song – Elton John
You've Got A Friend In Me – Toy Story
We can play HYMNS for a church service, and any CHRISTMAS SONGS.
Note:
We arrange a lot of our own music. If there is a specific piece of music you would like us to play that's not already on the list we'd love to hear from you. Usually these can be added at no extra cost.
Cupid's Bow Cello Duo
Reviews
From Encore customers:
Reply from Cupid's Bow Cello Duo
3 days ago
Reply from Cupid's Bow Cello Duo
3 months ago
Reply from Cupid's Bow Cello Duo
3 months ago