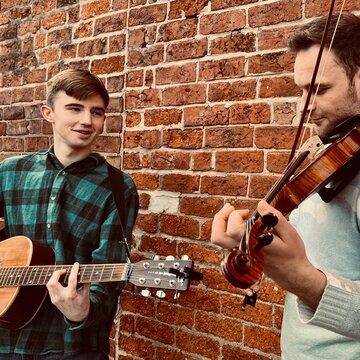 Support available Mon-Sun
Watch & Listen
1 of 1 video
I left Him on the mountainside SD 480p
About Teine (Chenna)
Folk duo playing folk, traditional, jazz, popular classics.
Public liability insurance of £10 million
Musicianship
Genres:
Folk
, Classical
, Baroque
, Contemporary classical
, Early music
, Renaissance
, Ceilidh
, Traditional Irish folk
, Traditional English folk
, Traditional Scottish folk
, Welsh folk
, Jazz
, Easy listening
, Originals
, Acoustic
, Ambient pop
, Pop
, Covers
Event types:
Wedding
, Virtual event
, Funeral / Memorial service
, Hotel / Restaurant event
, Private event
, Corporate event
, Charity event
, Concert
, Recording session
, Theatre / Show
, Cruise
Song list
Ashokan Farewall
Crow in the Sun
Inisheer
Josephine's Waltz
Teribus
Maria's Wedding
Of All the Endearing Young Charms
When First my True Love I Seen
MacPherson's Lament
Cindy
Cluckin' Hen
Cluck Old Hen
Coleman's Cross
Coleraine
College Groves
Colored Aristocracy
Come Dance and Sing
The Congress Reel
The Connaughtman's Rambles
Cooley's Reel
Cotton-Eyed Joe
Cotton Patch Rag
Country Waltz
Crazy Creek
Cricket on the Hearth
Cripple Creek 1
Cripple Creek 2
Cross Eyed Fiddler
Cross Reel
Cuckoo's Nest
Cuffey
Cumberland Gap
Dailey's Reel
Dallas Rag
Dance All Night
The Day Dawn
Dennis Murphy's Polka
Devil's Dream
Dill Pickle Rag
Donald Blue
Donald Cameron's Polka
Done Gone
Don Tremaine's Reel
Double File
Dowd's Favorite
Down the Broom I Draggin' the Bow
Drowsy Maggie
Drunken Billy Goat
Drunken Hiccups
Dubuque
Ducks on the Millpond I
Ducks on the Pond
Durang's Hornpipe 1
Durang's Hornpipe 2
Durham's Bull
Dusty Miller I
Dusty Miller IA
Dusty Miller IIB
East Neuk of Fife
East Tennessee Blues
Ebenezer
Eighth of January
Elzic's Farewell
Eugene Stratton
Fairy Dance
Falls of Richmond
Farewell to Ireland
Farewell to Whiskey
Festival Waltz
Fiddle Head Reel
Fiddler's Dream
Fiddling Around
Fire on the Mountain
Fisherman's Favorite
Fisher's Hornpipe
Flop-Eared Mule
Florida Blues
Flowers of Edinburgh
Flying Cloud Cotillion
Folding Down the Sheets
[0:44 pm, 23/02/2023] 🎻: Jenny Dang the Weaver
Killarney Boys of Pleasure
Maid Behind the Bar
My Love Is in America
Periwig
Pigeon on the Gate
Sally Gardens
Sligo Maid
St. Anne's Reel
Star of Munster
Swinging on the Gate
The Clare Reel
The Collier's Reel
The Morning Dew
The Silver Spear
The Teetotaler's Reel
The Wise Maid
Tilly Finn's
Walter Sammon's Grandmother
[0:45 pm, 23/02/2023] 🎻: Bunch of Keys 1
Bunch of Keys 2
Castle Kelly's
Cillian's Midnight Dip
Cooley's
Dark Haired Lass
Drowsy Maggie
Dublin Reel
Earl's Chair
Fair Haired Lass
Farewell to Connaught
Fearghail O'Gara
Humours of Tulla
[0:45 pm, 23/02/2023] 🎻: Galway Hornpipe
Harvest Home
Jim Coleman's
Kitty's Wedding
Mulqueeney's
Off to California
Paddy Fahey's Hornpipe
Pride of Petravore
Rights of Man
Casey's Pig
Gan Ainm Fling 1
Gan Ainm Fling 2
Jimmy Lyons
Low Highland
Blarney Pilgrim
Cliffs of Moher
Connachtman's Rambles
Garrett Berry's
1 Buried My Wife and Danced on Her Grave
Kesh Jig
Lark in the Morning
Lark on the Strand
Morrison's Jig
Out on the Ocean
Paddy Clancy's
Sty ace tonganary
Lady in the Boat
Lady on the Island
The Laird O'Drumblair Strathspey
Langstrom's Pony
The Lark in the Morning
Larry O'Gaff
Lasses Trust in Providence
Last Night's Joy.
The Last of Callahan
Leather Britches
Lee Highway Blues
Da Lerwicks Lasses
Liberty
Liberty off the Corn Liquor Still
Lime Rock
Listen to the Mockingbird
Little Burnt Potato
Little Liza Jane
Little Rabbit
Liza Jane I
Loch Earn Reel
Loch Lavan Castle
Lonesome Fiddle Blues
Lord Gordon's Reel
Lord Inchiquin
Lord McDonald's Reel
Lord Mayo I
Lost Indian I
Lost Indian II
Lost John
Lost Train Blues
Louie's First Tune
Maggie Brown's Favorite
Magpie
The Maid behind the Bar
Maiden's Prayer
The Maid on the Green
Make a Little Boat
Malcolm Finley's Reel
Marching Down Broadway
Martha Campbell
Mary Walker
Mason's Apron
McMahon's Reel
Merrily Kiss the Quaker
The Merry Sisters
Methodist Preacher
Midnight on the Water
Millbank Cottage
Miller's Reel A
Mineola Rag.
Mississippi Hornpipe
Mississippi Sawyer
MisS McLeod's Rect 2
Miss Monahan's Reel
Miss Thornton's Reel
Miss Wedderburn's Reel
Molly Put the Kettle On
Money Musk A
Money Musk B
Monroe's Hornpipe
Morgan Magan
The Morning Dew
Morpeth Rant
The Mouth of the Tobique
Muddy Roads
The Mullingar Races
The Munster Buttermilk
Murphy's Hornpipe
The Musical Priest
My Own House Waltz
Nancy Rowland
New Money
The Nine Points of Roguery
Nonesuch
The Oak Tree
Off She Goes
Off to California
Customer questions
Which venues have you performed at in the past?
Too many to name!
Do you have different line-up options?
Yes, we also play in a variety of duos, trios and quartets. Even a large Ceilidh ensemble for big events.
What if my timings change after I've booked you?
That's fine so long as you give us enough notice to move the event in our diaries too!
Can you provide an iPod/DJ service before and between your sets?
Absolutely. This is a really popular request we just add a small fee on the top for the playlist.
How much time do you need to set up?
Normally we just need about 30 minutes to set up, but that can take a little longer if we're playing in a large set up or we are heavily amplified.
Can you roam around while you perform?
We can! Although not if we are amplified!!!
Can I pick the songs you play from the set list?
Our set lists are crafted from countless performances and learning what works best to ensure guests dance and have an amazing time. However, we're definitely happy to chat through and make sure we find what works for your event.
Is all of the equipment (e.g. PA & lighting) included in your quote?
Sometimes.. Normally we play acoustically, and if we need to amplify that would be included in the quote. If you want large PA systems and lights, then that would need to be added to the quote, but for a standard performance it is included.
Can you learn song requests before the event?
We can, but there is a small fee!
Prices
Note: prices may vary based on travel distance. For an exact quote, click "Check availability".
| | | |
| --- | --- | --- |
| Performance duration | Price | |
| Up to 1 hour | £300 | |
| Up to 2 hours | £400 | |
| Up to 3 hours | £500 | |
Wedding ceremony
2 musicians
This includes music before the service begins, music during the signing of the register, and music as guests leave.
Drinks reception
2 musicians
Two performances of up to 45 mins each during your drinks reception
Wedding ceremony + Drinks reception + Dinner
2 musicians
- Music before the service begins, music during the signing of the register, and music as guests leave. - 2 x 45 min performances at the drinks reception. - 2 x 45 min performances as dinner is being served.
Teine (Chenna)
Reviews
From customers:
Thomas B
1 month ago
, for a Private event in Old Rd
Eva B
1 month ago
, for a Wedding proposal in Birmingham