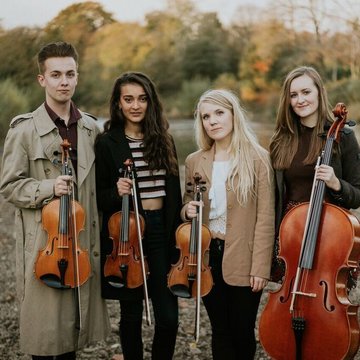 The Claret String Quartet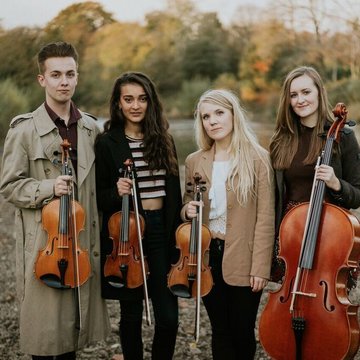 Check availability and get a free quote now - no commitment to book
Watch & Listen
About
Reviews
The Claret String Quartet
Like The Claret String Quartet?
About The Claret String Quartet
Classically trained string quartet based in Cardiff with a large repertoire for formal events and educational concerts.
The Claret Quartet is a classically trained String Quartet based in Cardiff, UK. We are a dynamic and passionate group of musicians, available to hire for a wide range of events, including Weddings, Concerts, Special Occasions, Formal Dinners and Corporate events. Our repertoire is vast, but are always looking to widen our range of music and able to arrange our own music if there are any requests! About us: Emma Exton- Violin Emma graduated from Cardiff University in 2017 where she studied music. While at university, Emma was involved in many ensembles, including Cardiff University Symphony Orchestra, which she led in her final year. She also founded a Baroque ensemble, Cardiff Camerata, and organised a charitable monthly concert series at Trinity Church, Cardiff. Emma is now performing frequently with various ensembles of varying styles, such as her folk band, 'The Pyjamas' which performs regularly around Cardiff and is booked for several festivals in summer 2018. She also performs with the Bristol based sight-specific orchestra 'Insight Ensemble' which mixes classical music with art. Emma also has a passion for teaching. Joanna Mlot- Violin Joanna Mlot, also in her third year of studying Music at Cardiff University, has started her violin training in Zespół Szkół Muzycznych Nr 4 im. Karola Szymanowskiego (Complex of Music State Schools No. 4) in Warsaw where she studied from the age of seven. After moving to UK she became highly involved in the local music scene taking part in numerous ensembles and orchestras such as South West Youth Orchestra. Currently, an active member of the university music department, Joanna leads both Cardiff University Symphony and Chamber Orchestra and is taught by Laurence Kempton. She hopes to pursue her musical education with a Masters degree in performance as well. Thomas Wilkinson- Viola Thomas is a second year Music student at Cardiff University, studying viola with Philip Heyman. He has been co-principal viola with the National Youth Chamber Orchestra of Great Britain, Cardiff University Symphony Orchestra and Chamber Orchestra and leads several viola sections in various ensembles across the university. From Brussels, Thomas has played with string quartets in prestigious events including the Queen's Birthday Party and the Bishop of Europe's installation. He is currently working towards a career in performance, specialising in chamber ensembles and string quartet works. Elin Taylor- Cello Elin Taylor is in her third year, studying Music at Cardiff University. Originally from North Wales, Elin is a keen orchestral and chamber musician;- an established/dedicated member of the North Wales Youth Orchestra, member of the National Youth Orchestra of Wales, North Wales Camerata, and recently a member of the Young Musicians Symphony orchestra based in London. Within the University, Elin is an active student in the Music Department, principle cellist of the Symphony orchestra, Chamber Orchestra and the Contemporary Music Group. She is hoping to further her studies to gain a Masters degree in performance.
Reviews
From customers:
Making-Music C, 4 years ago
We were extremely impressed by their professionalism, their interaction with the children, and the humour they injected into the demonstrations
Wedding R, 4 years ago
I would highly recommend to anyone looking for reliable, high-quality and professional quartet for an event
© Encore Technologies, Ltd.
Crafted with bagels and in London