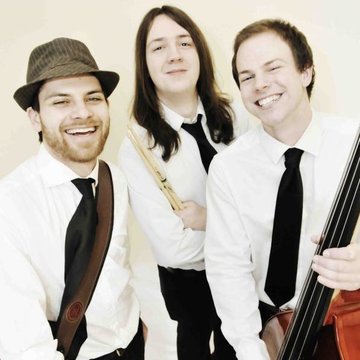 Check availability and get a free quote now - no commitment to book
Watch & Listen
About
Reviews
About The Winklepickers
Public liability insurance of £10 million
Surrey wedding band The Winklepickers. Providing live music entertainment that will really get your event going.
Surrey wedding band The Winklepickers. Providing live music entertainment that will really get your event going. By offering options of booking a solo guitarist with vocals for a more relaxed atmosphere through to a lively quintet that will add a spark to your special day, The Winklepickers give you the unique ability to tailor your musical entertainment for your specific needs. The Winklepickers are available in the following formats: [These prices are for 2 hours of live music divided to suit your requirements, background music through the sound system during breaks and the learning of a first dance song just for you] Solo (guitar and vocals) for £300 Duo (guitar and vocals with double bass) for £500 Trio (guitar and vocals, bass and drums) for £800 Quartet (guitar and vocals, bass, drums with keyboard or saxophone) for £1000 Quintet (guitar and vocals, bass, drums, saxophone and keyboard) for £1200 The Winklepickers employ only the very best musicians and use a number of professional musicians to perform. In the event of any band member being unable to perform due to illness or other unforeseen circumstance, The Winklepickers have a number of professional understudies to call upon. This will in no way interfere with the quality of the band's performance.
Prices
Note: prices may vary based on travel distance. For an exact quote, click "Check availability".
Personalised Music Message
Book me to create a unique music video for you to send to a friend as a gift. This could be a birthday message, first dance song for a wedding anniversary, or just your friend's favourite song to cheer them up.
Reviews
From customers:
Simon K, 4 years ago
Hi Ben, Just a quick note to say thanks so much for Saturday. Everyone on the day and since have said how great you were and nice to have live music playing while we were drinking and eating. Thanks for playing an encore, I know you had another gig to get too so it was much appreciated. Also for letting us use your mic. We had the best day and you being there and playing your music really made it a day to remember. We'd definitely recommend you to any of our friends and family getting married or having a party. Hopefully we'll get to see you play again. All the best Simon & Kay
Phil, 4 years ago
Hi Ben, Thanks so much for doing the music, you guys were absolutely fantastic. Had a number of people say how great the band were. Also thanks soo much for learning Jack Savoretti, was the highlight of the evening.. I've never heard a cover of that song before and it sounded absolutely superb.. If you ever get the chance to record it in any way, please let me know.. :) Anyway hopefully get to see you guys at a function soon. cheers Phil
Anna T, 4 years ago
Hi Ben, Thank you so much for those clips and your kind words. You were absolutely fantastic, exactly what we wanted and more. Your style suited our event perfectly and we have had lots of compliments about you. Thank you also for staying on and making all the iPad stuff work. Can't believe how easily you just set up and played! I know you do it all the time but it impressed me immensely! I'm glad you were looked after food and drink wise, I did reiterate to one of the staff that you guys must have everything that's on offer! Thank you so much again, we were so happy with how good you guys were. Best wishes, Anna and Tom
Michaela M, 4 years ago
Hi Ben, Thank you so much for playing such great music. We have had so many compliments about the band and you certainly got people up and dancing. Thank you also for arriving early to set up the microphone, that was something less to worry about for us! We will certainly recommend you to anyone else. Best wishes, Michaela and Matt
Patrick T, 4 years ago
Hi Ben, We can't thank you enough for the wonderful performance you gave at our wedding. I know all the guests enjoyed the music and we particularly enjoyed the arrangements you gave to the songs. Also can't thank you enough for the first dance, it really was all we hoped for, magical. Thank you! We hope to hear you live again very soon and will certainly be recommending you to anyone looking for a band. All the best, Patrick and Tatiana.
Hannah, 5 years ago
Ben and band, Thanks so much for giving our guests an awesome party!! Your music was fantastic as I knew it would be, and everyone has said what a blast they had. We had a wonderful day and are still just drinking it all in. Glad the accommodation worked out well and I hope you enjoyed your brief sojourn to the beautiful Isle of Wight!! All the very best, Hannah
Clare, 5 years ago
Winklepickers were a fantastic choice, we had just the two of them and it really made the night. They made such a lovely atmosphere and even with the two of them we had some persistent boogiers. People who are talented musicians themselves said they were excellent. They played all the favourites, and even learned a song just for us. Thank you Winklepickers!
Joanne, 5 years ago
We booked The Winklepickers as our wedding band after seeing some of their videos on YouTube and they did not disappoint. From the moment we emailed Ben right through to meeting him at our wedding celebration, he was fantastic. We were able to pick our favourite songs from a large set list & have our own wedding song that the band played for us. On the night, the band were brilliant and our guests commented on how good they were. They had people up dancing and singing along and it made our night. I would highly recommend them for any function, they were fun and entertaining and played exactly what we wanted on the night.
Jon R, 5 years ago
Hi Ben. I hope you enjoyed the evening. I know that we and our guests certainly did - you guys were fantastic, and just what we were looking for in a wedding band! All the best to you. Thanks again, Jon and Rachel
Lisa A, 6 years ago
Thank you so much for your great performance at our wedding! All of our guests have commented on how great you were and we certainly agree. We really enjoyed our evening and dancing away to your music. So pleased we found you and that you were available :) We also really appreciated all your help leading up to the wedding, so thank you again. We hope you had a good journey back, and wish you and your band all the best.
Melissa S, 6 years ago
Hi Ben Thank you so much. We were absolutely delighted with the music - everyone commented how fabulous the band was. In fact, several people asked me specifically to thank you as you gauged the mood exactly right and provided the perfect backdrop to a chilled-out afternoon. I will definitely recommend you to other people.
Gary L, 6 years ago
Sincere thanks from the two of us. I wish I could have heard more of you, but I obviously had to mingle. My father was very complimentary and has commented how good you all were. Hope you got home safely and many many thanks.
© Encore Technologies, Ltd.
Crafted with bagels and in London