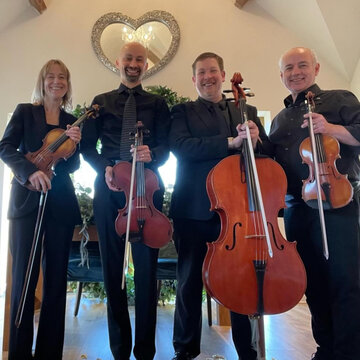 String quartet
The Capriccio Quartet
Like The Capriccio Quartet?
About The Capriccio Quartet
Public liability insurance of £10000000 million
We're a versatile group using a number of different combinations of instruments including violins, cellos, piano and guitar.
Performance details
We have vehicles we can use to travel to gigs
Our equipment is PAT tested
Musicianship
Genres:
Classical
, Baroque
, Classical crossover
, Contemporary classical
, Film / TV music
, Musical theatre
, Opera
, Easy listening
, Light music
, Pop
, Acoustic
, Covers
, Disco
, Top 40
, Rock
, Britpop
, Classic rock
, Indie
, Pop rock
, Tango
, Early music
Event types:
Wedding
, Wedding proposal
, Funeral / Memorial service
, Church service
, Hotel / Restaurant event
, Bar / Club / Venue event
, Private event
, Corporate event
, Charity event
, Concert
, Recording session
, Theatre / Show
, Cruise
, Burns night
, Birthday party
, Christmas party
, New Year's Eve
Song list
Baroque and Classical (composed roughly between 1650 and 1810)
Brandenburg Concerto No.3 - J S Bach
La Rejouissance - G F Handel
Largo from "Winter" - Vivaldi
Minuet - Boccherini
Rondeau - Jean Joseph Mouret
Sheep may safely graze - Bach
Spring (from 'The Seasons") - Vivaldi
Theme from Piano Concerto No.21 - Mozart
Two Rondeaux - Purcell arr Thorp
Light (including film and show tunes, TV themes, jazz standards)
A Whole New World (Aladdin) - Arr H Marple-Horvat
All The Things You Are - Kershaw
Anything Goes - Porter arr Thorp
At Last (Etta James) - Gordon/Warren
Autumn Leaves - Arr Julian Kershaw
Baby Elephant Walk - Mancini arr Zinn
Bethena - Joplin arr Nurse
Beyond the Sea - Lawrence/Trenet arr KMG
Can't Help Falling In Love With You - Elvis Presley arr Bojana Jovanovic
Cavatina
Christmas carols
Close to You - David & Bacharach
Cock Linnet - Collins & Leigh arr Martelli
Downton Abbey Theme for Quartet - Arr H Marple-Horvat
Everytime we say goodbye - Porter arr Thorp
Fascinatin' Rhythm - Gershwin arr Martelli
Fly Me To The Moon (light version) - Arr Julian Kershaw
Frosty the Snowman - Nelson/Rollins arr Mauldin
Funiculi Funicula - Denze arr Thorp
Game of Thrones Theme - Ramin Djawadi arr KMG
Happy Birthday 1, 2 and 3 - arr Cowell
Harry Lime Theme - Karas
I Do Like To Be Beside the Seaside - Glover-Kind arr Thorp
I Dreamed a Dream - Schonberg & Kretzmer
I Giorni - Einaudi
I Got Rhythm - Gershwin/Gershwin arr Crocker
Irish Sherry - Trad arr Thorp
Jingle Bell Rock - Boothe/Beal arr Mauldin
La Paloma - Iradier
La Rumba - Brymm arr Nurse
Ladies in Lavender - Hess arr Crocker
Let It Go (from Disney's 'Frozen') - Lopez/Anderson-Lopez arr Griesinger
Let It Snow - Calin/Styne arr Mauldin
Let's Do It - Porter arr Thorp
Let's face the music and dance - Berlin arr Nurse
Londonderry Air - Trad arr Cann
Makin' Whoopee - Donaldson arr Thorp
Memory - Lloyd Webber arr Cowell
Molly on the Shore - Grainger
Moon River - Mancini arr Zinn
Moonlight in Vermont - Suessdorf arr Thorp
My Funny Valentine - Rodgers & Hart arr Thorp
Over the Rainbow - Arlen arr Crocker
Palladio - Karl Jenkins arr Crocker
Pennies from Heaven - Arthur Johnson arr Thorp
Ragtime Dance - Joplin arr Thorp
Raiders' March - John Williams
River Flows In You - Yiruma arr KMG
Rose Leaf Rag - Joplin arr Thorp
Santa Claus is Coming to Town - Gillespie/Coots arr Mauldin
She - Kretzmer/Aznavour arr Cocker
Slap That Bass - Gershwin arr Martelli
Smoke gets in your eyes - Jerome Kern & Otto Harbach
Solitaire - Cody & Sedaka
Strangers in the Night - Arr Julian Kershaw
Summertime - Gershwin
Take the 'A' Train - Billy Strayhorn
Tale As Old As Time (from Beauty and the Beast) - Menken/Ashman
The Folks Who Live on the Hill - Kern arr Thorp
The Throne Room - John Williams
Theme: 'Fawlty Towers' - Wilson arr Nurse
Theme: Pride and Prejudice - Davis
Unchained Melody - Alex North arr Rosenhaus
We have all the time in the world - Barry arr Nurse
What a Wonderful World - Weiss & Thiele arr Crocker
When I fall in love - Arr Julian Kershaw
Winter Wonderland - Smith/Bernard arr Mauldin
Yesterday Once More - Carpenter & Bettis
Yoda's Theme - John Williams arr Cowell
Concerning Hobbits - Howard Shore
Jeeves and Wooster - Anne Dudley
Lullaby of Birdland - Shearing
That's Amore - Warren
Sway/Cherry - Pink
La Bamba - Mexican
Hernando's Hideaway - Doors
You'll Never Walk Alone (from Carousel) - Rodgers & Hammerstein arr Joel Jacklich
Pop and Rock (from late 1960's to present day: if your favourite tune isn't listed, ask us about arranging it for you!)
A Thousand Years - Perri/Hodges arr H Marple-Horvat
All Of Me - John Legend arr. KMG
All You Need is Love - Lennon & McCartney arr Nurse
And I Love You So - Don McLean arr Cocker
Best Day Of My Life - American Authors arr KMG
Bittersweet Symphony - The Verve arr KMG
Bleeding Love - Leona Lewis
Can You Feel The Love Tonight - Elton John arr KMG
Chasing Cars - Snow Patrol
Clocks - Coldplay
Eleanor Rigby - Lennon/McCartney arr KMG
Everlong - Foo Fighters
Everything - Bublé arr KMG
Fields of Gold - Sting arr KMG
Fix You - Coldplay arr KMG
Have I Told You Lately - Van Morrison
Heaven - Bryan Adams arr KMG
Here Comes The Sun - Harrison arr Lin Chen
Here, There and Everywhere - Lennon/McCartney arr KMG
Hey Jude - Lennon & McCartney
I Know Him So Well - Andersson, Rice, Ulvaeus
I'm Gonna Be (500 miles) - The Proclaimers arr. KMG
I'm Yours - Jason Mraz arr. KMG
In My Life - Lennon/McCartney arr KMG
It Must Be Love - Madness
It's All About You - McFly
Just The Way You Are - Mars arr KMG
Kissing You - Des'ree/Atack Arr H Marple-Horvat
Lego House - Sheeran arr KMG
Love is All Around - Reg Presley arr KMG
Love Me Like You Do - Goulding arr. KMG
Make You Feel My Love - Dylan arr Griesinger
Mamma Mia - ABBA arr Bojana Gajic (Jovanavic)
Marry You - Bruno Mars arr. DH
One Day Like This - Elbow
One-minute Sex on Fire - Kings of Leon
Paradise - Coldplay
Penny Lane - Lennon & McCartney
Rather Be - Clean Bandit ft. J Glynne arr B. Jovanovic
Real Love (Tom Odell/ Monty the Penguin Version) - John Lennon
Sex on Fire - Kings of Leon
She - Kretzmer/Aznavour arr Cocker
Skyfall - Adkins /Epworth arr M Wray
Somewhere Only We Know - Keane arr KMG
Thinking Out Loud - Sheeran arr KMG
Vida la Vida - Coldplay
We Are Young - Fun arr KMG
Whatever - Oasis
When I'm 64 - McCartney arr Martelli
Wild Horses - Arr H Marple-Horvat
Wings (Birdy) - Birdy/Tedder Arr H Marple-Horvat
Wonderful Tonight - Clapton arr KMG
Yesterday - Lennon & McCartney
Your Song - Elton John
Yesterday Once More - Carpenter & Bettis
Crazy Little Thing Called Love - Queen
All My Loving - Lennon & McCartney
Always - Bon Jovi
You Raise Me Up - Loveland
Something - George Harrison
How Long Will I Love You - Ellie Goulding
Come On Eileen - Dexy's Midnight Runners
Wonderful Life - Black
Stand By Me - King
Symphony - Clean Bandit
The Power of Love - Frankie goes to Hollywood
You've Got The Love - Florence & The Machine
Romantic (ie classical music written after 1810 in the 'Romantic' style)
Barcarolle - Offenbach arr Thorp
Chanson de Matin - Elgar
Clair de Lune - Debussy arr Martelli
Danse des Mirlitons - Tchaikovsky arr Thorp
Intermezzo from Cavalleria Rusticana - Mascagni
Nessun Dorma - Puccini arr Martelli
Nimrod - Elgar
Oblivion - Piazzola arr Nurse
Salut d'Amour - Elgar arr Thorp
Vocalise - Rachmaninov arr Thorp
Chanson de Nuit - Elgar arr Fraser
Con te partiro
First Polovtsian Dance - Borodin arr Thorp
Flower Duet - Delibes arr Thorp
Liebestraum - Liszt
Meditation from "Thais" - Massenet
Morning from Peer Gynt - Grieg
O Sole Mio - di Capua arr Thorp
Pavane - Faure arr Rose
Romance (Gadfly) - Shostakovich
Thou Ring on my Finger - Schumann
Wedding Music (ie often played at the ceremony. Remember though that you can choose from the rest of the list: it's your day!
Air - J S Bach
Air from 'Water Music' - Handel
Allelujah from "Exsultate, Jubilate" - Mozart
Aria from "Xerxes" - Handel
Ave Maria - Schubert
Canon - Pachelbel
Entrance of the Queen of Sheba - Handel
Hornpipe - G F Handel arr Thorp
Jesu, Joy of Man's Desiring - J S Bach
Trumpet Tune - Purcell
Trumpet Voluntary - J Clarke
Wedding March - Wagner
Wedding March - Mendelssohn
Where'er You Walk - Handel
God Save The Queen
Prices
Note: prices may vary based on travel distance. For an exact quote, click "Check availability".
Personalised Music Message
Book me to create a unique music video for you to send to a friend as a gift. This could be a birthday message, first dance song for a wedding anniversary, or just your friend's favourite song to cheer them up.
Reviews
1 verified review
Satisfaction
Professionalism
Communication
Punctuality
From Encore customers:
Georgie M, 7 months ago