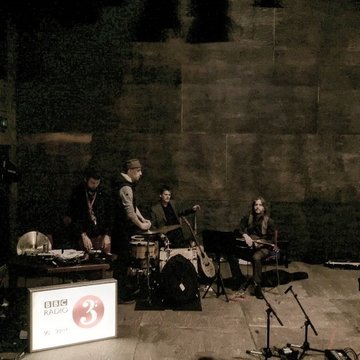 Check availability and get a free quote now - no commitment to book
Watch & Listen
About
Reviews
About The Doc Brown Trio
Pop and Rock Hits... Foot-tappers and ear worms from way back when to the present day
The Doc Brown Trio are three versatile musicians with years of experience entertaining people all over the country in many and varied settings. Bringing their own PA system and Public Liability Insurance The Doc Emmett Brown Trio create a huge sound with a small footprint. Guitar, violin and percussion combine to produce a full, unique and dynamic sound that is the perfect musical tonic for your event. Hear classic songs you know and love given a new twist and find your feet tapping and head nodding to numbers you'd long forgotten. The trio receive consistent praise for their renditions of cover songs by artists such as David Bowie, Paul Simon, Hank Williams, Blondie, Peter Gabriel, Bob Dylan, Fleetwood Mac, Richard Thompson, The Police, REM, Elvis Costello, Bruce Springsteen, Neil Young, Arctic Monkeys, The Strokes, Gnarls Barkley, Kings of Leon, to name but a few. If you are interested in booking the guys to play then please get in touch.     Wes Finch - Guitar and Vocals Wes is a singer with a soulful and dynamic voice and an intricate style of acoustic guitar playing. He adds his own expressive delivery to over a century of well known songs from Hank Williams to The Arctic Monkeys.     Jools Street - Violin/Fiddle Jools' violin background stems from classical playing, and he continues with this as a member of the Birmingham Philharmonic Orchestra. He has also studied Bluegrass playing under fiddle player expert Fletcher Bright. His interpretation of many familiar licks on the violin is mesmerising and a rare treat.   Ben Haines - Percussion/Cajon Versatile, skilled, and solid. Ben is a sympathetic player, much sought after by many bands and singer-songwriters; proof of his talent as a percussionist.
Reviews
From customers:
Liddy B, 4 years ago
A great bunch of guys with a great energy, amazing vocals and super talented. A must see. Brilliant
J.Young, 4 years ago
Just wanted to say cheers for last weekend, everyone had a great time and loved the music. We had a lot of great comments about you guys from our guests. Looking forward to seeing you again at Andy and Rachel's wedding in August.
D.Adamson, 5 years ago
Wes, Jools and Ben have a depth of sound that is incredible and arrangements to match.
© Encore Technologies, Ltd.
Crafted with bagels and in London