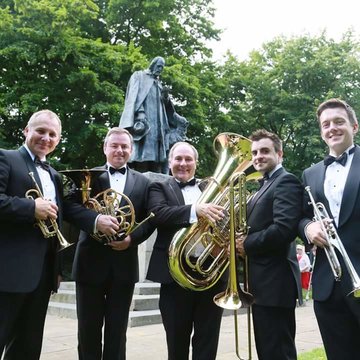 Like Tennyson Collective?
About Tennyson Collective
Public liability insurance of £5 million
Tennyson Collective is an orchestral brass quintet in Lincolnshire performing an eclectic repertoire at Weddings, Society Events, Ceremonial
Song list
TITLE COMPOSER ARRANGER
633 SQUADRON GOODWIN WAGNER
AFRICA DAVID PAICH & JEFF PORCARO (TOTO) WAGNER
AIR FROM WATER MUSIC HANDEL PASTERNAK
ALLELUIA MOZART OATES
ALL THINGS BRIGHT AND BEAUTIFUL W.H. MONK LANNING
ANTHEM ON A TUNE OF THOMAS TALLIS TALLIS MARCHAND
ARIA OF QUEEN OF THE NIGHT MOZART TAILLARD
AIR FROM SUITE IN D BACH OATES / WESTWOOD
AUSTRALIAN NATIONAL ANTHEM McCORMICK TERRETT
AVE MARIA CACCINI OATES
AVE VERUM CORPUS MOZART LANNING
BAND OF BROTHERS KAMEN WAGNER
BAND PLAYED WALTZING MATILDA, THE COLLABORATION WITH THE RUFFS WESYWOOD
BEST DAY OF MY LIFE AMERICAN AUTHORS WESTWOOD
BILL BAILEY TRADITIONAL LANNING
BLESSED ASSURANCE TRADITIONAL WESTWOOD
BOHEMIAN RHAPSODY QUEEN OATES / WESTWOOD
BRITISH GRENADIERS TRADITIONAL WESTWOOD
CANON IN D PACHELBEL PASTERNAK
CANZON PRIMA GABRIELLI LANNING
CAVATINA LANNING
CHANSON DE MATIN ELGAR OATES
CHARIOTS OF FIRE VANGELIS WESTWOOD
DAMBUSTERS MARCH, THE COATES WAGNER
DEAR LORD AND FATHER OF MANKIND PARRY LANNING
DIE SCHONE GALATHEE VON SUPPE TAILLARD
DISNEY CLASSICS VARIOUS WAGNER
DON'T YOU WANT ME BABY HUMAN LEAGUE OATES
DOWN BY THE RIVERSIDE TRADITIONAL LANNING
ELEGY ELGAR LANNING
FLORENTINER MARCH FUCIK SANDERS
FRERE JACQUES TRADITIONAL IVESON
GEORGIA CAKEWALK TRADITIONAL LANNING
GLADIATOR ZIMMER WAGNER
GOD SAVE THE QUEEN WESTWOOD
GREAT IS THY FAITHFULNESS TRADITIONAL WESWOOD
GREAT WAR, THE COLLECTION LANNING
GUIDE ME, O THOU GREAT REDEEMER (CWM RHONDDA) HUGHES LANNING
GYMNOPEDIE No.1 SATIE TAILLARD
HAPPY BIRTHDAY TRADITIONAL WESTWOOD
HEART OF OAK TRADITIONAL
HERE COMES THE SUN HARRISON WRAY
HORNPIPE HANDEL PASTERNAK
HYMN FROM JUPITER HOLST PASTERNAK
INTELLIGENCE CORPS REGIMENTAL MARCH STUNNELL STUNNELL
IT DON'T MEAN A THING, IF AINT GOT THAT SWING ELLINGTON JARVIS
I WANT YOU BACK JACKSON 5 WAGNER
JESUM JOY OF MAN'S DESIRING BACH PASTERNAK
JUPITER FROM 'THE PLANETS' HOLST TAILLARD
JURASSIC PARK WILLIAMS WAGNER
JUST A CLOSER WALK TRADITIONAL GILLIS
LA MARSELLAISE (FRENCH ANTHEM) L'ISLE TERRETT
LARGO AL FACTOTUM ROSSINI TAILLARD
LET ALL THE WORLD IN EVERY CORNER SING TRADITIONAL WESTWOOD
LET IT GO LOPEZ & LOPEZ WAGNER
LIFE ON MARS BOWIE WAGNER
LINCOLNSHIRE POACHER TRADITIONAL
LORD OF ALL HOPEFULNESS TRADITIONAL OATES
LORD OF THE DANCE TRADITIONAL LANNING
LOVE DIVINE TRADITIONAL WESTWOOD
LOVE IS HERE TO STAY GERSHWIN LANNING
LUFTWAFFE MARCH GOODWIN WALKER
MAGIC FLUTE OVERTURE, THE MOZART WATKIN
MAGNIFICENT SEVEN, THE BERNSTEIN WAGNER
MAGNUM MYSTERIUM, O LAURIDSEN OATES
MONTEVERDI'S TOCCATA MONTEVERDI COLMER
MOVES LIKE JAGGER AGUILERA OATES / WESTWOOD
MUSIC FROM ROYAL FIREWORKS HANDEL LANNING
NEW YORK, NEW YORK SINATRA
O CANADA (NATIONAL ANTHEM) LAVALEE JACKLISH
O FORTUNA ORFF WESTWOOD
OUR LORD OUR GOD TRADITIONAL WESTWOOD
OVERTURE FROM THE ROYAL FIREWORKS HANDEL PASTERNAK
PANIS ANGELICUS FRANCK OATES
PARADISE COLDPLAY RODRIGUEZ
PAVANE POUR UNE INFANTE DEFUNTE RAVEL TAILLARD
PIRATES OF THE CARIBBEAN ZIMMER WAGNER
PLOUGH THE FIELDS AND SCATTER TRADITIONAL WESTWOOD
POSTHORN GALOP, THE KOENIG CLIFFORD
PRIDE OF LIONS BURTON BURTON
PRINCE OF THIEVES KAMEN WAGNER
PROCESSION TO THE MINSTER WAGNER WESTWOOD
PROMENADE FROM PICTURES AT AN EXHIBITION MUSSORGSKY PASTERNAK
QUINTET NO.1 EWALD BINDNER
ROAST BEEF OF OLD ENGLAND TRADITIONAL
RONDEAU MOURET PASTERNAK
ROYAL AIR FORCE MARCH PAST DAVIES DAVIES
ROYAL CORPS OF SIGNALS MARCH PIKE PIKE
ROYAL TANK REGIMENT MARCH WALLACE WALLACE
SEMPER FIDELIS SOUSA CARTWRIGHT
SKYFALL ADKINS & EPWORTH WAGNER
SOMEWHERE ONLY WE KNOW KEANE WESTWOOD
SONATA XIII GABRIELLI LANNING
SPRING VIVALDI PASTERNAK
STARDUST CARMICHAEL NIEHAUS
STARS AND STRIPES FOREVER SOUSA OATES / WESTWOOD
TE DEUM PRELUDE CHARPENTIER OATES
TEQUILA RIO WAGNER
TRUMPET TUNE CLARKE PASTERNAK
TRUMPET VOLUNTARY PURCELL PASTERNAK
TUBA TIGER RAG DE COSTA HENDERSON
UNITED STATES OF AMERICA ANTHEM SMITH TERRETT
WASHINGTON POST, THE SOUSA TAILLARD
WEDDING MARCH, THE MENELSSOHN LANNING
WHAT A FRIEND WE HAVE IN JESUS TRADITIONAL WESTWOOD
WHAT SHALL WE DO WITH THE DRUNKEN SAILOR? TRADITIONAL LANNING
WHEN THE SAINTS GO MARCHING IN TRADITIONAL LANNING
WINGS (ROYAL ENGINEERS MARCH) NEWSTEAD NEWSTEAD
YES, GOD IS GOOD TRADITIONAL WESTWOOD
YOU MAKE ME FEEL SO YOUNG GORDON LUIS
CHRISTMAS MEDLEY TRADITIONAL LANNING
CHRISTMAS FESTIVAL, A ANDERSON WAGNER
CHRISTMAS SONG, THE TORME
DO YOU HEAR WHAT I HEAR REGNEY & SHAYNE LICHTMANN
HAVE YOURSELF A MERRY LITTLE CHRISTMAS SINATRA OATES
IN THE BLEAK MID WINTER TRADITIONAL
JINGLE BELLS TRADITIONAL
LITTLE DRUMMER BOY, THE TRADITIONAL OATES
LITTLE DRUMMER BOY PAT A PAN TRADITIONAL UDELL
O COME, ALL YE FAITHFUL TRADITIONAL LANNING
TROIKA PROKOVIEF LANNING
VENI VENI EMMANUEL TRADITIONAL
WHITE CHRISTMAS TRADITIONAL
WINTER WONDERLAND BERNARD WAGNER
Prices
Note: prices may vary based on travel distance. For an exact quote, click "Check availability".
Personalised Music Message
Book me to create a unique music video for you to send to a friend as a gift. This could be a birthday message, first dance song for a wedding anniversary, or just your friend's favourite song to cheer them up.