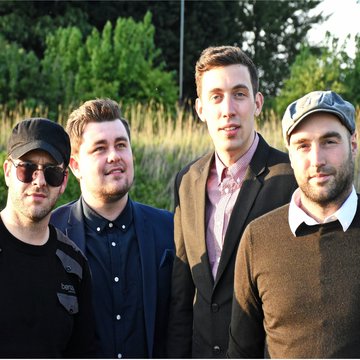 Check availability and get a free quote now - no commitment to book
Watch & Listen
About
Reviews
About SouthWest band
South West band are a premium quality Yorkshire wedding band and event band that perform at hundreds of events annually UK wide.
Public liability insurance of £5 million
SouthWest band are very much a 'proper band'. Since forming in March 2010 the same members are still performing together to this very day. When you have four talented musicians and vocalists that have played together for such a long time, it creates a real togetherness, and that really shines through the performance. The band was formed by friends Henry Clark & Shaun Wise. After completing a four month European tour of the French Riviera, Barcelona and Rome they were both filled with ideas and drive to start a fresh project in the UK. In early 2010 it all came together at a rehearsal room in West Yorkshire, with Sheffield-based session drummer Richard Hunter and then solo artist Thomas Hatfield. This rehearsal would spark an adventure that would see this group of friends perform at over 400 events through-out the UK and parts of Europe. SouthWest band are most renowned for their big vocal harmony sound. When a new song is introduced into the repertoire it is stripped back to just voices and the harmonies are creatively constructed to give the cover a unique sound. Every member of the band has the ability to sing lead vocal. This gives every song a different flavour, keeping the performance forever interesting! With all this in mind SouthWest believe the most important job of a cover band is to above all else... get the crowd dancing all night! This is the vital job of a party covers band. SouthWest band believe that these are the key attributes for a top party band:  A completely live performance – real talented musicians performing live on their beloved instruments. No cheating with backing tracks.  An energetic, well known, lively set – at parties most people want to drink, dance and let their hair down. Therefore a band should play up-beat songs through-out the ages that are well known, so your guests can sing along all night and be part of the performance.  Strong musicianship and vocal ability across the band – SouthWest band all sing lead vocals which gives the audience a different flavour of voice depending on the song. This is alongside strong vocal harmonies which are an integral part of the band sound.  Crowd participation & Showmanship – a party band should connect with the audience and put on a show. You aren't booking a pub band to just play through the songs in the corner, you are booking a professionally rehearsed group of musicians to put on a show that you won't easily forget!
Reviews
From customers:
Rachel R, 5 years ago
This band are just brilliant. I booked for my wedding and the atmosphere was fantastic. Dance floor packed all night. So much fun. Thank you guys!!! Book them seriously
© Encore Technologies, Ltd.
Crafted with bagels and in London