Accordionist
Roy Hendrie
(4.9)
Read all 16 reviews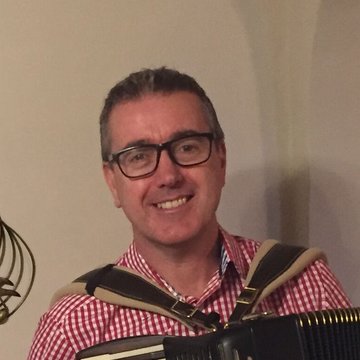 Check availability and get a free quote now - no commitment to book
Watch & Listen
About Roy
Song list
Reviews
About Roy
Accordionist/duo/band for Ceilidh dancing. Dances are called. Also available for concerts with a wide repertoire of world music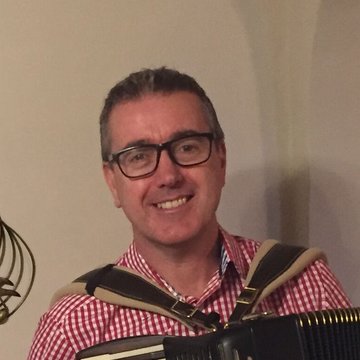 Public liability insurance of £5 million
I have been playing the accordion since i was 10 years old and playing/calling for Ceilidhs for over 25years. Achievements to date are British Champion, TV and Radio broadcasts, CD recordings and playing at festivals in the UK.
Performance details
I have a car I can use to travel to gigs
I require car parking close to venues
My equipment is PAT tested
Musicianship
Genres:
Folk
, Ceilidh
, Traditional Scottish folk
, World music
, French music
, Italian music
, Latin
, Scottish music
, Tango
, Spanish music
, Samba
Event types:
Wedding
, Wedding proposal
, Hotel / Restaurant event
, Private event
, Corporate event
, Charity event
, Cruise
, Burns night
, Birthday party
, Christmas party
, New Year's Eve
Other skills:
Arranger
, Audio engineer
, Composer
, Producer
, Sound technician
, Fluent sight-reader
Song list
Jigs, Reels and Strathspeys for RSCDS
Sequence dancing
Gay Gordons
Military Two Step
Boston Two Step
Britannia Two Step
Old Time Waltz
St Bernards Waltz
Pride of Erin Waltz
Dashing White Sergeant
Strip the Willow (Standard and Orcadian versions)
Virginnia Reel
Flying Scotsman
Canadian Barn Dance
Swedish Masquerade
Quickstep
Slow Foxtrot
Saunter
Modern Waltz
Viennese Waltz
Tango
Rumba
Cha Cha
Samba
Bal Musette
Reviews
16 verified reviews
From customers:
Aurellia P, 2 years ago
I recently asked Roy Hendrie and his Ceilidh band Oran Mor to play at my 40th birthday party, They were fantastic at getting us going, reminding us of the steps and even played some French waltzes when realising some of the guests were French. Highly recommended.
David P, 2 years ago
We were delighted to invite Roy Hendrie and Dave Morrice to provide a Concert at our Soar Valley Accordion Club, Leicester. Roy has many years experience in performance and technical abilities of various midi sound equipment which was very evident in his performance on the evening. Dave Morrice a very experienced multi-instrumentalist provide some outstanding violin and guitar lead / backing to Roy's undisputed expertise on the accordion. It was evident from their standard of playing that everyone present enjoyed their various styles of music on the night and a number of their Cds were purchased on the evening. An outstanding concert was provided by Roy and Dave to our Club and we would be only too pleased to re-book Roy and Dave for further performances in the future. David Price - Organiser Soar Valley Accordion Club Rothley, Leicester
Rob H, 2 years ago
On October 31s Roy Hendrie (midi accordion) & Dave Morrice (fiddle and guitar), from Scotland, were the guests at Stockport Accordion Club at Woodley Methodist Church. Their two sets included a wide range of music, some fiddle led and others accordion with midi sounds led. Starting with some typically Scottish dance music, the duo blasted through the 'Orange Blossom Special', with Dave's fiddle seemingly on fire! In contrast Roy's accordion sound on 'Ocean', a tricky waltz composed by France's world accordion champion Alain Musichini, was great for those who love French café music. There followed 'Besame Mucho' and 'El Choclo' with exotic Latin sounds, Irish jigs, Italian songs, American hoe down tunes, and some more Scottish tunes. All in all, a lot of variety that went down well with the club's members, finishing with an exciting spot of jazz with 'Sweet Georgia Brown', with Dave in Stephane Grappelli mood to round off an evening of excellent entertainment.
Simon K, 2 years ago
Chester Accordion Club is well established. Between them the members have many years of music making. Each year the Club invites a professional in for a concert. This year at the end of October, we hosted a performance by Scottish accordionist Roy Hendrie. He came with his friend, multi instrumentalist Dave Morrice and the pair put on a great show. In some numbers, Dave accompanied Roy; in others Roy accompanied Dave. Together they provided one of the most interesting and varied programmes we have seen in recent years, pleasing even those hardest to please. Their playlist ranged from virtuoso pieces on both accordion and violin, like L'Océan (French musette) and The Orange Blossom Special (aka the fiddle players national anthem) - to standards like O Sole Mio and The Carnival of Venice and Sweet Georgia Brown (a popular choice). There were medleys of Irish and Scottish tunes, too. The virtuoso pieces allowed both musicians to demonstrate what they can do, given a challenge, and their performances were astonishing as well as entertaining – fast and very accurate. In each case Roy and Dave gave a rendition which showed how creative a professional musician can be with a well known tune. There might have been a wrong note somewhere, but if there was nobody noticed it. It was impressive how the two players just got down to business without any fuss. We felt they could have gone on all night (once we'd turned the heating down a bit!) Roy uses an electronic accordion and a sophisticated midi system. The sounds he got out of it were both authentic and appropriate. His version of Besame Mucho, played on a piano setting, made us think a jazz pianist had got in somewhere along the line. The whole set up is very compact but, as he says, his box of tricks more or less enables him to bring a whole Scottish dance band along with him. The sound filled the clubroom without being overloud. My personal favourite of the night was the tango, El Choclo, but that's only because I'm trying to learn it myself. It was great to see how it should be played and appreciate from the quality of the duo's performance of it, why it is such a popular number. Roy and Dave's playlist contains something for everyone. We were in the somewhat unusual situation of having all our members happy at the end of the evening. (Who said you can't please all of the people all of the time?). The set was drawn from the contents of their latest CD – Coast to Coast – which they are promoting on a mini tour of England. (It's called coast to coast because the two friends live on either side of Scotland and have to travel a long way to practice together!). If you get the chance to see Roy and Dave, seize it with both hands - but either would be well worth seeing on their own as well. Simon Kensdale - Secretary, Chester Accordion Club
Jim C, 2 years ago
Our october special guest band were the Roy Hendrie Duo. Based in Troon, Roy is a noted bandleader, broadcaster and former U.K. accordion champion and he was accompanied by tremendous fiddler and guitarist Dave Morrice from Aberdeen. The Duo launched into an amazingly varied programme, displaying their mastery of their respective instruments with tremendous arrangements and making the appreciative audience wonder what was next? From traditional marches, Helen Black of Inveran: Mrs H L MacDonald of Dunach: The Cotton Patch Rag: Continental Waltz ; Shetland two Step…and so the music flowed on until all too soon it was time to close the evening with a terrific set of Shetland reels. Musicianship at its best thanks to a fine duo who made a big impression at the Club.
Wilma B, 2 years ago
Roy Hendrie and his band play for our Summer Dancing every year and sometimes for our Branch Dances. They are firm favourites with our dancers providing super music to dance to. There's always a great atmosphere when they play. Friendly band who enjoy playing for us in Troon's Concert and Walker Halls. Wilma Brown Secretary RSCDS Ayr Branch
Carolyn C, 2 years ago
I have had the pleasure of having Roy Hendrie playing for me at various venues throughout Scotland. He(solo) provided a very entertaining evening for my business colleagues, who wanted a taste of Scotland for the evening. He did not disappoint with his music and his humour. This was a real treat for my colleagues who travelled from all over UK. I shall certainly be booking him again for future events . Carolyn Carty BSc(Hons) Regional Manager, Scotland. Dermal Laboratories Ltd
Neville W, 2 years ago
"I have danced to Roy Hendrie's band Oran More on a number of occasions over a number of years and have always been impressed by their musicality, strong tempo and excellence of performance. They were a natural choice for us to go to when we needed a band for a special occasion. They were a joy to deal with: easy to communicate with, a source of sound advice and keen to provide what their customer sought. On the night they were punctual and obliging. For a dance in Ayrshire, we would look no further. They provided the perfect anchor for our event."
Jim A, 2 years ago
Roy is very friendly and helpful every time he plays for us at Ayrshire Ceilidh Club and Heathfield Ceilidh Club all people comment about his playing and timing , When I took over at Irvine he was very helpful. Yours Jim
Joe F, 2 years ago
Roy and his band Oran More have played for our annual Ball for many years and their fizzing energy and inspired musicality add greatly to the spirit and fun of the occasion. He reliably delivers the goods every time, never misses a beat and keeps getting better.
Ghislane K, 2 years ago
Roy Hendrie is an amazing Band leader. He has played for the Snowball ( Reels for all ages) , for the King Cole Hooley ( Reels for teenagers), the Jig & Swig ( Reels for not quite the elderly!). My association with Roy goes back to 2000. He makes the party go with a real swing. Always on time and delivers what he says he will deliver. Roy is an incredibly kind person and wants the evening to be a success. Ghislaine
Colin C, 2 years ago
In December 2017 the Renfrew Accordion and Fiddle Club had the pleasure to welcome as our Guest Artistes Roy Hendrie from Troon on accordion and Dave Morrice from Aberdeen on fiddle and guitar. What entertainment they gave us ! We thought we had James Galway guesting when the mellow flute from Roy's magic accordion sounded the opening notes of The Londonderry Air as their opening piece. The Orange Blossom Special was then fired up and Dave leading on fiddle gave it full throttle. We also had Roy leading with Besame Mucho as a jazzy piano rumba with Dave on latin guitar accompaniment. It was a top class performance from both these suberbly versatile musicians - we just didn't know what was coming next. Their final piece The Cotton Patch Rag brought a great hour's worth of wonderful playing from Roy and Dave to a close
Andy C, 3 years ago
As my capacity of President of "Banff Accordion & Fiddle Club" I have heard Roy and Dave on Various appearances at the club . They are both outstanding musicians and as a DUO they are Brilliant and very worthy of the attention of All Clubs and Organisers . Andy Coutts
David D, 3 years ago
Oran Mor are a magic band and great for a ceilidh. They know all the music for the more popular reels making them easy to dance to. They are happy to mix in contemporary music to liven up any ceilidh, and by adding a few surprise medleys they get the party going with a real swing. They are good for playing for all ages, and for those willing to learn their dances, and for those that know them. Oran Mor get my vote for being one of the best reels bands around!
Carolyn C, 3 years ago
I have had the pleasure of booking Oran Mor to play at various events throughout Scotland. They were willing to travel, which was so helpful. They played the full Ceilidh set and the music was fantastic, and enjoyed by everyone. They call each of the dances, which was really necessary for those who had never danced at a Ceilidh before. I shall be definitely be booking them again. Carolyn Carty
Adam F, 3 years ago
Oran Mor's playing for The Maybole Ball, a large annual reeling event, is consistently excellent. Their musicianship, PA system and understanding of the dancers' requirements have made them integral to the success of these evenings. Their music is as much a pleasure to listen to as it is to dance to and they always get the warmest of receptions from all the party-goers
© Encore Technologies, Ltd.
Crafted with bagels and in London