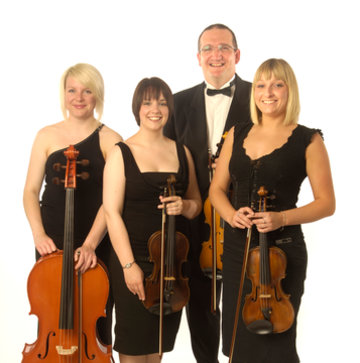 String quartet
Rhapsody String Quartet
Full refund
booking protection
Full refund if your event can't go ahead due to Covid
Free date changes
after booking
Like Rhapsody String Quartet?
About Rhapsody String Quartet
Established in 2005, Rhapsody is an experienced quartet that performs a range of classical, film soundtracks, musicals and pop/rock covers.
Public liability insurance of £1 million
Performance details
We have vehicles we can use to travel to gigs
We require car parking close to venues
Musicianship
Genres:
Traditional church music
, Christmas
, Classical
, Classical crossover
, Contemporary classical
, Film / TV music
, Musical theatre
, Covers
, Tribute
, Scottish music
, 1920s era music
, 1930s era music
, 1940s era music
, 1950s era music
, 1960s era music
, 1970s era music
, 1980s era music
, 1990s era music
, Jazz
, Easy listening
, Britpop
, Indie
, Pop rock
Song list
CLASSICAL REPERTOIRE
Anderson Plink, Plank, Plunk
Bach Air on a G String
Bach Double Violin Concerto
Bach Jesu, Joy of Man's Desiring†
Bach Largo from Double Violin Concerto in D Minor
Bach Sheep May Safely Graze
Bach Wachet Auf
Bach/Gounod Ave Maria†
Barber Adagio from String Quartet, Op.11 (original version of Adagio for Strings)
Beethoven Adagio Cantabile from Pathetique
Beethoven Ode to Joy
Bellini Casta Diva from Norma
Bizet Habañera from Carmen
Charpentier Prelude to a Te Deum
Chilcott Irish Blessing†
Chopin Grande Valse Brillante
Clarke Trumpet Voluntary
Debussy Clair de Lune
Delibes Flower Duet from Lakme
Dvořák Humoresque No. 7
Elgar Nimrod from Enigma Variations
Elgar Salut d'amour
Fauré Pavane†
Franck Panis Angelicus†
Grieg Morning from Peer Gynt
Grieg Våren (Letzter Frühling)
Handel Aria from Xerxes
Handel Royal Fireworks Music (La Rejouissance, Minuet)
Handel Arrival of the Queen of Sheba
Holst Jupiter (Main Theme) from The Planets
Jenkins Benedictus from The Armed Man: A Mass For Peace†
Jenkins Theme from Palladio
Lizst Liebestraum
Massenet Meditation from Thaïs
Mendelssohn Wedding March from the music to Shakespeare's A Midsummer Night's Dream
Mouret Rondeau
Mozart Der Vogelfänger bin ich ja from The Magic Flute
Mozart Eine Kleine Nachtmusik
Mozart Là ci darem la mano from Don Giovanni
Mozart Voi, Che Sapete from The Marriage of Figaro
Pachelbel Canon in D
Paganini Cantabile
Parry Jerusalem†
Ponchielli Dance of the Hours
Purcell Rondeau from Abdelazer
Purcell Trumpet Tune
Rutter For The Beauty Of The Earth†
Saint-Saëns The Swan from Carnival of the Animals
Schubert Ave Maria†
Schumann Träumeri
Shostakovich Waltz No. 2 from Jazz Suite No. 2
Svensden Romance
Tchaikovsky Sleeping Beauty – The Rose Adagio
Tchaikovsky Sleeping Beauty – Waltz
Tchaikovsky Swan Lake – Dance of the Cygnets
Tchaikovsky Swan Lake – Waltz
Tchaikovsky The Nutcracker – Dance of the Mirlitons
Tchaikovsky The Nutcracker – Dance of the Sugar Plum Fairy
Tchaikovsky The Nutcracker – Waltz of the Flowers
Ungar Ashokan Farewell
Verdi La donna é mobile from Rigoletto
Vivaldi The Four Seasons – Allegro from Spring
Vivaldi The Four Seasons – Largo from Winter
Wagner Bridal Chorus from Lohengrin
Walton Touch Her Soft Lips Then Part from Henry V
Warlock Pieds-en-l'air from Capriol Suite
The pieces above which are marked with a † are considered to have religious connotations and therefore are not allowed to be performed as part of a civil wedding ceremony.
POP, ROCK AND JAZZ REPERTOIRE
A Thousand Years Christina Perri
All You Need Is Love The Beatles
At Last Etta James
Back in Black AC/DC
Beautiful Day U2
Bitter Sweet Symphony The Verve
Blackbird The Beatles
Bright Eyes Art Garfunkel
Can't Help Falling In Love Elvis Presley
Chasing Cars Snow Patrol
Come As You Are Nirvana
Crazy Michael Bublé
Cry Me A River Michael Bublé version
Digital Love Daft Punk
Don't Stop Believin Journey
Endless Love Lionel Ritchie/Diana Ross
Eternal Flame The Bangles
Everlong Foo Fighters
Everything Michael Bublé
God Only Knows The Beach Boys
Hallelujah Jeff Buckley
Have I Told You Lately (That I Love You) Van Morrison
Here Come The Girls Ernie K. Doe
I Can See Clearly Now Jimmy Cliff
Just The Way You Are Bruno Mars
Karma Police Radiohead
Learn To Fly Foo Fighters
Let It Be The Beatles
Let's Do It, Let's Fall In Love Ella Fitzgerald
Mack The Knife Bobby Darin
Magic Moments Perry Como
Make You Feel My Love Adele
Never Tear Us Apart INXS
Nightswimming R.E.M.
One Day Like This Elbow
Over The Rainbow Eva Cassidy
Perfect Day Lou Reed
She's Always A Woman Billy Joel/Fyfe Dangerfield
She's The One Robbie Williams
Shiny Happy People R.E.M.
Signed, Sealed, Delivered I'm Yours Stevie Wonder
Somethin' Stupid Frank and Nancy Sinatra
Songbird Eva Cassidy
Stand By Me Ben E. King
Sweet Child O' Mine Guns N' Roses
The Luckiest Ben Folds
The Masterplan Oasis
Unchained Melody The Righteous Brothers
Whatever Oasis
When You Say Nothing At All Ronan Keating
You Raise Me Up Josh Groban
You're Still The One Shania Twain
You're The First, The Last, My Everything Barry White
Your Song Elton John
FILM SOUNDTRACKS AND MUSICALS REPERTOIRE
007 – Diamonds Are Forever Diamonds Are Forever
007 – The Spy Who Loved Me Nobody Does It Better
Armageddon I Don't Want To Miss A Thing
Aspects of Love Love Changes Everything
Battlestar Gallactica Passacaglia
Beauty and the Beast Beauty and the Beast (Tale As Old As Time)
Beauty and the Beast Something There
Baz Luhrmann's Romeo + Juliet Love Theme/Kissing You
Braveheart End Title
Braveheart For The Love Of A Princess
Braveheart The Secret Wedding
Breakfast at Tiffany's Moon River
Carousel You'll Never Walk Alone
Father Ted Songs of Love/Main Theme
Fawlty Towers Theme
Forrest Gump Feather Theme
Game of Thrones Main Theme
Gladiator Now We Are Free
Jurassic Park Main Theme
Last of the Mohicans The Kiss/The Gael
Les Misérables Les Misérable Selection
Lord of the Rings Concerning Hobbits
Love Actually Portugese Love Theme
Moulin Rouge El Tango De Rozanne
My Fair Lady Ascot Gavotte
My Fair Lady Embassy Waltz
My Fair Lady I Could Have Danced All Night
My Fair Lady Wouldn't It Be Loverly
Phantom of the Opera All I Ask Of You
Pulp Fiction You Never Can Tell
Robin Hood; Prince of Thieves Everything I Do, I Do It For You
Romeo and Juliet (Zeffirelli) Love Theme
Singin' in the Rain Singin' in the Rain
Star Trek: Deep Space Nine Deep Space Nine, Main Theme
Star Wars Throne Room Theme
The Deer Hunter Cavatina
The Godfather Love Theme
The Godfather The Godfather Waltz
The Lion King Can You Feel The Love Tonight
The Little Mermaid Kiss The Girl
The Mission Gabriel's Oboe
The Sound of Music Edelweiss
The Sound of Music Wedding Processional
Titanic My Heart Will Go On
Toy Story You've Got A Friend In Me
Up (Disney Pixar) Married Life
Willy Wonka and the Chocolate Factory Pure Imagination
TRADITIONAL FOLK SONG REPERTOIRE
A Man's A Man For A' That
Ae Fond Kiss
Amazing Grace
Bovaglie's Plaid
Flow Gently Sweet Afton
Highland Cathedral
John Anderson
Loch Lomond
Londonderry Air
My Love is Like a Red, Red Rose
Neil Gow's Lament
Rowan Tree
Skye Boat Song
Ye Banks And Braes
Customer questions
What do your clients love most about your performances?
Our clients love the tone we set for their big day. They love the compliments they get from their guests. And they love the variety of music that we play. Often, wedding guests are surprised to hear a string quartet playing the latest pop music, or film/tv themes!
Which venues have you performed at in the past?
We have performed at over 100 wedding venues across Scotland. For the full list, please see our website.
Which artists have you been most influenced by?
We've been influenced by everyone from the great classical composers to a variety of modern-day singer-songwriters. Speaking personally as the leader of Rhapsody String Quartet, I am influenced greatly by film composers John Williams, Alexandre Desplat, John Barry, Thomas, David & Randy Newman, Marc Shaiman and Bear McCreary and many musical theatre greats.
What is the most high profile gig you've performed?
We consider all our wedding "gigs" to be "high profile" events for all of our clients; after all, it is the biggest day of their lives! In terms of corporate entertainment, one of our most fun gigs was for VisitScotland, playing to a banquet hall filled with international travel bloggers. They went crazy for our performance of the Game of Thrones theme!
Do you have different line-up options?
Unlike other quartets, we only ever appear as a full string quartet. This is because all our music is specially arranged for four instruments and we simply think the harmonies don't sound complete when one or two of them are missing!
What if my timings change after I've booked you?
We appreciate that you may not have finalised the start time of your ceremony if you have booked us far in advance, so if things change by an hour or so either way, it's not a problem. Just let us know as soon as you can.
How much time do you need to set up?
We arrive half an hour before we are due to start playing to set up our music and stands and also to liaise with the venue about our position in the room and any changes of location that are required mid-performance (i.e. moving from the ceremony room to the drinks reception).
Can I pick the pieces you play from the set list?
Absolutely! The music we play for your wedding ceremony is 100% your choice! For drinks receptions, we tend to "read the room", adapting our playlist to your guests' reactions, but if you prefer, you can ask us to stick to a particular theme (show tunes, pop/rock, film themes, classical etc.) or pick out some specific songs that you would like us to include.
Do you bring all the equipment you need to perform?
We bring all our own instruments, music and music stands. We are an acoustic ensemble so we do not have any electric PA equipment. We would require the venue to supply us with four chairs (without arms) but this has never been a problem at any of the 100+ venues we've performed in!
Can you learn specific pieces before the event?
Yes! We offer a musical arrangement service as standard in our Gold Wedding Ceremony Package and Platinum Wedding Music Package, where we can arrange up to 3 songs for your wedding ceremony. Additional songs are charged at £30 each.
Reviews
From customers:
VisitScotland E, 5 years ago