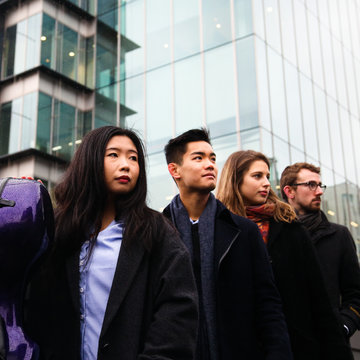 Check availability and get a free quote now - no commitment to book
About Kirkman Quartet
String Quartet based at the Royal Academy of Music, winners of the Poznanski Quartet prize. Studying with Levon Chilingirian.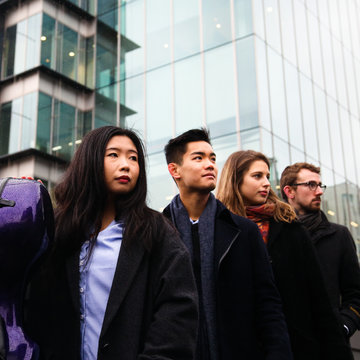 Formed in 2016, The Kirkman Quartet have quickly established themselves as a mature and engaging ensemble. As winners of the Davey Poznanski 2016 Quartet Scheme and Frost ASSET 2017 Scheme they are principally mentored by Levon Chilingirian at the Royal Academy of Music. The quartet have also received coaching from Martin Outram, Joshua Fisher and Richard Ireland as well as participating in masterclasses with Guy Johnston and the Doric Quartet. They recently spent a week in Berbiguieres, France studying with the Dante Quartet as well as performing several concerts there. Highlights from 2017, include recording at Abbey Road Studios as part of a project for the British Film Institute, performing Shostakovich's Piano Quintet as part of the Royal Academy of Music's Russian Chamber Music series and a U.K. premiere of 'A Voice Exclaiming' by Kareem Roustrom for triple quartet, alongside two of the Academy's fellowship quartets. They were also awarded 1st Prize in RAM's 2017 Wolfe Wolfinsohn String Quartet Prize, in which they performed Bartok Quartet No.3. Since their formation, the Quartet have given recitals across the United Kingdom including venues such as Colston Hall in Bristol, the Ashmolean Museum in Oxford and Regent Hall in London. This season they will feature in the 'For Crying Out Loud!' series at the Wigmore Hall, recitals at Southwark Cathedral, St Barnabas Church Ealing and a collaborative performance of Mozart's Don Giovanni.
Reviews
From customers:
Davey P, 4 years ago
extremely well resourced and stylish playing
Jonathan E, 3 years ago
This quartet of fine young players, who have been together for only a year or so, turned in a performance of a standard to which many a long-standing and experienced ensemble would aspire.
© Encore Technologies, Ltd.
Crafted with bagels and in London