Check availability and get a free quote now - no commitment to book
1 hour
About Karen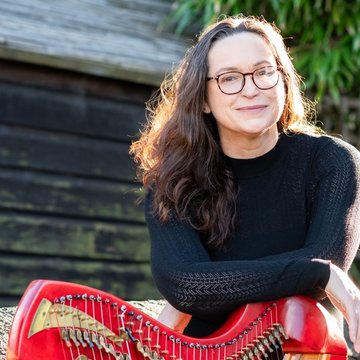 Public liability insurance
"one of the leading contemporary performers on the instrument" The Scotsman
Karen Marshalsay uses fingernail technique on gut and wire-strung clarsachs (Scottish harps), bray harp and Paraguayan harp, specializing in the traditional music of Scotland and Latin America. Her playing has developed through the folk world of feisean, festivals, workshops and instruction from such leading players as Bill Taylor and Alison Kinnaird (Scottish) and Bill Morgan and Rito Pedersen (Latin American). Karen received a Distinction in her LTCL recital in 2010 - the first time this has been awarded to an all Scottish traditional repertoire! COMPOSITION As part of the prestigious Celtic Connections New Voices series Karen's commission Journeying, written for three harps (Karen was joined by Bill Taylor & Heather Yule) and two percussionists (Davy Cattanach & Keith Bleasby) was performed at the Glasgow Royal Concert Hall on 31 January 1999 to critical acclaim. The piece was performed again in Glasgow Cathedral as part of Celtic Connections 2000, along with new works Promises to Keep and The Neo Gosteg, for harp and fiddle, (performed by the composer, Bill Taylor and Iain Fraser on fiddle). Ida y Vuelta, for solo harp, was commissioned by the Northborough Harp Festival 2001 (now the Stamford Harp Festival), with assistance from the Arts Council of England. Karen was invited to take part in Distil 2 in March 2003, an initiative funded by the SAC and PRS Foundation, a retreat course for traditional musicians active in composition. Tutors were Tom Bancroft, Dave Heath and Dick Lee. This led to a rehearsal in 2004 of a short piece for chamber ensemble entitled Culross, based on music from the 1635 Scottish Psalter. karen marshalsay with ardival urquhart bray harp, photo by ewan weatherspoon. A new piece based on the story of Thomas the Rhymer was premiered under the musical direction of Rick Taylor in the Distil Showcase on 20 October 2006 at the Tolbooth, Stirling. This featured a string section along with border pipes, accordion, soprano sax, bass clarinet, modern clarsach and bray harp. A second piece, Winter Sun, in a more classical style, was performed by Mary McCarthy (piano) and Colin Steele (trumpet) at the Distil Showcase in November 2008. Karen has recently been focussing on the bray harp in a new piece The Forth Bridge, which was performed by Karen and Mr McFall's Chamber on 23 October 2009. In early 2004 Karen arranged the music, rehearsed and conducted The Scots Music Group Big Band, a 'folk orchestra' run by ALP's Scots Music Group and open to all abilities ages 16+. PERFORMANCE PROJECTS Karen currently performs as a solo harper, with flautist Eddie McGuire and with various other ensembles. She is exploring the interpretation of pibroch on the wire strung clarsach, working in conjunction with Allan MacDonald. This was initially as part of the Edinburgh International Festival's series From Battle Lines to Bar Lines, August 2004. Recently Karen has performed pibroch with Allan along with Cathal McConnel on flute, whistle and voice and Christine Hanson on cello. Yatra, a collaboration for the Edinburgh Mela in 2008 featuring Mugenkyo Taiko Drummers, classical North Indian dhrupad singer Prakriti Dutta, tabla players, and Scottish pipers was recommissioned for the mela in 2009. The Scottish musicians included Allan MacDonald, Jenna Reid and Barnaby Brown. Indian classical dancers and visuals were added this year. PREVIOUS PERFORMANCE PROJECTS Electro-acoustic performance at the RSAMD of a new work Sibilance, by Vivian Barty-Taylor for saxophone, clàrsach and live electronics. (Dec 2004) Performing with the Tolbooth Sound Orchestra under the direction of Brian Irvine. HARP & STORYTELLING DUO WITH HEATHER YULE : 1998-2000 A music, song and storytelling duo which performed in the Edinburgh International Festival's Scottish Harps series that year and recorded a track for the associated Greentrax CD. Other performances included Linlithgow Renaissance Fair, Scottish International's TSB Hogmanay House, the Famous Grouse House (Edinburgh Festival Fringe), Edinburgh Folk Club and the Edinburgh International Harp Festival. THEATRE WORK: 1998 Touring with Theatre Highland's production of Don Juan, performing Andy Thorburn's score for clàrsach, cello and bass trombone. Also performed with Clyde Unity Theatre. AFRICAN INVOLVEMENT: 1996 Playing with Gambian kora player Seiko Susso and his band AfroMandin Sound at Edinburgh Fringe and Tribe of Doris Drumming Festival and traditional Ghanaian drumming band Kakatsitsi at various venues in Brixton and other parts of London. More work with Kakatsitsi is planned in an Indigenous Peoples Afro-Gaelic project along with Griogair Labhruidh in 2015. FESTIVAL APPEARANCES Various festival and folk club performances including Celtic Connections, Hebridean Celtic Festival, Edinburgh International Festival, Edinburgh International Harp Festival, Crawfordjohn Spring Fling, Stirling and Edinburgh Folk Clubs, Carrbridge Festival of Music, Tinto Folk Festival. International festivals include Celtic Days on Lake Constance (Switzerland), St Chartier and the Irish Rhine Valley Association Feis Ceol, Vosges Mountains (France), Port Fairy and the National Folk Festival in Australia, and the Virginia Scottish Games (USA). TEACHING EXPERIENCE Currently a music practitioner with Paragon, an inclusive new music company based at the CCA. karen marshalsay with a play on student and cardboard harp! Guest lecturer on the Robert ap Huw ms for the University of Glasgow music department, since 2013. Guest lecturer on Scottish Harps for the University of the Highlands and Islands BA Scottish Cultural Studies since 2013. Clarsach tutor at The National Centre of Excellence in Traditional Music, Plockton High School 2003-2010, also taught theory and groupwork. Taught an annual Highland music clarsach course at Sabhal Mòr Ostaig 2000-08 Taught a Scottish Tunes class at the 2008 and 2009 Edinburgh International Harp Festival and a March Strathspey & Reel class in 2013, and a Scottish source material class in 2004. Other classes at the Harp Festival include a wire-strung course for beginners in 2006 and for players in 2009, 2013 (Music from the Elizabeth Ross MS), 2014 (Introduction to Pibroch), 2015 (Laments and Airs), and Latin American classes (1999-2001 and 2003-04). Wire and bray harp tutor for the Royal Scottish Academy of Music and Drama (2004-06). Academic co-ordinator for the BA (Scottish Music) degree at the RSAMD (2002-04) Delivered the BEd 1 Scottish Music lecture course at the RSAMD (2001-2007). Involved in South Lanarkshire Council's Traditional Music Project 1996-2001, teaching harp and tin whistle. Taught clarsach at the Mount Cameron PS Gaelic Unit. Visiting tutor at Balnain House in Inverness (sponsored by the Clarsach Society), at The Harpmaker's Workshop in Fordyce, and at Gordonstoun School and Aberlour House. Taught at various feisean including Fèis Spè, Fèis Bharraigh, Fèis dun Eidean, Fèis Ghaidhlig Ghlaschu, Fèis Lannraig a Tuath, Fèis Latharna, Fèis Mhoireibh Fèis Rois and the Gordon Gaitherin. Musical Director (1997/8) of Glasgow all-women drumming group SheBoom who recorded one of her pieces Weekend Pterodactyls on their CD Guid Wimmin. RESEARCH Karen was Learning and Teaching Officer for the HOTBED project team of the RSAMD's Research Department, evaluating the use of networked digital sound resources in the teaching of traditional music (2001-04). She also holds a PhD from the University of Glasgow on the attempts to found a Scottish National Theatre in the early twentieth century - thesis available here. The guidebook written by Karen for a Hunterian Museum exhibition on popular theatre and entertainment in Scotland, centred round the work of Sir Harry Lauder (The Waggle o' the Kilt) is available here on the University of Glasgow's site. PUBLISHING Karen runs Marsharp Music, set up in 2009 to publish arrangements of harp music, tutor books and more. EXAMINING TRADITIONAL MUSIC In 2005 Karen acted as consultant on traditional music to the SQA, leading to the publication of teachers' resource material. As part of her role as clarsach tutor at the National Centre of Excellence in Traditional Music Karen worked with Trinity Guildhall in devising JAG exams in clarsach, and recital certificates and diplomas in traditional instruments. Karen was the Trinity Representative for the National Centre of Excellence in Traditional Music until 2013. Clarsach adjudicator at the Royal National Mod in 2007 (Lochaber), 2009 (Oban), 2013 (Paisley), and 2014 (Inverness). Music judge at the Ballymena Traditional Music Festival, Virginia Scottish Games and various local mods and music festivals including Lochaber, Inverness and Moray. Scottish harp examiner at the RSAMD. One of the judges of the BBC Scotland Young Traditional Musician of the Year competition in 2011.
Performance details
I have a car I can use to travel to gigs
I require car parking close to venues
Musicianship
Genres:
Classical
, Electronic
, Folk
, Traditional Scottish folk
, Traditional Irish folk
, Light music
, World music
Event types:
Wedding
, Funeral / Memorial service
, Hotel / Restaurant event
, Private event
, Corporate event
, Concert
, Recording session
, Theatre / Show
, Cruise
, Burns night
, Birthday party
, Christmas party
Other skills:
Arranger
, Composer
, Orchestrator
, Transcription
, Live looping
, Fluent improviser
, Instrumental teaching
Prices
Note: prices may vary based on travel distance. For an exact quote, click "Check availability".
| | | |
| --- | --- | --- |
| Performance duration | Price | |
| Short performance (up to 15 min) | £200 | |
| Up to 1 hour | £250 | |
| Up to 2 hours | £300 | |
| Up to 3 hours | £400 | |
© Encore Technologies, Ltd.
Crafted with bagels and in London