Singing keyboard player and guitarist
Josie Florence
(5.0)
Read all 3 reviews
Check availability and get a free quote now - no commitment to book
Watch & Listen
About
Reviews
About Josie Florence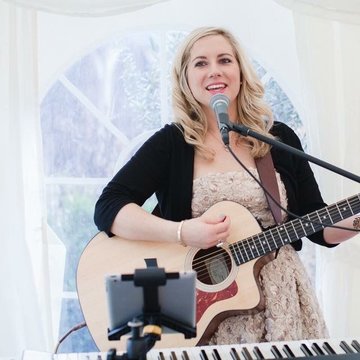 Singing keyboard player and guitarist
Josie Florence has sung and played at Weddings, parties and corporate gigs professionally in the UK and internationally for over 10 years.
My name is Josie Florence and I am singer living in Buckinghamshire that has played at Weddings and Events in the UK and internationally for over 10 years. I provide entertainment as a solo artist accompanying myself on Guitar and Keyboards, also Ukelele on request. I have also performed on TV for the BBC and The X Factor as a pianist accompanying the singers. I moved to London after getting my degree in Jazz studies (BA Hons) from Leeds College of Music. I quickly went onto performing for many in demand bands in London covering a variety of genres. I also worked and continue to work with songwriters and high profile Jazz Musicians. I currently have an album out called 'Nightingale' with my band and have performed at Glastonbury, Boardmasters and many Jazz venues including 'Ronnie Scotts' and 'The 606' in London. As a solo act and also singer with many other bands I have performed at Venues including, The Dorchester, Savoy, Park Lane, Grosvenor House to name a few. I have performed internationally including Singapore, Spain, France and Italy - I love to sing overseas. I have performed for clients including, Porsche, DeBeers, Agile Media to name a few. I have a Wedding and events band called 'Josie and The Dukes' that I also run across the UK and again abroad. The band have all played for top 40 artists and have recorded for the likes of Ed Sheeran, Gabrielle, Tom Jones, Olly Murs and many other artists. We specialise in Funk, Jazz, soul, Motown and Pop. My solo repertoire covers genres including, Jazz, Pop, Soul, Motown, Indie and Funk. I often play at events, wedding ceremonies, receptions and can provide a DJ service for the evening. I have also held many residencies as a Singing pianist including The Mayfair Hotel, Boisdale and Park Plaza in Victoria. I am a versatile and hard working professional singer, pianist and guitarist and love to entertain at any event. I have performed since a young age and love nothing more than performing at events.
Reviews
3 verified reviews
From customers:
Amy M, 1 year ago
Josie performed an acoustic set during our wedding arrival drinks in the garden area. She was absolutely amazing - her voice was great and she provided a great ambience during the afternoon. Josie performed with a smile on her face the whole time and chatted to the guests in between songs which was lovely. She provided all of her own PA equipment and transported it to the venue herself which was super helpful since we didn't have any. Before the wedding, Josie sent us a list of all of the songs she sang (a very wide range) and we chose which songs we wanted her to sing. We would highly recommend Josie to anyone considering hiring a singer for their wedding or any event.
Rachael W, 2 years ago
We were lucky enough to have Josie sing at our wedding in December 2016, and she was incredible. She played 'All I Want for Christmas' on the piano as I walked down the aisle and there wasn't a dry eye in the venue. I had so many guests come and ask me how we had managed to find such an amazing singer! Before the wedding she sang songs to the guests and during the reception a mixture of our favourite songs, Christmas classics and anything that guests requested. Josie has the most beautiful voice, as well as being sassy and gorgeous which meant that everyone was mesmerised. She made the entertainment aspect of our wedding so easy for me, she had loads of recommendations and was happy to include anything that I asked for, and if she did not have that song on her set list she would learn it. We couldn't have asked for more. If I can think of any reason to use her again I would absolutely love to. Thank you Josie, Rachael Wall
Lauren H, 2 years ago
'We were lucky enough to have Josie sing and play for our reception drinks at our London wedding in December. She has an amazing voice and is extremely talented, everybody really enjoyed the selection of music and was a real talking point afterwards from our guests. Thank you Josie for adding such a special touch to our wedding."
© Encore Technologies, Ltd.
Crafted with bagels and in London