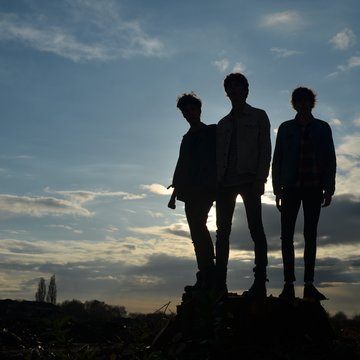 Check availability and get a free quote now - no commitment to book
Watch & Listen
About
Reviews
About JELA
JELA is a three-piece (guitar/vocals, bass and drums) formed in the South of France and perfected in Manchester for the last 4 years!
This band were formed in France and now have perfected their talents in Manchester. They started out playing covers by artistes such as - The Doors, The Beatles, Radiohead, The Strokes, The Clash etc with fellow musicians. While studying, they met a songwriter who wrote lyrics and was originally from Manchester, UK. Straight away, surrounding themselves with different musicians on the bass, guitar and keyboard they started out playing their own songs with a very unique style, mixing rock, folk, blues and their wide musical tastes, the whole thing driven by catchy melodies. After their examinations, at seventeen years old, they decided to leave the sunshine and the cicada songs for the lovely town of Manchester where they're now based. They can play up to two hours of covers from the 60's to present day as well as 1 hour and a half of their own songs.
Reviews
From customers:
Thom M, 5 years ago
"However, if you needed any proof that you don't have to be a local to play like the locals, brace yourselves and catch them live. Having stumbled across these guys playing in someone's living room as they roared out a Stooges-style jump-out-of-your-skin din like a harrier jump-jet in constant nose-dive before you, we can vouch that JELAare hair, skin and flesh-raisinglyexciting to watch."
Nigel W, 6 years ago
JELAare now writing the sort of rock n roll music befitting of their adopted home. Single,'No Longer Blind', was a great way to really thrust the festival into a more rock orientated frame of mind.
© Encore Technologies, Ltd.
Crafted with bagels and in London